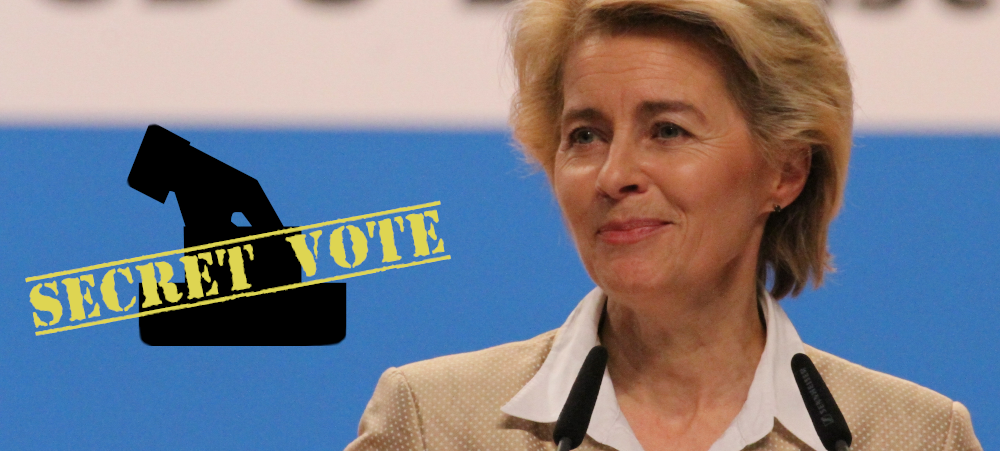 A secret ballot in the EP will decide today whether German Ursula von der Leyen will succeed Juncker as the President of the European Commission. Why is this vote secret and who is likely to benefit from that?
The practical purpose of keeping a vote secret is so that some parliamentarians can vote against candidates that their party (or European political family) publicly supports or, on the contrary, vote in favour of candidates that their own party (or European political family) publicly opposes. In the case of the vote today, either of these two types of behaviors may occur among across many political families, starting with von der Leyen's own EPP, but mainly among the other groups, such as the Socialists and Democrats, the Greens/EFA, or the ECR.
This is the reason why many politicians wanted to keep the ballot secret in the first place. Who exactly? The decision to keep this vote secret was made already in the past EP term (when voting on the rules of procedure of the Parliament). A look at which MEPs and parties wanted to have this vote secret can provide important clues of what is (and was) going on behind the scenes.
Firstly, it is the quasi-totality of the EPP. Secondly, it is the German delegations in both the S&D and the Green group: while a majority of the other Social-Democrats and Greens wanted this vote to be made transparent, the German delegations in these two groups wanted to keep the secret vote (as if they knew they would end up in a tricky situation, of having to vote on a German candidate from a different party). It's worth noting that, back in 2016, both the SPD and the German Greens were considering the possibility of entering the government in Berlin with CDU after the elections that were to come. Interestingly, even Die Linke also had a different position than that of their own European group (GUE-NGL), positioning itself in favour of the secret vote. Austrian, Swedish and a few other MEPs from the left also sided with the pro-"secret vote" camp. Who wanted a transparent vote? A plurality of MEPs, including the vast majority of ALDE (currently Renew Europe) and ECR.
NB: regardless of the outcome of this vote, the one to invest the Commission as a whole will be transparent and will give us the chance to see the exact level of political support for the team of Commissioners.
Click here to find out which MEPs voted in favour of a public ballot to elect the President of the European Commission. For more information, check out our previous report on the vote.
For further questions, please feel free to contact us at [email protected]