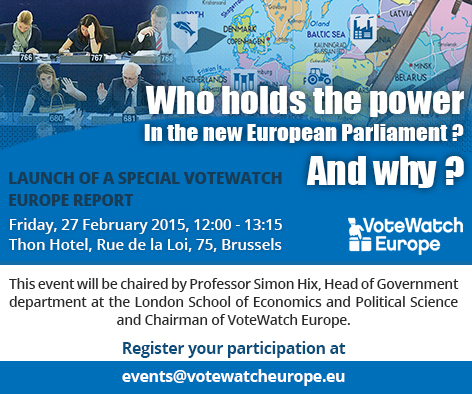 © European Union 2014 Рsource:EP
Who holds the power in the new European Parliament ? And Why ?
First VoteWatch Europe report of the 8th European Parliament term! 
You are warmly invited to attend the public launch of VoteWatch Europe first special report of the 8th Parliamentary term taking place on 27 February 2015, from 12.00 to 13.15 at the Thon Hotel EU.
This report examines the voting and activity behaviour of the Members of the European Parliament after the European elections of May 2015. It aims to show who holds the power in the new EP and what are the dynamichs that explain the outcome of the parliamentary decisions.
The event will be chaired by Professor Simon Hix, VoteWatch Europe Chairman and Head of the Department of Government at the London School of Economics and Political Science and Doru Frantescu, VoteWatch Europe Director will present the report.
To register to the event click here.
For more information, contact us at [email protected] or +32 2 318 11 88.