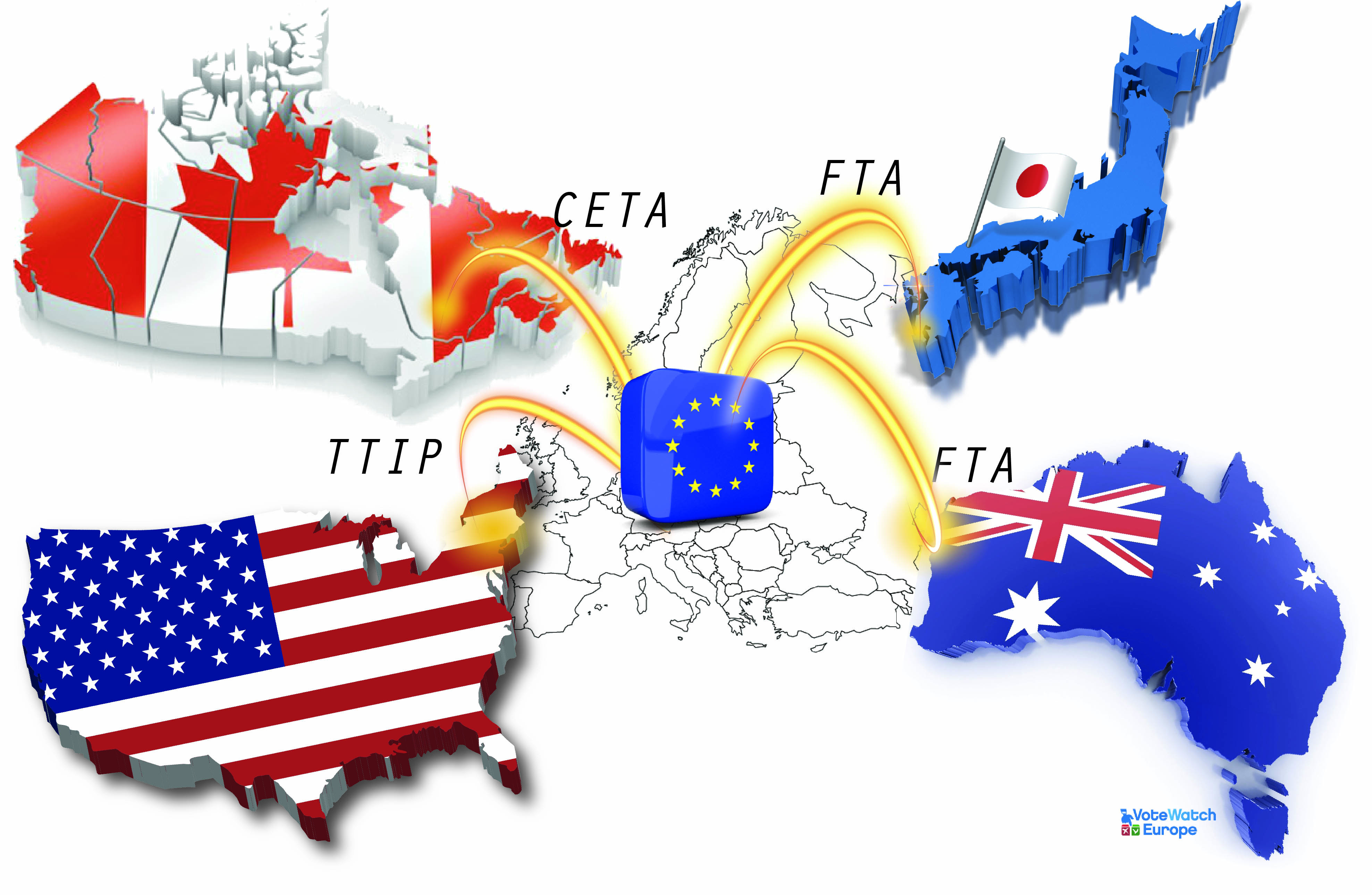 Key recent developments, such as the blockade of CETA by Wallonia and the triumph of protectionism in American Presidential elections (which is likely to ditch TTIP), highlight the need for those who work on trade to understand how politics affects their side of the business. In order to predict and to prevent blockages, one has to gain a genuine understanding of the actual views of all relevant political factions and the balance of influence between them.
For that, we need to see beyond the carefully crafted political statements, as sometimes politicians say completely different things to different audiences even the same day, since their goal is to increase their own popularity and basis of support among all groups. This often leads to situations in which many stakeholders are "surprised" when the actual decisions are made and when they see that things do not go the way they were told.
In order to be able to make accurate predictions of the positions of political forces and individual politicians, the best thing to do is to look at their track record of votes on trade-related decisions. It is when casting a vote that the real views come to surface. This study maps the views and the level of influence on trade policy of all European political parties and individuals gathered in the European Parliament. Its results also offer strong indications of what the positions of national and regional governments are, since many of the parties in the EP are also governing in the EU's Member States, which means that knowing the positions of MEPs offers strong indications of that the views of their colleagues in governments are. For example, by looking at the positions of Wallonian MEPs we have predicted the opposition of Wallonia to CETA.
—–
The EU decision-making mechanism is notoriously difficult to grasp, which makes it difficult for the stakeholders to carry forward their message and to track how this was upheld by the politicians. For this reason, VoteWatch Europe, the most followed think tank by the Members of the European Parliament (EP), is shedding light on how key EU political actors behave when it comes to promoting or opposing free trade policies.
We have used the EP as object of analysis for two reasons: firstly, the increasing role played by this European institution in influencing EU's trade policy. Secondly, this institution gathers politicians from all relevant political parties across the 28 Member States. They cast their votes on the same decisions at the same time, which gives us a unique opportunity to assess the currents of opinion (ie. political support) in every single one of these countries and regions. This information is highly relevant to stakeholders and citizens, as it can indicate where a trade deal could suffer setbacks or be blocked, as the case of CETA in Wallonia has recently proven (one more time).
Our research is structured in two parts. In the first part, we mapped the views of all 751 Members of the European Parliament on trade policies. To this end, we have put to use our extensive dataset of political decisions made in the current term of the European Parliament (EP), which means that we have scrutinized over 11.000 individual votes of parties and individual politicians in the European Parliament on key trade policy issues.
In the second part, we assessed which MEPs exert the most influence on trade policies (regardless of their policy views). In this case, we focused on the actual impact of MEPs' actions, by using an algorithm that takes into account, among other factors, the activities and the positions of MEPs during the current parliamentary term. This second assessment is based on a collection of over 20.000 pieces of political data, which have been weighted with the help of input from over 200 EU experts.
Finally, by combining the results of the two assessments, we have identified which MEPs are likely to be decisive for pushing or blocking a decision – these are also the best to look at for predicting the final outcome.
Rapporteurs are the drivers, but the direction is set by bigger forces
The final shape of an EP decision does not depend only on the visible personalities who are working on it, such as rapporteurs or political coordinators, which interested observers know rather well. In particular, attention should also be paid to other MEPs who do not hold strong views on trade, and who, while not being rapporteurs, have a fair level of influence. They are the ones that can contribute to brokering a compromise acceptable to a majority of Members of the European Parliament. At the end of the day, parliamentary decisions are not made by a few individuals, but by broad political majorities. The MEPs who can tilt the balance of the majority are positioned in the center of the trade policy influence matrix that we have built to facilitate the visualisation of their positioning.
The MEPs who are decisive for pushing or blocking a decision are less visible. These kingmakers are those who are "undecided" and whose support is fundamental for building a political majority. Experienced stakeholders prefer to focus their attention on these central MEPs, rather than on the Members who either already share their views or have already adopted a completely opposite stance on the topic.
This is because the views of these undecided influential MEPs will determine whether a document or an amendment is adopted or not. Observers may not always be aware of them, as these MEPs may not be keen on building a high profile among non-political observers (ie. they may want to avoid being lobbied). Some of these "silent influencers" hold substantial influence on the (careers of the current) rapporteurs, while others are warming up to become the future leading rapporteurs themselves.
In some cases, these decisive MEPs may not be aware (yet) of the tactical position that they hold. Nevertheless, through the force of things and/or their personal entrepreneurship, they are surely holding a tactical position which can make or break a deal, that may insert a provision into a trade deal, or may take it out. For those who hold a stake in the outcome of EU's trade policy, these "silent influencers" are the ones to follow. The power matrix below displays the champions of free trade (top right, for example Bernd Lange) and the champions of opposition to free trade (top left, for example Yannick Jadot). However, the decisive MEPs for securing majorities are in the yellow (swing) zone.
Note: each dot represents an MEP, based on calculation of his/her views and level of influence.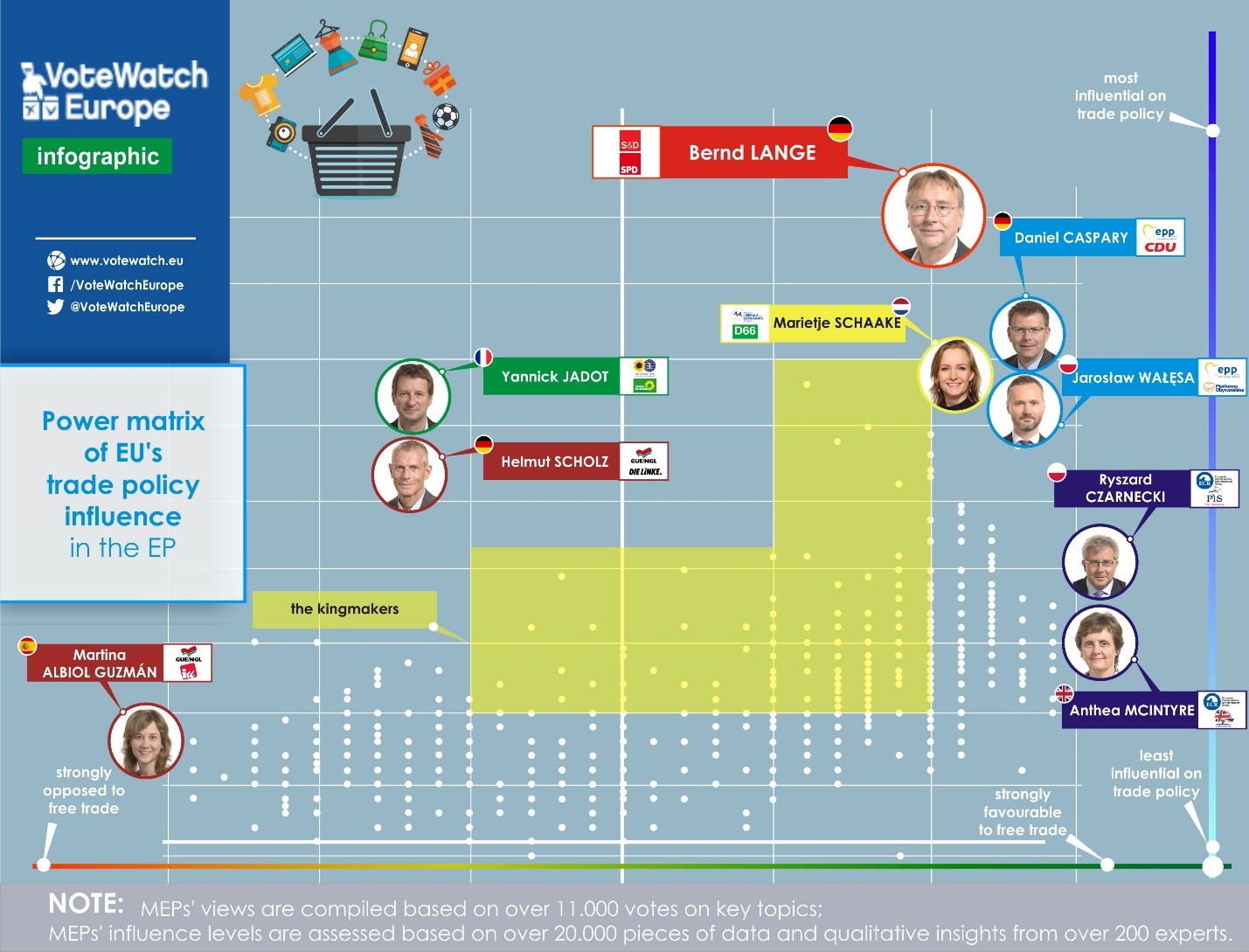 Key overall findings: 
1 – The Conservatives (ECR) are the most supportive of free trade in the EP, followed by the European People's Party and the Liberals (ALDE). The far left group GUE-NGL is the most opposed to free trade.
2 – There are strong internal differences within EP political groups, e.g. French members of S&D and EPP are more protectionists than their fellow group mates.
3 – Overall, Eastern and Central European MEPs are more supportive of EU advancing free trade than Nordic MEPs; Southern Europeans are the most protectionists.
4 – There are sharp differences in the attitude towards free trade between age groups in the EP: older MEPs are substantially more supportive of free trade than younger MEPs.
5 – Bernd Lange (DE, S&D) is the most influential MEP on trade, followed by Daniel Caspary (DE, EPP), Marielle de Sarnez (FR, ALDE), Marietje Schaake (NL, ALDE) and Jarosław Wałęsa (PL, EPP).
6 – The strongest challengers to free trade are Yannick Jadot (FR, Greens/EFA) and Helmut Scholz (DE, GUE-NGL).
7 – The Germans are clearly the most influential on trade as a national group in the EP. However, one should take into account that MEPs don't necessarily collaborate between them just because they come from the same country. For example, two very influential MEPs on trade, Daniel Caspary and Helmut Scholz are both German, but they come from different parties, CDU and Linke, respectively, hence they are worlds apart when it comes to opening trade. For this reason, they are undermining each other's influence (to a certain extent, as they influence is unequal).
8- The MEPs in Central and Eastern Europe, as well as the Baltics and Finnish, punch above their weight on trade, thanks to their relatively national united front on trade policy, ie. the differences between political forces within these countries on trade matters are smaller, hence it is easier for them to come up with a common position.
9 – The pro-free trade part of S&D is where most kingmakers in the plenary are, as the EPP, ECR and ALDE need their support to build a majority.
10 – The MEPs who are both fairly influential and with moderate views play a key role in shaping (or derailing) a final compromise. Although they may not be always visible, in order to predict (or influence) the outcome of decision, they are the ones to follow.
The infographics below display the main findings of our study and the methodology.
To get the full study contact us at [email protected].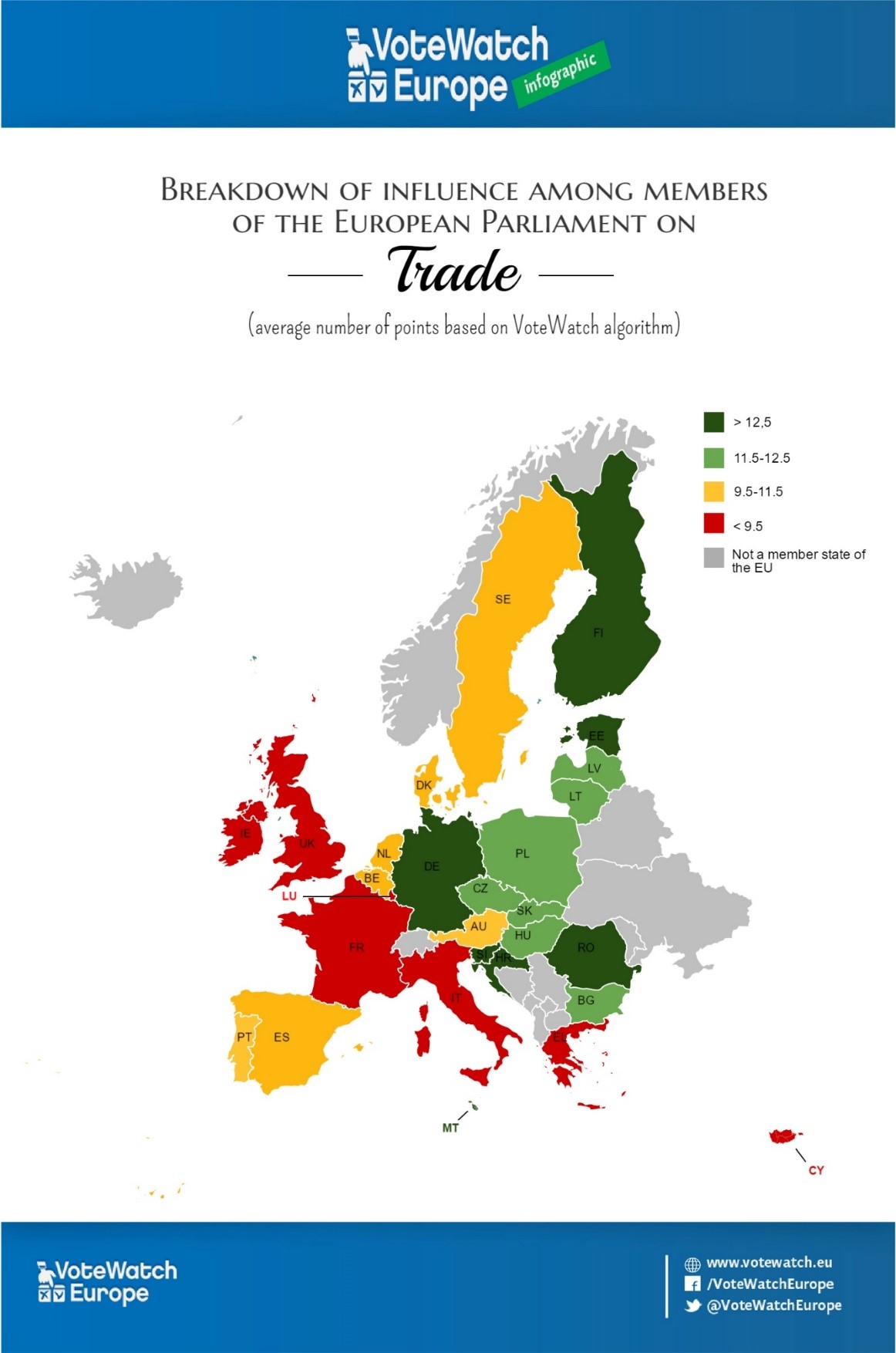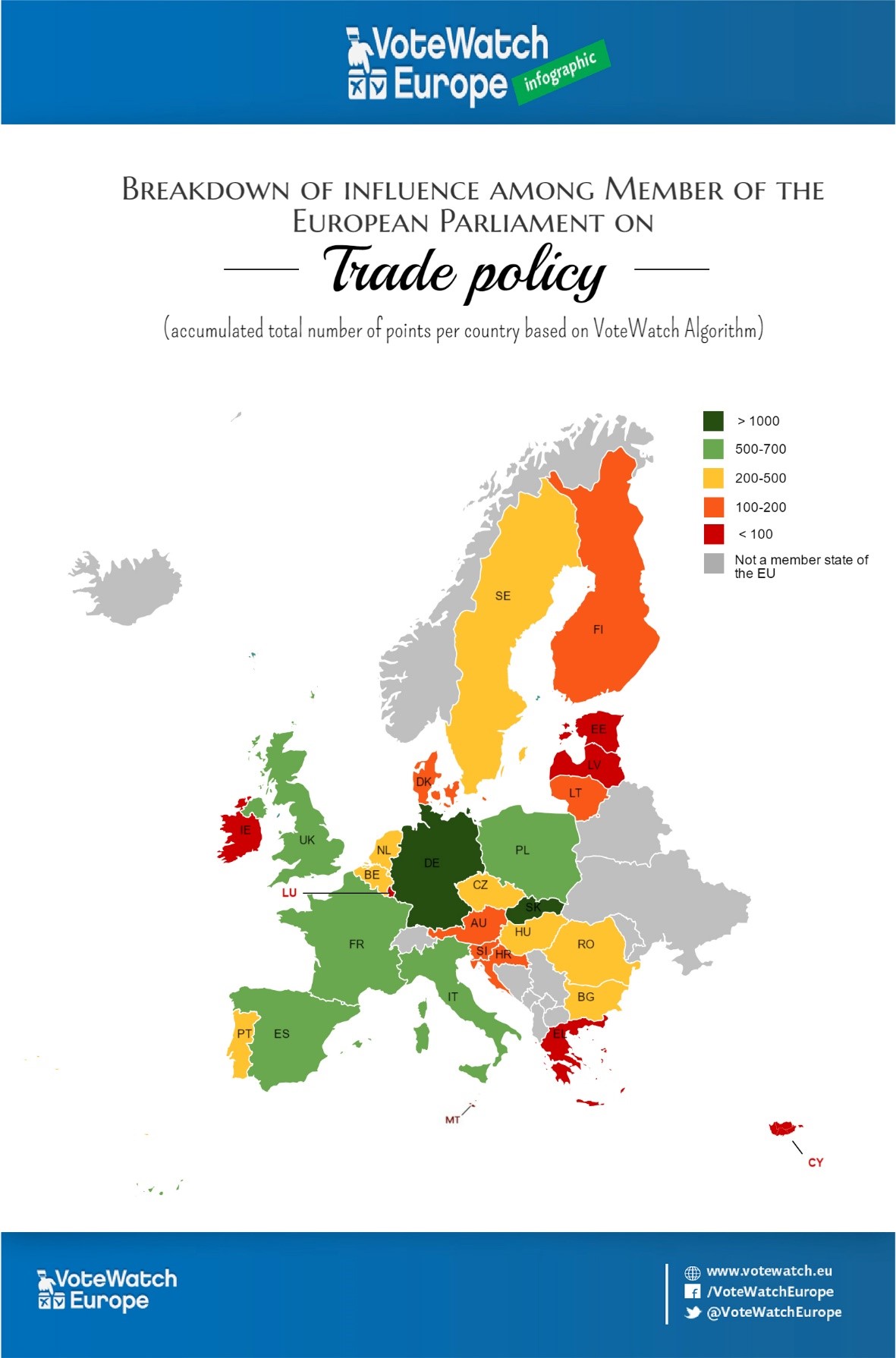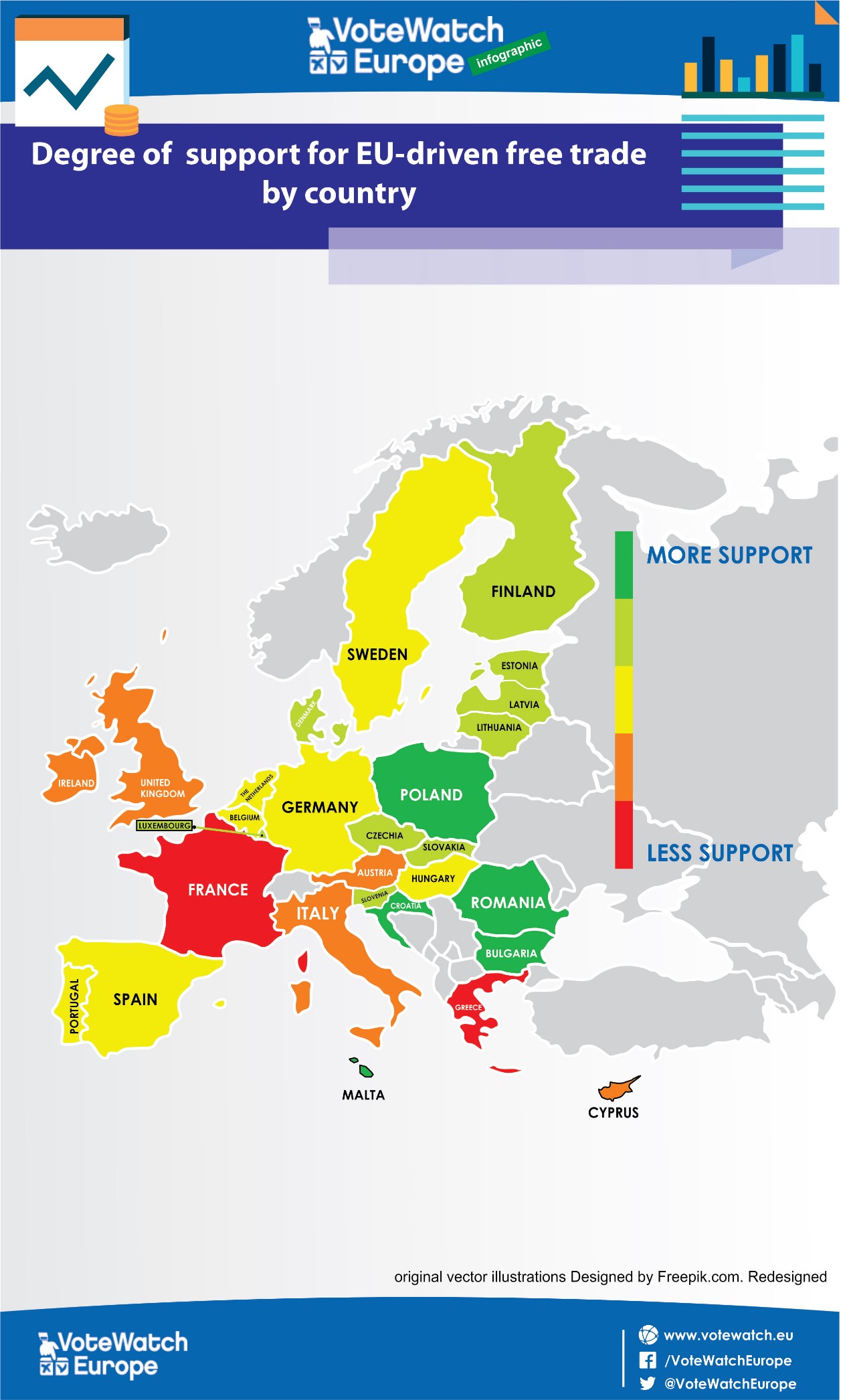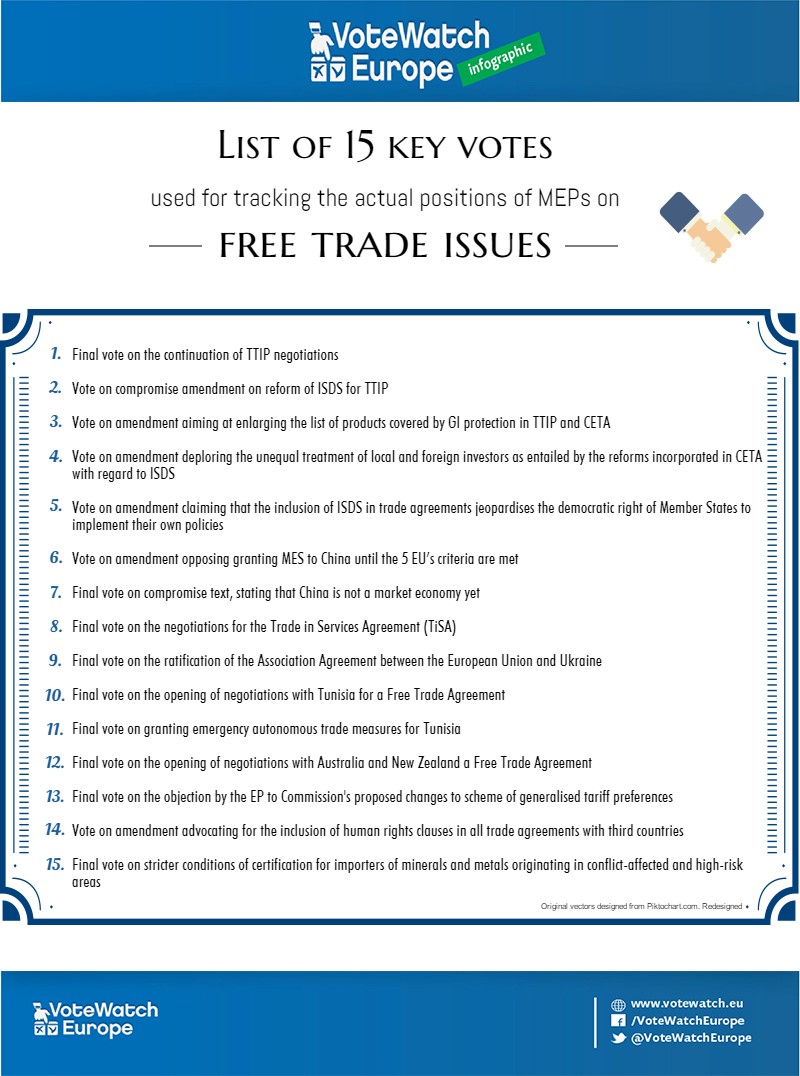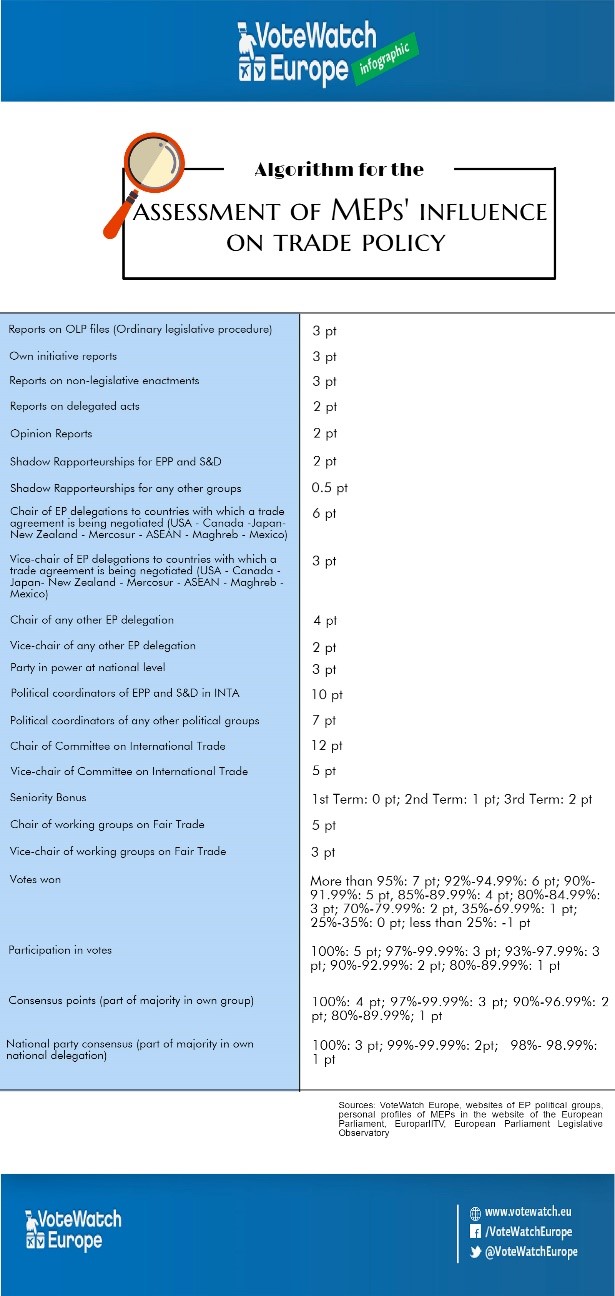 To get the full study or for media requests contact us at [email protected]