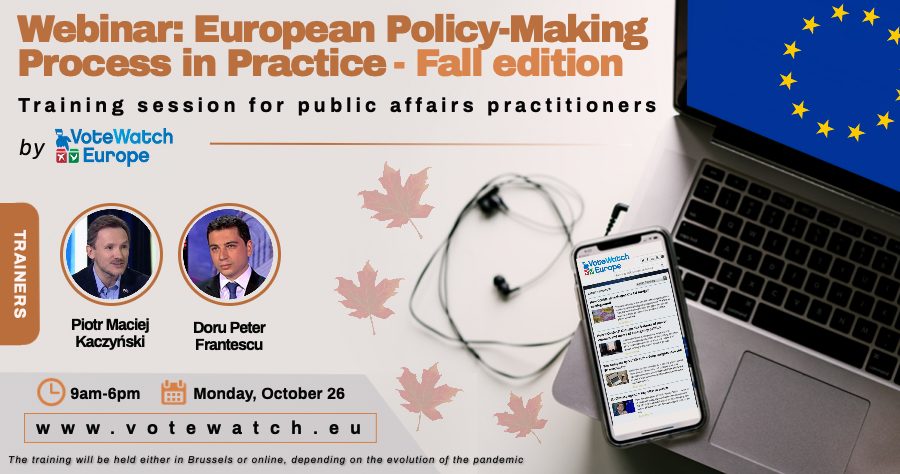 Looking to get better acquainted with the EU machinery? Join us in October for another one-day training session on the EU decision-making process! The training will be interactive and structured in four different thematic sections with breaks in between (including one hour break for lunch).
_____________________
Why participate?
📌 The training is client-tailored, based on the policy preferences of the participants;
📌 We will look together into how, when and by whom binding decisions are made;
📌 The training will go beyond the formal dynamics within the institutions, addressing the practicalities of internal processes in each of the institutions and the inter-institutional negotiations known as trilogues;
📌 In order to fully grasp the nature of EU decision-making, we will discuss the EU competences. This is not only about whether the EU can address the issues, but also whether these issues are actually addressed despite the EU having a competence. And how flexible can the rules be?
📌 Influential decision-makers are not necessarily those who are the most active/visible in the media. Who is actually pulling the strings? During the training you will learn how to identify 'hidden' influencers;
📌 Learn how digitalisation is expected to change the methods of politics and how you can be better suited to adapt to the newest channels and tools in order to influence the decision-making process;
BONUS: Participants will get 2-month free access to the advanced analytical features of VoteWatch Europe.
_____________________
What is the ordinary legislative procedure and how does it work?
It is the standard way of adopting EU laws. Yet, there is a major difference between how the rules are written down in the Union treaties and how they are implemented in practice. For one, for years there was not a single conciliation committee (third reading) on a legislative file. Quite the opposite, trilogues, also known as interinstitutional negotiations, have proven practical in working out the differences between the EU co-legislators.
_____________________
How practical is the training?
The training will also feature a case study on actual EU legislation, to be pre-selected in order to match the interests of the participants. Here, we will guide you through the policy process from the outset to the legislative outcome, with a particular focus on the essential sources of information and intelligence that enable you to keep track of (or in some cases, even anticipate) policy developments.
_____________________
How to participate?
The training will take place on the 26th of October, from 9.00 to 18.00, either in Brussels or online, depending on the evolution of the ongoing COVID-19 pandemic. If you are interested in participating, please send us an email at [email protected]
Hurry up and take advantage of our early bird discount rates on our already competitive fee (600 EUR + VAT).
📌 50% discount if you register anytime before 1 September – 300 EUR + VAT;
📌 25% discount if you register anytime between 1-30 September – 450 EUR + VAT.
Are you a VoteWatch subscriber? You will get a special additional 10% discount on top of the fees above. 
In case you are not available on that date, but still interested in upgrading your expertise in EU institutional affairs, please feel free to get in touch with us to request a tailored training session.
_____________________
About the trainers:
Our top trainers have long-standing insights not only in the EU decision-making machinery but also in the training sector.
1) Piotr Maciej Kaczyński:
👉 A certified trainer (by the European Commission) who has trained over 1,000 civil servants and employees of the European political parties;
👉 Experienced trainer in cooperation with member states administrations (ahead of the Bulgarian Council Presidency 2018, also involved with the Polish Council Presidency 2011);
👉 A trainer in the private sector: businesses and business associations, NGOs, as well as aspiring politicians in Brussels and Warsaw;
👉 Professional experience includes the European Parliament and the Centre for European Policy Studies (CEPS) in Brussels, the European Institute of Public Administration (EIPA) in Maastricht, the Institute of Public Affairs and Centre for International Relations in Warsaw;
👉 Member of Team Europe, a group of experts affiliated with the European Commission Representation in Warsaw; author of numerous expert and scientific publications for, among others, European Parliament, individual MEPs, Council of Europe, Ministries of Foreign Affairs of Member States, CEPS, SIEPS (Stockholm), Real Instituto Elcano (Madrid) and Europeum (Prague);
👉 Publishes with media on Euractiv.com, Onet.pl, Politico Europe, also with Le Monde, El Pais, Gazeta Wyborcza, Rzeczpospolita, and others.
2) Doru Peter Frantescu:
👉 A seasoned EU affairs and strategic communication expert, with valuable expertise in presenting the European political and legislative developments to both specialized and nonspecialized audiences;
👉 A trainer for the public and private sectors, frequently invited by EU institutions (European Parliament, European Commission, Council of the EU, etc.); diplomatic missions, universities (London School of Economics, College of Europe, etc.) and think-tanks (Centre For European Policy Studies, European Policy Centre, etc.) to deliver insights and advise on a range of EU decision-making-related topics;
👉 Co-founder and Director of VoteWatch Europe, a leading Brussels-based think tank;
👉 The main author of hundreds of well-known reports on voting behavior in the European Parliament and the EU Council of Ministers;
👉 Regularly quoted by reputed media across the EU and internationally, including Financial Times, Bloomberg, Euronews, France24, BBC, etc.
____________
For more information, feel free to contact us at [email protected]. 
*VoteWatch Europe is a leading intelligence source on EU policy-making. Our premium subscribers (such as EU public and private influencers, top universities, etc.), benefit from the most advanced analytical tools in EU politics. We also deliver tailored research, presentations, or training on MEPs' and governments' likely positions and majority building in specific areas. If you are interested in a private service, send us an email ([email protected]) or give us a call (+32 2 318 11 88).