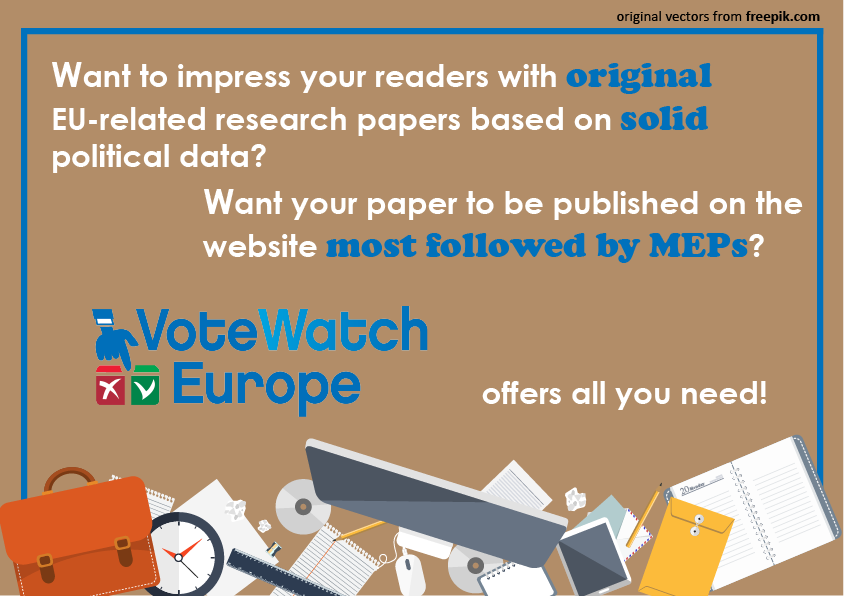 Have you ever dreamed about finding the best data source that you can rely on to write research papers on the EU political mechanisms?
–
As a leading EU affairs platform, VoteWatch Europe provides you with the most reliable and comprehensive data sets on voting in the European Parliament and the Council to verify your working hypothesis.  You can also have your paper published on our website, to gain visibility and prestige!
Using our dynamic platform, you can make the most of your research papers with systematic digital assistance. Having gathered an extensive database consisting of the complete voting behavior within the European Parliament (since 2004) and the Council of the EU (since 2009), VoteWatch offers a large number of tailor-made services for research, as displayed in the annex.
In addition to all the features mentioned below, VoteWatch Europe offers access to hundreds of reports and in-depth analyses which allow for a better understanding of the political stakes behind any decisions made in the European institutions.
Moreover, you may also publish sections of of your paper on our website to give you visibility and prestige!
Our organization is the most followed platform by the Members of the European Parliament and one of the most re-quoted European think-tanks by the world-wide media (e.g. CNN, BBC, Euronews etc.). With VoteWatch your research gets the exposure it deserves!
For more details, feel free to send us an e-mail at [email protected] 
__________________________________________
Datasets offered by VoteWatch Europe:
– Our premium features allow you to dig into the voting behaviour of individual MEPs: their participation rates, loyalty to their national parties (i.e. how often individual MEPs voted in the same way as the majority of the members of their national parties) and loyalty to their national groups (how often individual MEPs voted in the same way as the majority of members of their political groups). The data can be sorted by political group (e.g. S&D), by country (e.g. Italy), as well as policy area (e.g. culture and education). You can also sort the data relative to a specific time period (e.g. from mid-2015 to mid-2016). See example below (click on the picture to zoom in):
– Our premium features provide you with access to the data on the cohesion of the (transnational) political groups in the European Parliament. Our cohesion rate measures how often the members of the group voted in the same way. The data can be sorted by policy area (e.g. Fisheries) and different time periods (e.g. second half of 2015). See example below (click on the picture to zoom in):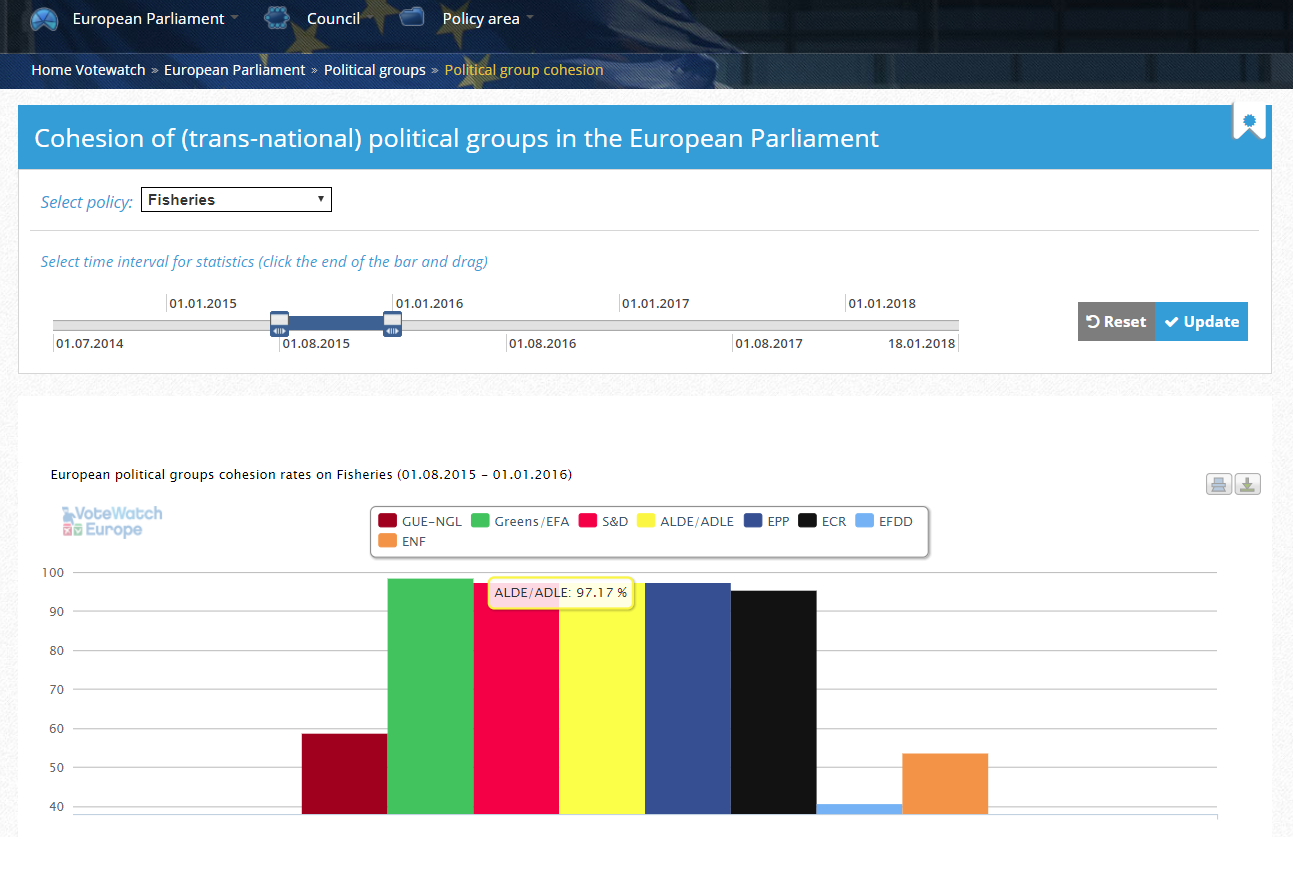 – Our premium features allow you to access data on coalition building in the European Parliament. For instance, how often did the European People's Party agree with the Socialist and Democrats last year? The data on coalition building can be sorted by political group (e.g. EFDD), policy area (culture and education) and different time periods (e.g. from mid-2014 to now). Check the example below (click on the picture to zoom in):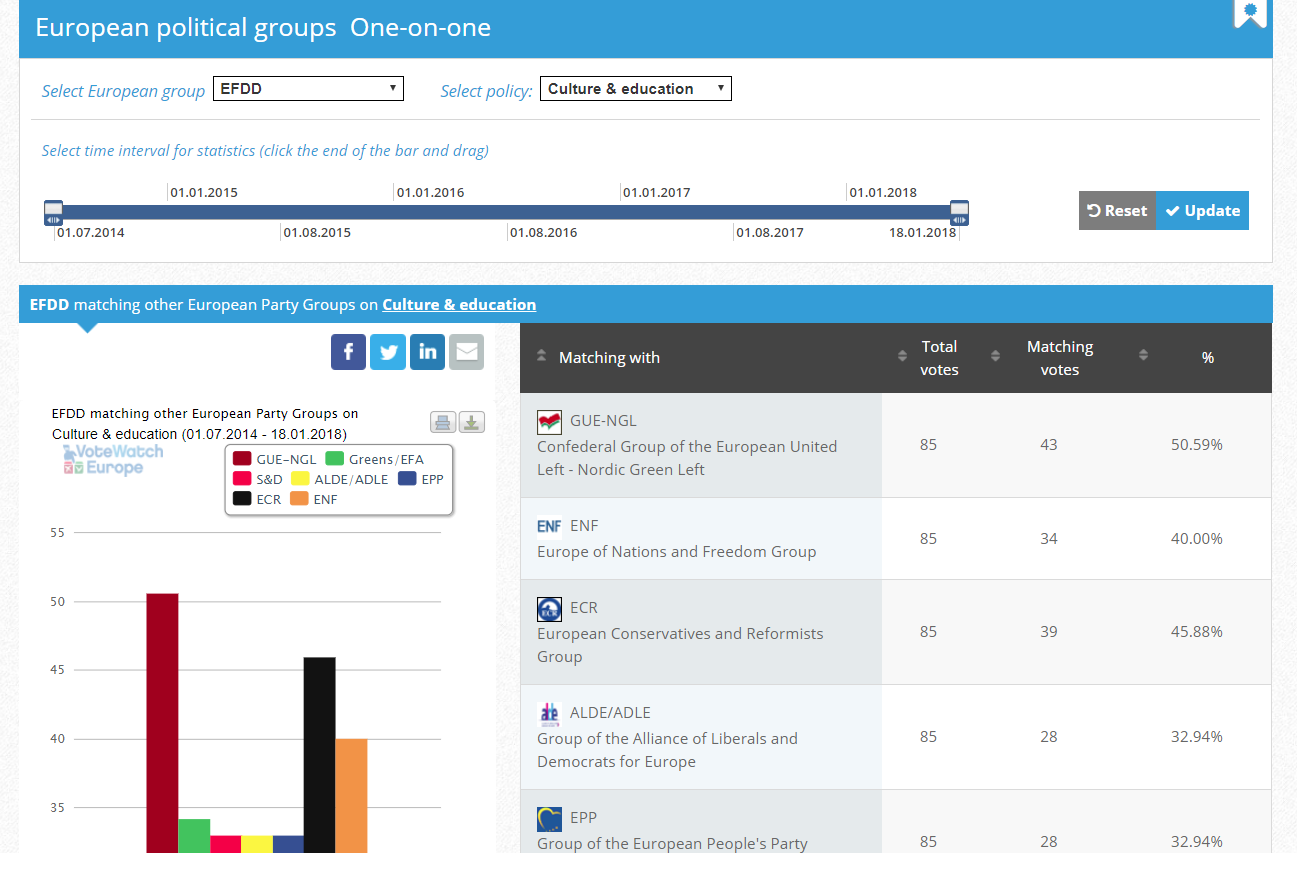 – Our premium features also provide you with access to the voting behavior of national parties. The key piece of information is their loyalty rate (i.e. how often national parties voted in the same way as the majority of members of their political group). The data can be sorted by political group (e.g. Greens/EFA), country (e.g. all Member States), policy area (e.g. international trade) and time period (e.g. from mid-2014 to now). Check the example below (click on the picture to zoom in):
–  Premium subscribers are able to navigate through our full database of all roll-call votes in the European Parliament. For each of the votes (there are over 6000 votes for the current term only), the voting behaviour of each MEPs is displayed. The voting data can be sorted by political group (e.g. S&D), country (e.g. Romania), direction of vote (e.g. in favour of the report) and loyalty (e.g. loyal to political group). Check the example below (click on the picture to zoom in):
– Our premium services allow you to compare the votes cast by a Member State in the EU Council with those of other Member States. This data is defined as the matching rates between Member States positions in the Council. The data can be filtered by country (e.g. UK), by policy area (e.g. Environment and public health) and time period (e.g. from mid-2012 to mid-2014). The matching rates can also be filtered by period according to the national government in power (e.g. only votes taking place during the first Cameron's government). Check the example below (click on the picture to zoom in):
– Our data also measures how many times Member States voted in minority in the EU Council, namely the occasions when they voted either against the majoritarian position by their colleagues or they abstained. You can filter the data by country (e.g. Denmark), by policy area (e.g. Agriculture) and time period (e.g. from mid-2013 to mid-2014). The matching rates can also be filtered by period according to the national government in power (e.g. only votes taking place during the second Thorning-Schmidt's government).  Check the example below (click on the picture to zoom in):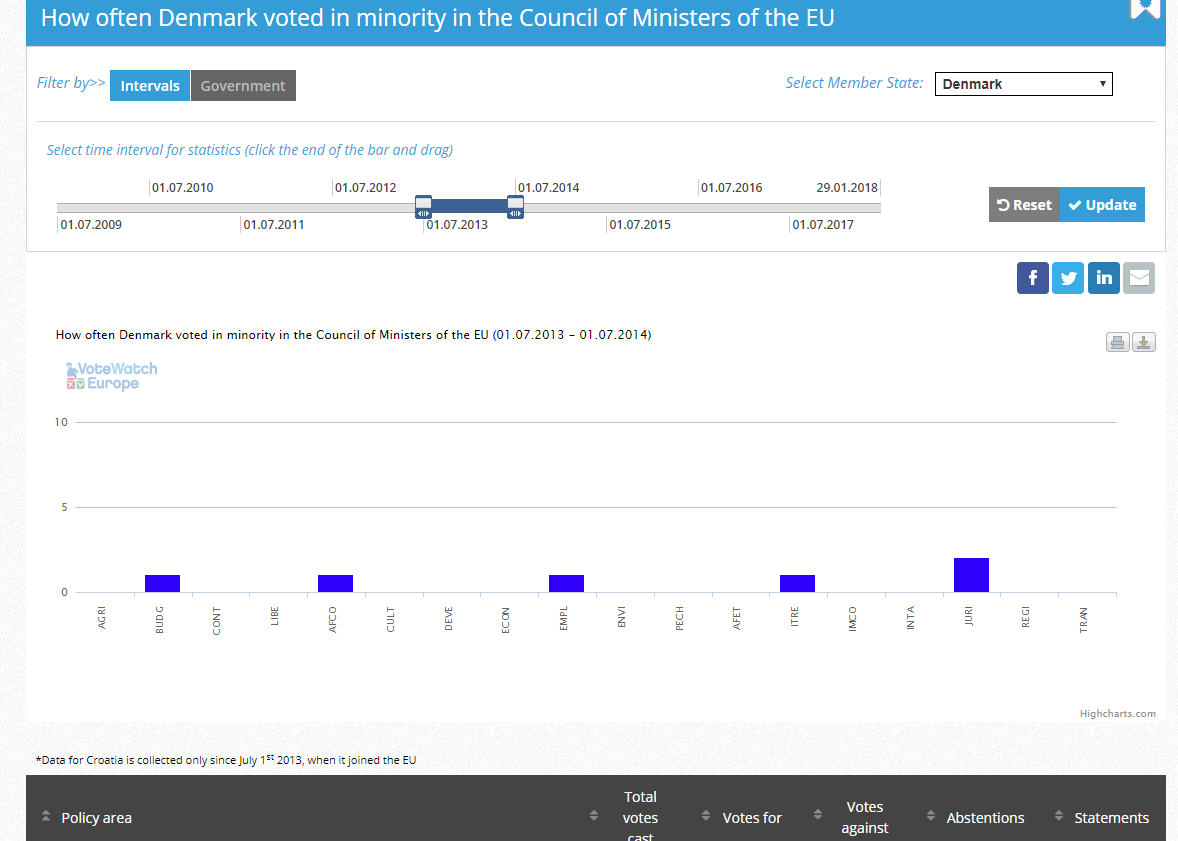 ____________________________________