Note: this country-based report is part of the broader study that measured the influence of MEPs from all 28 EU Members States. To consult the methodology and cross-country comparisons read the full "Who holds the power in the European Parliament?" study.
Dennis de Jong, member of the Dutch Socialist Party (GUE-NGL), is the most influential Dutch MEP on our list. He is one of the Vice-Chairs of his political group (GUE-NGL), as well as the coordinator of the same group in both the Committee on Internal Market and Consumer Protection and the Committee on Budgetary Control. He was also assigned some important files, such as the report on 2015 discharge of the EU budget, as well as a report on the legal aid for persons involved in the European arrest warrant proceedings.
Marietje Schaake, member of D66 (ALDE/ADLE) comes in second on our list of the most influential Dutch in the EP. She is the political coordinator of her political group in the key Committee on International Trade, as well as one of the Vice-Chairs of the EP Delegation for relations with the United States. She also drafted a report on the trade in certain goods which could be used for capital punishment, torture or other cruel, inhuman or degrading treatment or punishment.
Gerben-Jan Gerbrandy, member of D66 (ALDE/ADLE), is the third classified in our list. He is the political coordinator of ALDE/ADLE in the Committee on Environment, Health and Food Safety. He also drafted a report on the binding annual greenhouse gas emission reductions by Member States from 2021 to 2030.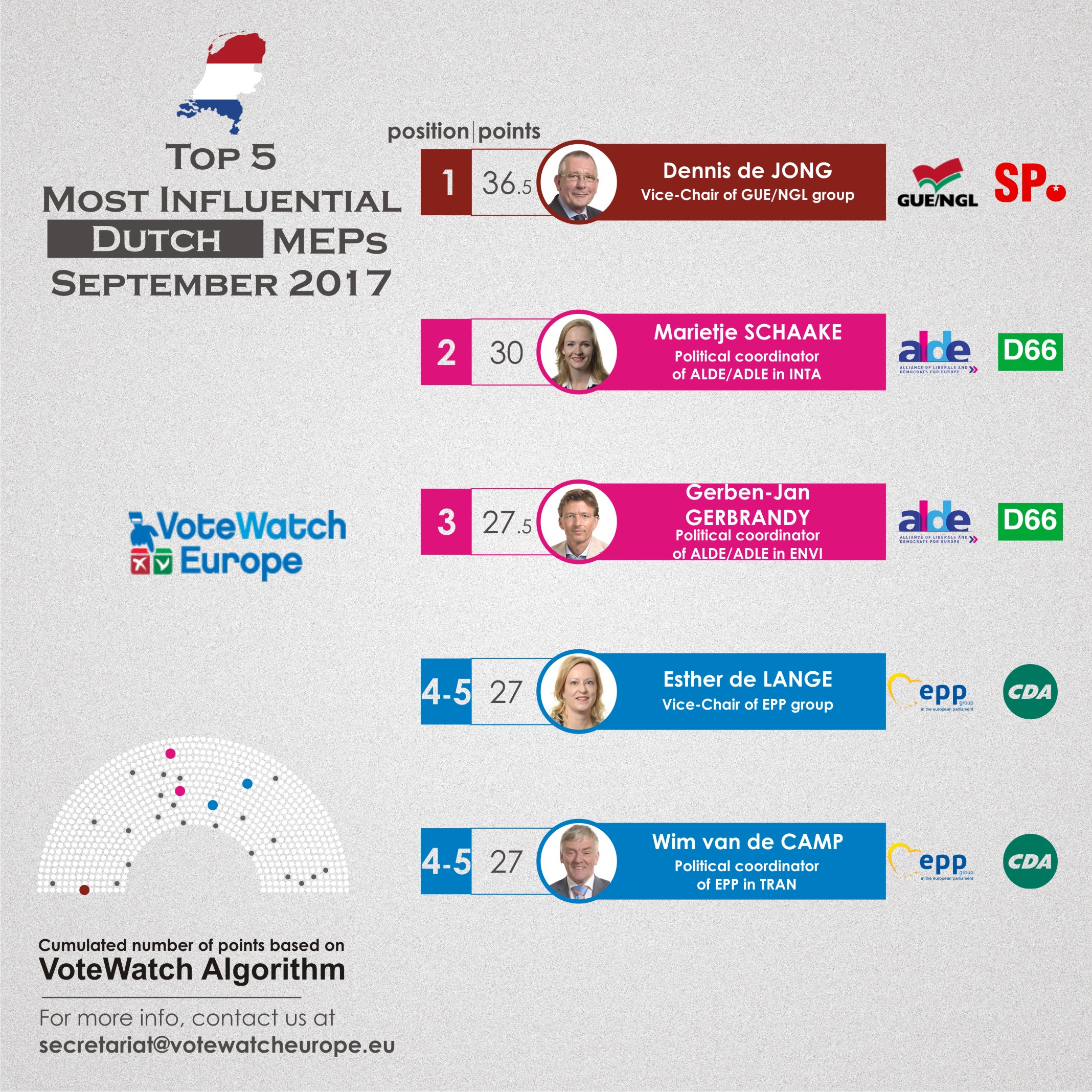 –
For more information about the methodology and the rest of the assessment, contact us at [email protected].
Read our overall assessment on the most influential MEPs in the European Parliament and the most influential MEPs on different policy areas.
Also read the other updated assessments by country:
Austria – Belgium – Bulgaria – Croatia – Cyprus – Czechia – Denmark – Estonia – Finland – France – Germany – Greece – Hungary – Ireland – Italy – Latvia –Lithuania – Luxembourg – Malta – Netherlands – Poland – Portugal – Romania – Slovakia – Slovenia –Spain – Sweden – United Kingdom