Note: this country-based report is part of the broader study that measured the influence of MEPs from all 28 EU Members States. To consult the methodology and cross-country comparisons read the full "Who holds the power in the European Parliament?" study.
Claude Moraes, member of the Labour Party (S&D), is the most influential UK MEP, on our list. He is the Chair of the influential Committee on Civil Liberties, Justice and Home Affairs (LIBE). He is a prolific rapporteur in the EP. Among others, he drafted a report on the conditions of entry and residence of third-country nationals for the purposes of highly skilled employment, as well as a report on the repeal of obsolete acts from the Schengen acquis.
Julie Girling, member of the Conservative party (ECR), is the second classified in our list. She is the political coordinator of her political group in the Committee on Environment, Health and Food Safety. She worked on important legislative files, such as the report on enhancing cost-effective emission reductions and low carbon investments, the report on the reduction of national emissions of certain atmospheric pollutants, as well as EU Emissions Trading System (EU ETS) on aviation activites.
Syed Kamall, member of the Conservative Party (ECR), is the third most influential UK's MEP. He is the Co-Chair of the third largest group in the EP, the European Conservatives and Reformists.  Kamall is also the co-founder of the Global Business Research Institute and has written several publications on multinational business and telecommunications policy.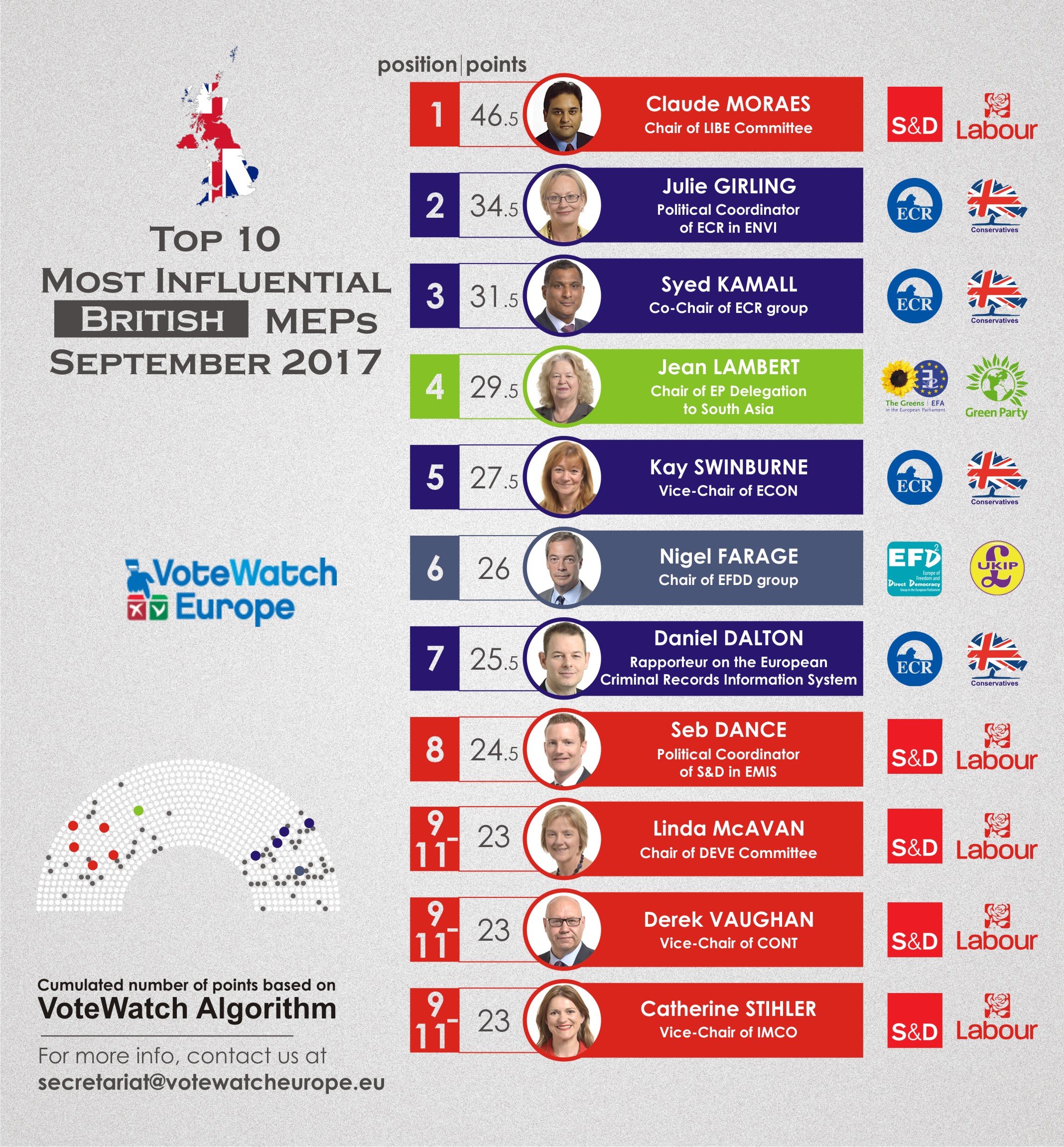 –
For more information about the methodology and the rest of the
assessment, contact us at [email protected].
Read our overall assessment on the most influential MEPs in the European Parliament and the most influential MEPs on different policy areas.
Also read the other updated assessments by country:
Austria – Belgium – Bulgaria – Croatia – Cyprus – Czechia – Denmark – Estonia – Finland – France – Germany – Greece – Hungary – Ireland – Italy – Latvia –Lithuania – Luxembourg – Malta – Netherlands – Poland – Portugal – Romania – Slovakia – Slovenia –Spain – Sweden – United Kingdom