Note: this country-based report is part of the broader study that measured the influence of MEPs from all 28 EU Members States. To consult the methodology and cross-country comparisons read the full "Who holds the power in the European Parliament?" study.
Ioan Mircea Pașcu, member of the Social Democratic Party (S&D), is the most influential Romanian MEP as per our data. He is one of the Vice-Presidents of European Parliament and his main responsibilities include the House of European History and multilingualism. He is also the coordinator of S&D in the Sub-Committee on Security and Defence. He drafted a report on the Union Civil Protection Mechanism 2014-2020, as well as a report on the implementation of the common security and defence policy.
Adina-Ioana Vălean, member of the National Liberal Party (EPP), is the second most influential Romanian MEP. Formerly one of the Vice-Presidents of the EP, she is now the Chair of the Committee on Environment, Public Health and Food Safety. She also drafted a report on the restriction of the use of certain hazardous substances in electrical and electronic equipment.
Siegfried Mureșan, member of the People's Movement Party (EPP),  comes in third on the influencers list. He is the spokesperson of the EPP (Party), as well as one of the Vice-Chairs of the Committee on Budgets. He was assigned the key report on the EU 2018 Budget, and he drafted several reports concerning the mobilisation of the European Globalisation Adjustment Fund.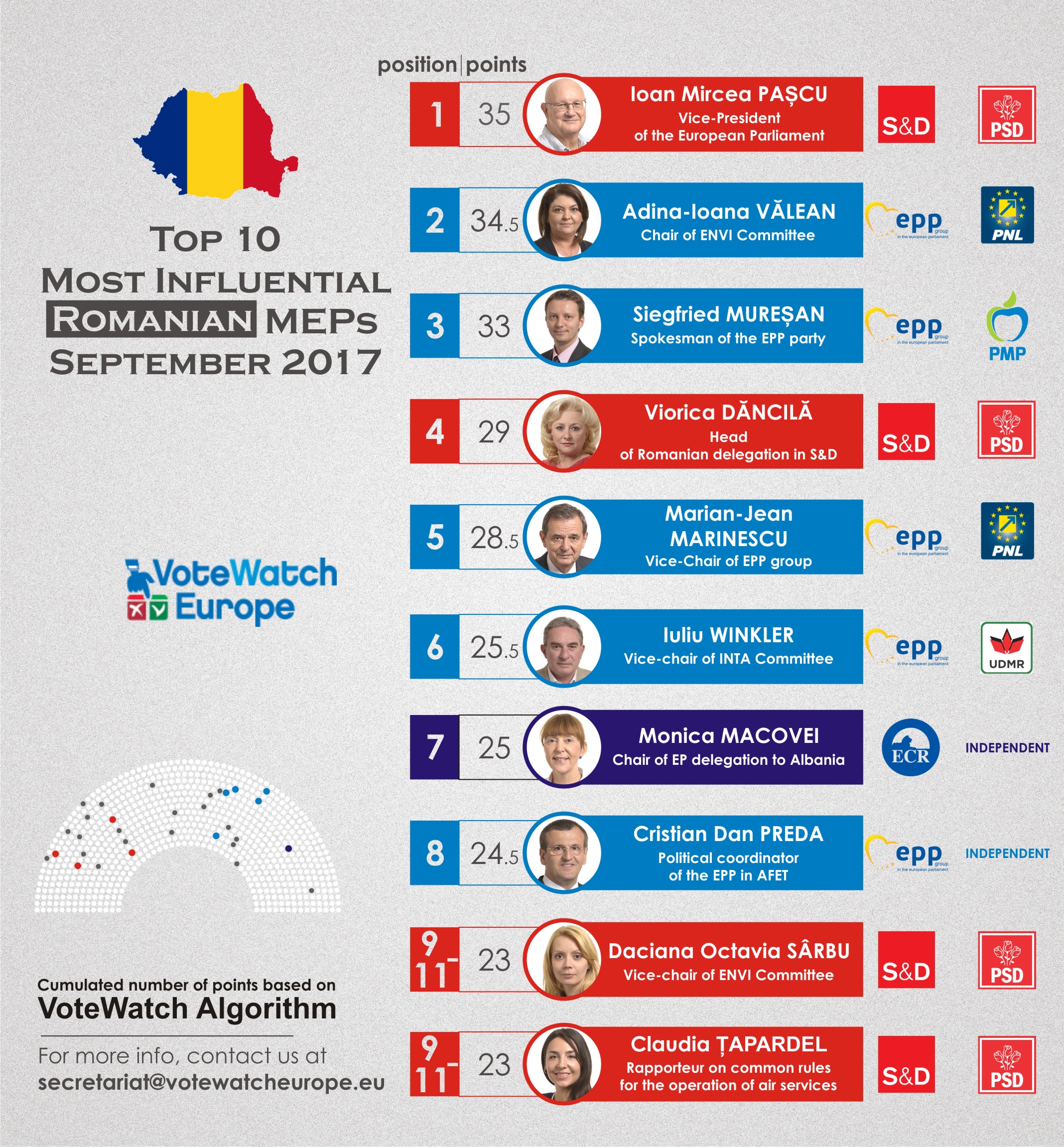 –
For more information about the methodology and the rest of the assessment, contact us at [email protected].
Read our overall assessment on the most influential MEPs in the European Parliament and the most influential MEPs on different policy areas.
Also read the other updated assessments by country:
Austria – Belgium – Bulgaria – Croatia – Cyprus – Czechia – Denmark – Estonia – Finland – France – Germany – Greece – Hungary – Ireland – Italy – Latvia –Lithuania – Luxembourg – Malta – Netherlands – Poland – Portugal – Romania – Slovakia – Slovenia –Spain – Sweden – United Kingdom