Note: this country-based report is part of the broader study that measured the influence of MEPs from all 28 EU Members States. To consult the methodology and cross-country comparisons read the full "Who holds the power in the European Parliament?" study.
Jerzy Buzek, member of Civic Platform (EPP), is the most influential Polish MEP on our list. Buzek has had a long political career, both at the national and  European level. Buzek was the Prime Minister of the Republic of Poland from 1997 to 2001. Buzek was the President of the European Parliament during the first half of the seventh term, 2009-2012. He is currently the Chair of Committee on Industry, Research and Energy.  He also drafted several reports, such as a report on the measures to safeguard the security of gas supply.
Jarosław Wałęsa, member of Civic Platform (EPP), is the second most influential Polish MEP. He is one of the Vice-Chairs of the Committee on Fisheries. He drafted reports on several subjects, such as temporary autonomous trade measures for Ukraine, the multiannual plan for the stocks of cod, herring and sprat in the Baltic Sea, as well as the imports of textile products from certain third countries not covered by bilateral agreements.
Danuta Maria Hübner, member of Civic Platform (EPP), is the third most influential Polish MEP. She is the chair of the Committee on Constitutional Affairs. She is very active in drafting reports on several issues, such as the future composition of the European Parliament, the review of the regulation on the statute and funding of European political parties and foundations, as well as the interinstitutional agreement on better law-making.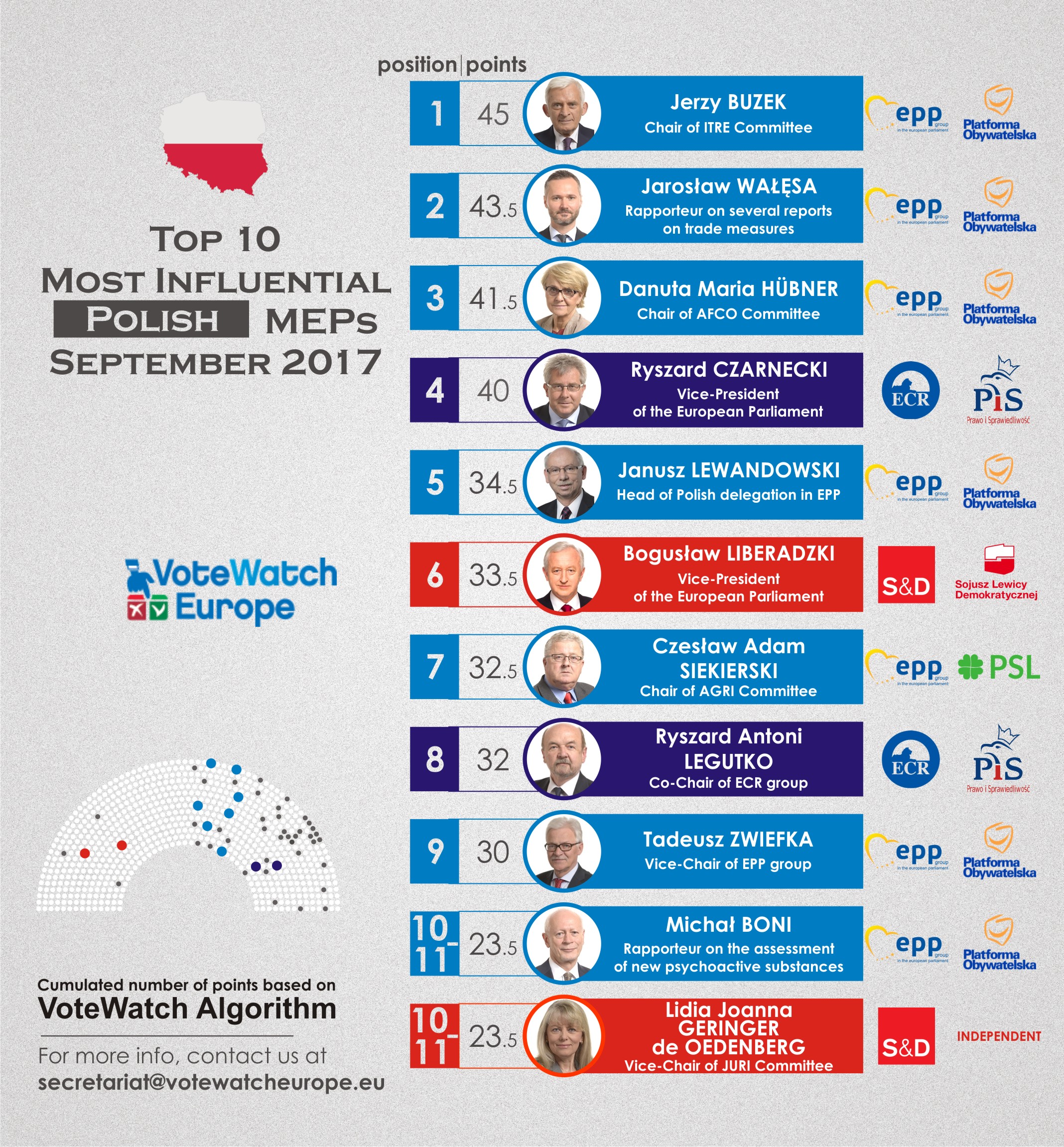 –
For more information about the methodology and the rest of the assessment, contact us at [email protected].
Read our overall assessment on the most influential MEPs in the European Parliament and the most influential MEPs on different policy areas.
Also read the other updated assessments by country:
Austria – Belgium – Bulgaria – Croatia – Cyprus – Czechia – Denmark – Estonia – Finland – France – Germany – Greece – Hungary – Ireland – Italy – Latvia –Lithuania – Luxembourg – Malta – Netherlands – Poland – Portugal – Romania – Slovakia – Slovenia –Spain – Sweden – United Kingdom