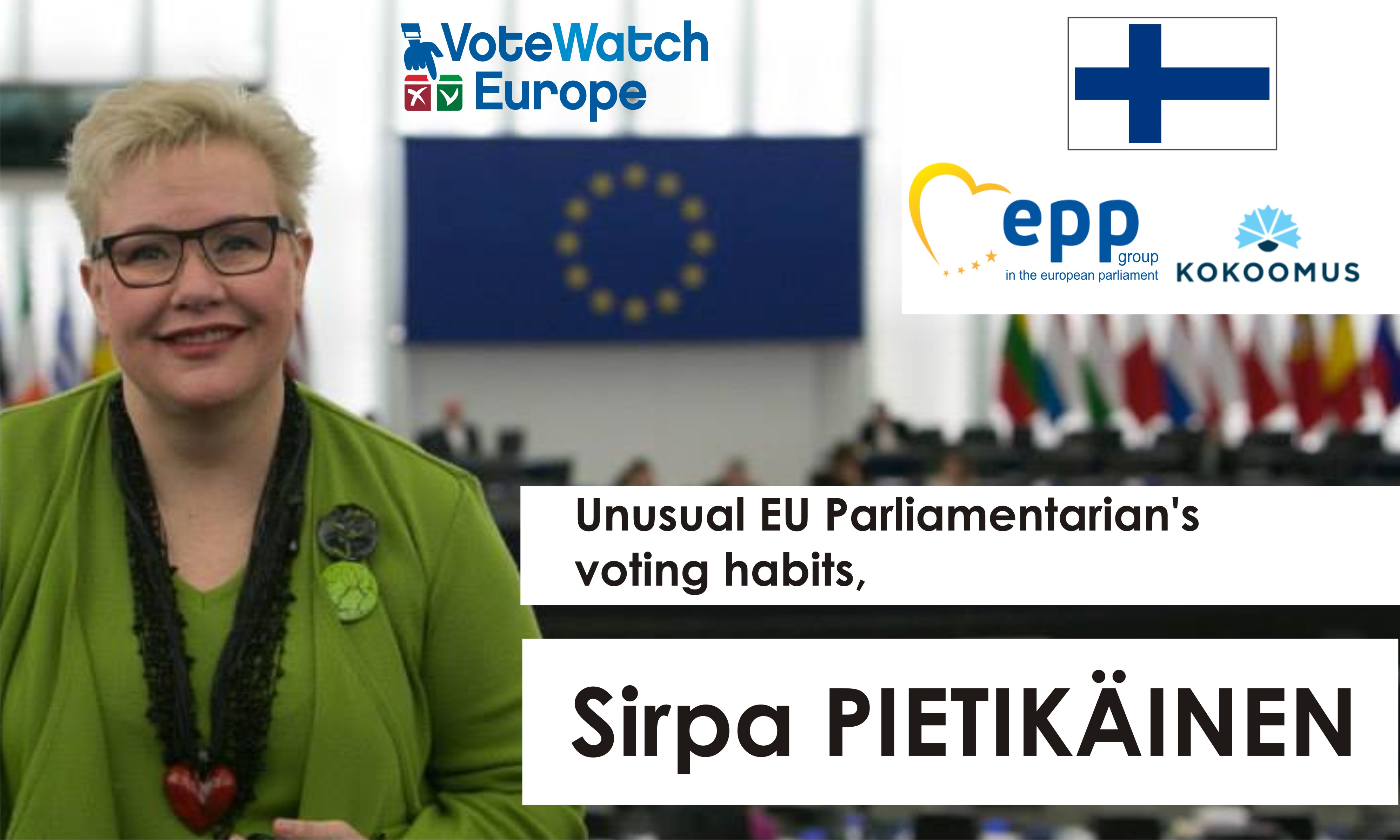 In theory, EU Parliamentarians follow the instructions of the rapporteurs or of their political group coordinators when casting a vote on a decision. This makes many think that if they know the position of the leading MEPs in a group, they know how the entire group will behave. The underlying assumption is that many MEPs are not aware of the subtleties of dossiers that are outside of their direct area of expertise, and hence these MEPs are expected to "follow the herd" without really knowing what's being decided.
In practice, however, things are often very different and, by looking closely into MEPs' behavior, we spot some very interesting (and counter-intuitive) nuances that seem to indicate that (at least some) MEPs are much more aware of what's being decided than one would think (possibly due to advocacy / lobby campaigns that have targeted them).
Take MEP Sirpa Pietikäinen, for example. She belongs to the largest EU political family, the European People's Party (EPP). However, when following closely her voting records, it turns out that she voted more often alongside the Socialists&Democrats (S&D) or even the Liberals and Democrats (ALDE) group, than her EPP colleagues.
 –
Although MEPs are affiliated to EU-wide political families, their voting choices in the EP sometimes diverge from the official positions of their political groups. In fact, there are many other factors that influence MEPs' behavior, such as their nationality, personal background and beliefs. These beliefs are initially shaped by the environment in which they develop as persons, by education and their peers. Once politicians, their beliefs are also subject to influences by a multitude of organised and non-organised (societal and economic) interests who turn these politicians into representatives of their cause.
MEPs are personally representing specific constituencies and face difficult choices when the positions of their European political groups are at odds with the (perceived) expectations of the citizens who elected them. Different national and local cultures can also play a role in explaining diverging views of MEPs within the same political group, e.g. certain issues might be very sensitive in some Member States, but not in others. Additionally, the knowledge of the professional background of MEPs is key to understand their behavior, e.g. MEPs with farming background are keen on siding with the farmers and oppose trade agreements where EU farming industry is on the defensive.
At VoteWatch Europe, we follow and explain these phenomena in order to make EU policy-making easier to understand. We also provide advocacy groups with the opportunity of discovering which MEPs are keener on supporting their policy views, based on the actual votes cast in the EP (rather than mere statements which can easily be changed).
*Tired of being surprised by decisions made in the European Parliament? Tired of having to "put out fires" at the last moment? VoteWatch can provide you with comprehensive mappings of each MEPs' actual position on your areas of interest, so that you can forecast developments, identify your potential allies and strategies at ease. Send us your request at [email protected] and get an edge for the upcoming legislative challenges.
In this report, we focus on a Finnish MEP, Sirpa Pietikäinen , who is a member of the centre-right wing National Coalition Party (also the party of European Commission's Vice-President Jyrki Katainen). We discovered that MEP Pietikäinen is more likely to vote in the same way as S&D and ALDE than her own political group, the EPP. In particular, Sirpa leans to the left when it comes to issues concerning environmental protection, agriculture, health and civil liberties. This report provides a comprehensive mapping on the positions taken by this Finnish MEP.
–
Who is Sirpa Pietikäinen?
Before joining the European Parliament, Sirpa Pietikäinen served as a member of the Finnish Parliament for 20 years (1983-2003). Additionally, she was minister for the Environment at the beginning of 1990s, when Finland joined the European Union (1991-1995). She started her career in the European Parliament in 2008, when Sirpa replaced Alexander Stubb, who was leaving the EP to take on the position of Foreign Minister.
Afterwards, Pietikäinen stayed in Brussels and was re-elected twice as an MEP (in 2009 and 2014). During this period, she actively contributed, as rapporteur, to shape EU legislation on air quality, market surveillance of products, handling of complaints regarding state-aid rules, as well as European venture capital and social entrepreneurship funds. During the previous Parliamentary term, her focus on economic issues was also reinforced by her election as a Vice-Chair of the Committee on Internal Market and Consumer Protection (2012-2014).
However, Sirpa is also active on other issues. Most importantly, she drafted reports on the environment (i.e. Artic policy and resource efficiency) and women's rights (i.e. role of women in decision making, as well as gender inequalities affecting elderly women). Her attention towards both green and gender policies is further showcased by Pietikäinen's role as the President of the EP Intergroup on the Welfare and Conservation of Animals and as Vice-President of the EP Intergroup on LGBTI Rights.
Because of her prolific activities in the EP, a special VoteWatch report earlier this year found Pietikäinen to be the third most influential Finnish MEP and the 62nd most influential MEP overall. This assessment of MEPs' influence is based on a large set of criteria, such as reports drafted, amendments tabled, leadership positions in the EP, participation, strength of the political network, etc. (check the most influential Finnish MEPs or overall analysis on the most influential MEPs).
As shown by our research on her voting behavior, Sirpa's strength stems from her willingness to actively work with other political groups (in particular the ones from the centre-left), although this also means that she often has to distance herself from the official position of her own political group. However, her behavior varies according to the policy issue under examination, as she leans to the right on macroeconomic and budgetary issues, but leans to the left on environmental, agricultural and gender policies.
–
Pietikäinen closer to S&D when it comes to civil liberties, environmental and agricultural policies
Interestingly, our database shows that, overall, Sirpa Pietikäinen voted more often in the same way as S&D than the EPP. She voted in line with the positions of S&D 83% of times, whereas she agreed with the positions of the EPP 'only' 80% of times. Furthermore, her positions are also close to the ones of ALDE, as she agreed with the positions of the Liberal group 81% of times.
However, the voting choices of Pietikäinen are highly dependent on the policy issue under examination. When it comes to votes on economic and monetary policy, Sirpa is more likely to vote in the same way as the EPP (87%) than ALDE (84%) and S&D (82%). The same can be said about budgetary issues, as the member of the National Coalition Party is very close to the stance of her political group on the allocation of EU's finances (93% agreement rate).
While she sees eye-to-eye with her EPP colleagues on budgetary and macroeconomic policies, disagreements have been spotted on other policy areas. She voted only 58% of times in the same way as the EPP on issues concerning the environment, health and food safety. For instance, MEP Pietikäinen supported a proposed increase in the minimum targets for the recycling of packaging waste, whereas most of her EPP colleagues opted for a more gradual approach. She also backed a proposal by the left calling for a temporary prohibition of the use of nanotechnologies in food production, whereas, also in this case, the EPP rejected the initiative.
The Finnish MEP agrees with the Socialists & Democrats in promoting a stricter application of the precautionary principle for the regulation of potentially hazardous substances, as well as higher targets on environmental protection. Overall, she voted in the same way as S&D 81% of times on policies related to environmental protection, health and food safety.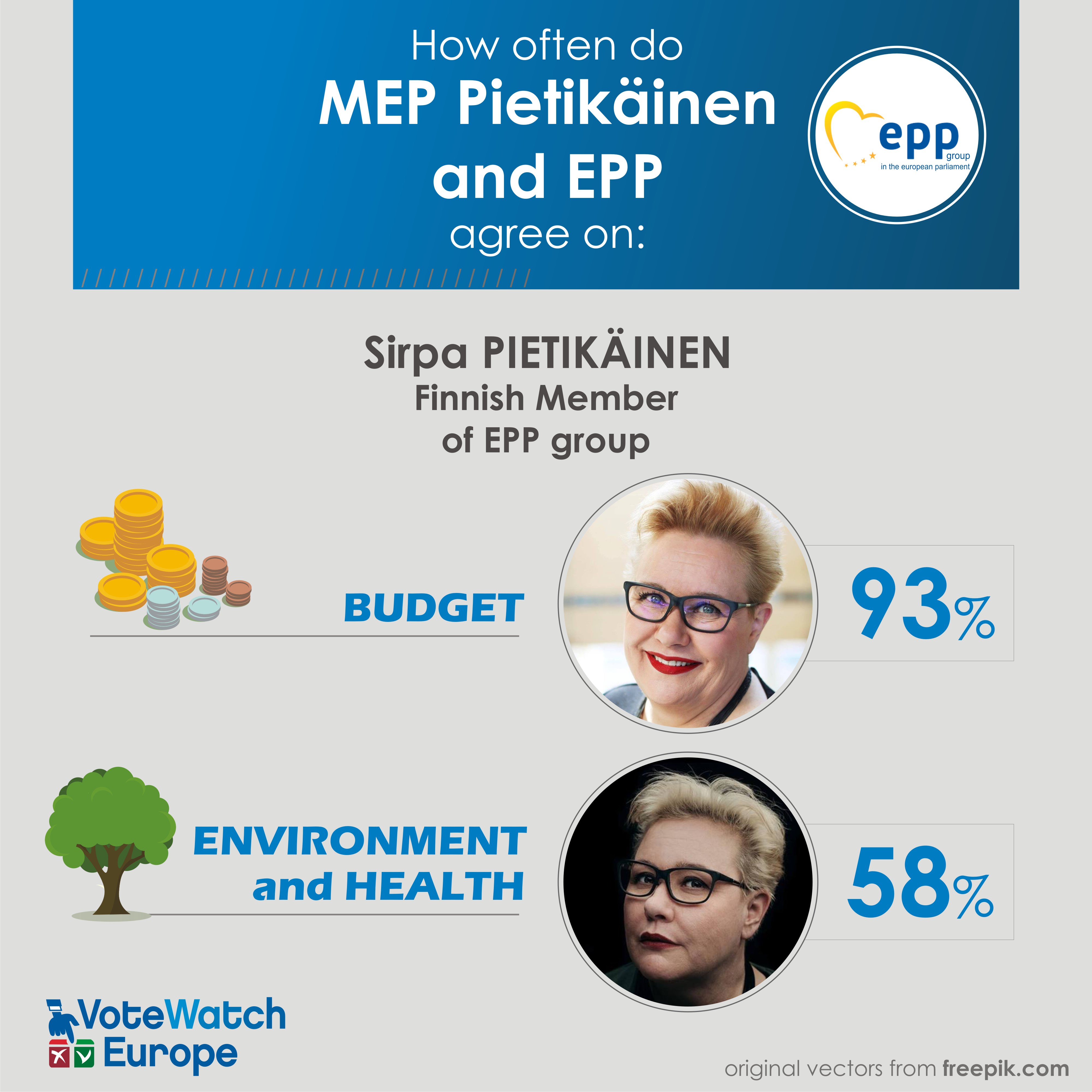 She is also at odds with her political group on agricultural policies, as she agreed with the position of the EPP on these issues only 38% of times. For instance, she is more progressive on measures concerning animal welfare and she recently backed the call for a legislative proposal on minimum standards for the protection of farm rabbits. She also opposed faster approvals of plant protection products, fearing that this could lead to more superficial assessments of their properties.
Finally, MEP Pietikäinen also leans to the left on certain issues related to civil liberties, justice and home affairs. She voted with S&D 81% of times on this policy area, whereas her rate of agreement with her own EPP group is lower (74%). For instance, she backed the EP's criticism against Poland restrictive abortion policy, whereas most members of her political group oppose EU's interferences in national policies on abortion. Sirpa also sided against the majority of her political group in supporting facilitation for procedures enabling people who have changed sex to have their new gender recognised in official documents, as well as the condemnation of legal recognition procedures that impose sterilisation on transgender people.
–
Close monitoring of MEPs' voting behavior is essential to predict their future positions
Different personal views, professional backgrounds, regional and national cultures and, of course, advocacy campaigns contribute to shaping MEPs' voting behavior on EU policies. This is what makes EU politics so fascinating, but also very difficult to grasp. MEPs voting behavior varies from area to area, from issue to issue. As the example of Pietikäinen showcases, the political views of MEPs are rich in nuances.
In order to understand what the actual positions of MEPs are, one needs to closely track their voting records, rather than just assuming that they are on board with a proposal because they are in a certain political group or national party. Thanks to our database on the votes cast by all Members of the European Parliament, we can provide our users with comprehensive data and analyses about the actual views of all MEPs. If you are interested to know more about the actual positions of MEP Pietikäinen or any of the other 750 EU Parliamentarians, or simply to find out who and how is shaping EU politics in general, contact us at [email protected].