Note: this country-based report is part of the broader study that measured the influence of MEPs from all 28 EU Members States. To consult the methodology and cross-country comparisons read the full "Who holds the power in the European Parliament?" study.
Ildikó Gáll-Pelcz, member of Fidesz Party (EPP), is the most influential Hungarian MEP according to our assessment. After graduating in mechanical engeneering, Gáll-Pelcz continued her post-graduate studies in Economics and eventually became an international tax expert and university lecturer. Former Vice-President of the Hungarian Assembly (2009 – 2010), Gáll-Pelcz is currently the Vice-President of the Fidesz Party, the as well as the President of Fidesz's Women Platform since 2006. Apart from being one of the Vice-Presidents of the EP, Ildikó is active on economic policy. Notably, she drafted a report on the single market governance within the European semester 2015.
Kinga Gál, Fidesz (EPP), is the second classified in our list of the most influential Hungarian MEPs.  She is focused on the representation of the interests of the different Hungarian communities living outside the country. In fact, Gál is herself a Hungarian politician born outside the country, in the Transilvania region in Romania. Before becoming an MEP, she worked as an international legal expert in the European Centre for Minority Issues and in the Government Office for Hungarian Minorities Abroad. In the EP, she chairs the intergroup on Traditional minorities, national communities and languages and she is vice-president of the Committee on Civil Liberties, Justice and Home Affairs.
The third best positioned Hungarian, Péter Niedermüller, is a member of the centre-left Democratic Coalition (S&D). Niedermüller holds important positions within his political group, as he is both the treasurer and Vice-President of S&D. Since he joined the EP in 2014, he has been working closely on migration policy. He is the rapporteur on the establishment of the European Agency for Asylum and he publicly condemned Órban's policies on the refugee crisis.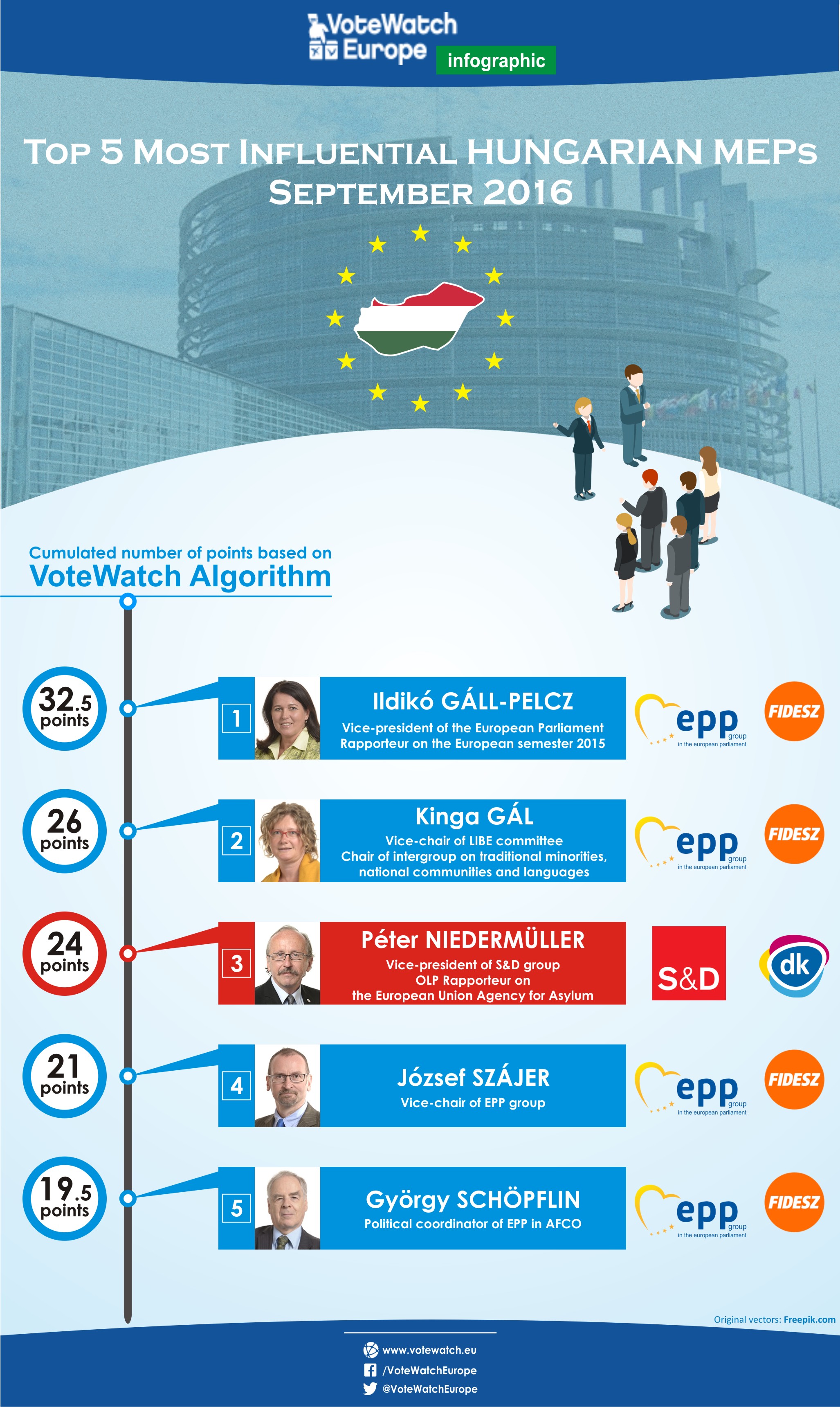 For more information about the methodology and the rest of the assessment, contact us at [email protected].
Read the overall assessment on the most influential MEPs in the European Parliament and the most influential MEPs in Neighbourhood and Enlargement Policy . 
Also read the other assessments by country:
Austria – Belgium – Bulgaria – Croatia – Cyprus – Czechia – Denmark – Estonia – Finland – France – Germany – Greece  – Ireland – Italy – Latvia –Lithuania – Luxembourg – Malta – Netherlands – Poland – Portugal – Romania – Slovakia – Slovenia –Spain – Sweden – United Kingdom