The European Parliament approved a resolution tabled by the ALDE group asking for the EU-Canada agreement on the transfer of Passenger Name Records (PNR) to be referred to the European Court of Justice (ECJ) for an opinion on whether it is compatible with the EU treaties and Charter of Fundamental Rights before voting on the new agreement. The PNR agreement was signed by the EU Council of Ministers and Canada on 25 June 2014, but in order to enter into force it needs the consent of the Parliament.
The resolution passed by 383 votes in favour, 271 against and 47 abstentions. The left-leaning groups (S&D, Greens/EFA, GUE/NGL) and the right wing eurosceptics supported the proposal (the EFDD group was split). The conservative EPP and ECR groups decided to vote against the resolution, as they considered that the PNR agreement should be enforced at the soonest, to fight against terrorism and international crime.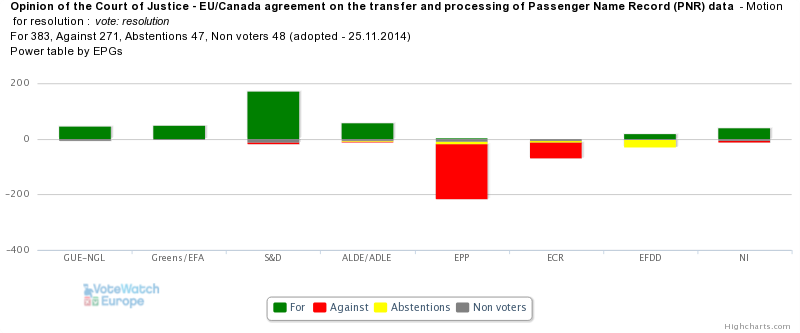 PNR data is information provided by passengers during the booking of tickets and when checking in on flights. The data is stored in the airlines' reservation and departure control databases and use it for commercial purposes. PNR data include information, ranging from names and addresses to meal preference and medical needs. Moreover, many states access PNR data for the purpose of fighting serious crime and terrorism.
The EU has so far signed bilateral PNR Agreements with the United States, Canada and Australia.
The aim of the resolution is that legal certainty for EU citizens should become a benchmark for future agreement with other countries that involve the collection and transfer of personal data. The text was tabled after a critical opinion by the EU Data Protection Supervisor on the proportionality of PNR schemes and the choice of legal basis for the agreement.
Now, Parliament's final vote will be suspended until the Court has delivered its opinion.
Click here to see how each MEP voted on the report.