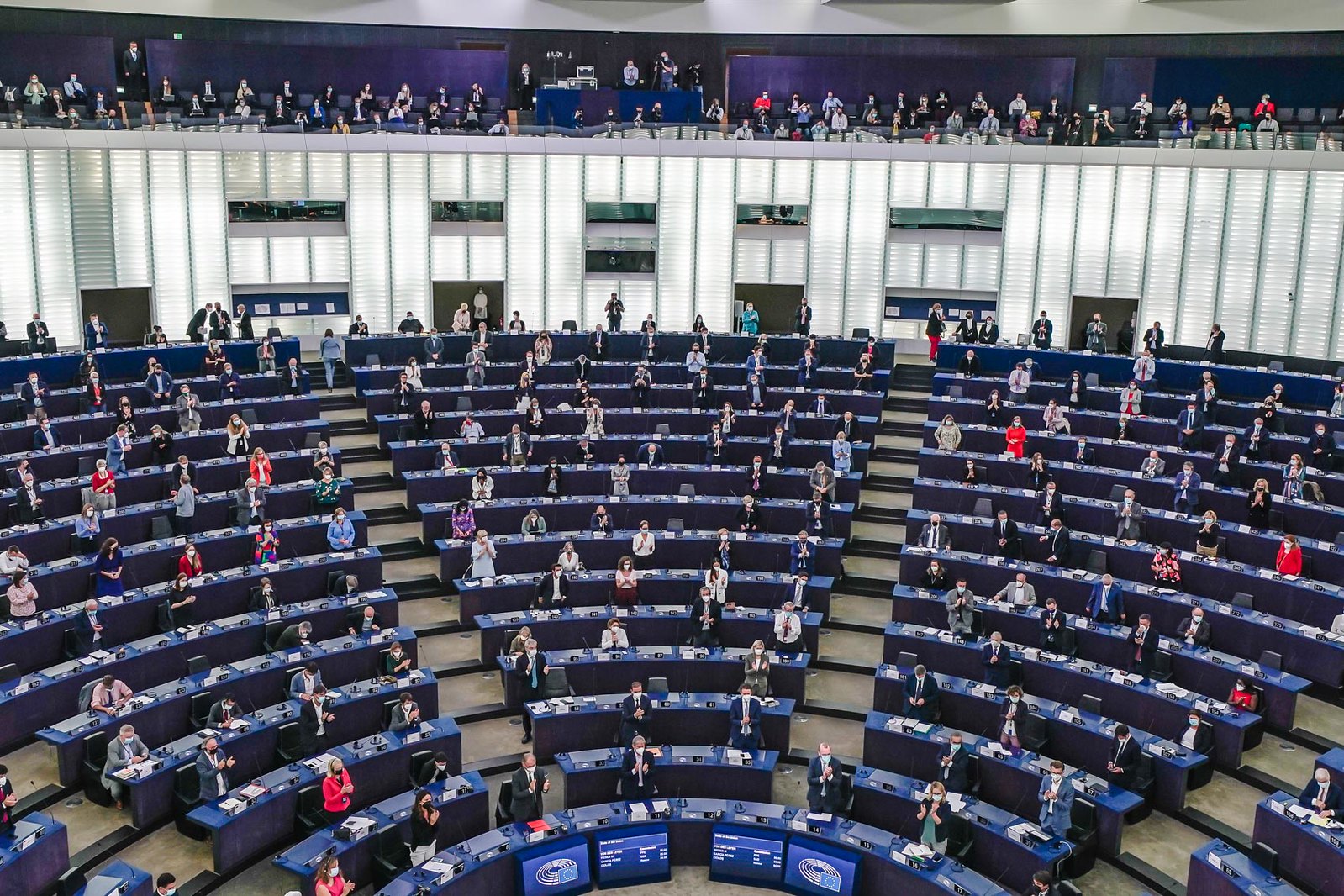 ---
New qualitative insights: stakeholder interviews
VoteWatch Europe reached out to several MEPs to find out more about their opinions regarding different European initiatives. This series of interviews will provide more qualitative insights about the positioning of MEPs and other stakeholders on policy areas such as environment, trade, employment, foreign and security policy etc. We have for instance discussed Due Diligence with several MEPS from different political groups, including Heidi Hautala (Greens/EFA), Lara Wolters (S&D) and Axel Voss (EPP).
You can find a list of all available interviews here, which will be updated on a regular basis.
Note: This new qualitative data should be seen as a complement to our quantitative tools, including our advanced mappings of MEPs. We have notably updated our MEP "radars" on new policy areas, including on gender balance in the workplace and LGBTIQ+ initiatives. You can find the list of all the policy areas already covered here.
---
Lessons learned from this month's key votes in the European Parliament:
1. Covid-19 vaccines
2. EU Pharmaceutical Strategy
3. Critical Raw Materials (CRM)
4. Trade
NB: the Commission pays attention to the size of EP majorities not only when voting on legislation, but also when own-initiative reports are being passed in the preparatory stages, hence the Commission is likely to shape the actual upcoming legislative proposals in line with these political majorities to avoid complications.
Importantly, the positions of some MEPs do change between the indicative votes on own-initiative reports and the decisions on the final legislation, potentially turning a minority into a majority or vice versa. In order to forecast which MEPs/groups might swing (and which hold strong/stable views), use our influence matrices (or contact us at [email protected]).
---
1. Covid-19 vaccines
In line with the measurements we took during the June plenary session, there continues to be strong divisions amongst MEPs when it comes to granting a temporary waiver from certain provisions of the Intellectual Property Rights (TRIPS) agreement for Covid-19 vaccines. The latest initiative in the context of the 12th WTO Ministerial Conference in Geneva is being supported by very tight margins (+5 MEPs only). As was the case on previous votes, support for this initiative mainly stems from The Left, Greens/EFA and S&D, with internal divisions within Renew playing at the advantage of this coalition and allowing it to secure a majority.
Find the current position of each MEP here.
This has been a contentious issue since it was first discussed in April and May, with ideological clashes between those supporting greater global vaccine access and those who believe in promoting and safeguarding EU vaccine production. With the proposal to support text-based negotiations for a temporary waiver of the WTO TRIPS Agreement in the context of Covid-19 vaccines only receiving a majority of one MEP in June, it is clear that every vote counts. In light of this, stakeholders should keep an eye on our updated mapping of MEPs on Health, which show the evolving support of MEPs for a given proposal over time. Below is an example of such mapping in the context of a temporary waiver of IPR for Covid-19 vaccines.
Note: you will need to log in with your premium account in order to see the names of the MEPs (if you do not have one, contact us at [email protected]).
---
2. EU Pharmaceutical Strategy
The current level of support for implementing a Pharmaceutical Strategy for Europe is generally widespread, as demonstrated by the final vote on the report (+435 MEPs). While such broad support reflects a strong push for a more harmonised production of medicines across Europe, the issue of pharmaceutical licensing continues to be rather delicate. The main debate surrounds licensing, which allows another company to produce a given patented medicine, and concerns whether or not it should be mandatory. Compulsory licensing allows patent production without the consent of the patent owner, whereas voluntary licensing means the IP-holders themselves grant license to their patent. This issue directly impacts the development of patents across the European Union and is therefore a key insight for stakeholders in the health industry.
Although a proportion of MEPs, mainly from The Left and Greens/EFA, are calling for mandatory licensing to allow for increased production of generic medicine, they are unable to do so (-353 MEPs) as a relatively broad majority of members would prefer voluntary licensing to be prioritised. This coalition, encompassing S&D, Renew and the EPP amongst others, fears compulsory licensing would not provide enough incentive for EU pharmaceutical companies to develop their own patents; in the long run, this would affect EU strategic autonomy in the healthcare sector. In light of this, voluntary licensing would promote the development of new patents, since companies can decide when (and on which terms) to sell their patents, and therefore boost EU production of medicines.
Find the position of each MEP here.
—
Interested in EU health policy? Our influence matrix will show you how influential MEPs are, and in which direction each MEP is pulling EU legislation. You can find the updated version here.
---
3. Critical Raw Materials (CRM)
The European Parliament's own initiative report on Critical Raw Materials (CRM) sourcing provides further insight into the positioning of MEPs on how to transition towards climate neutrality. Overall, MEPs are reluctant to limit raw material sourcing, with the proposal to avoid approaches to CRM sourcing, which are perceived as unsustainable or socially unacceptable, falling short of a majority (-70 MEPs). Opponents to this proposal mainly come from Renew Europe, the EPP and ID, which may also reflect a desire to facilitate new mining projects planned for the future. Stronger opposition from these political groups can be seen when it comes to banning mining in protected areas, with S&D also rejecting such a proposal.
Find the position of each MEP here.
Find the position of each MEP on mining here.
The support seen for an increased strictness of sustainability criteria in the mining industry and the introduction of CRM subsidies abiding by both the do-no-harm principle and the European Green Deal commitments sees a similar pattern. Along with the ECR, the EPP, ID and Renew groups mostly stand against such a proposal, albeit by a narrower margin (-51 MEPs). In line with previous observations made by VoteWatch, this outcome reflects the current divisions that can be observed when climate initiatives have a direct impact on a given industry, as is the case when it comes to sustainable investments and green taxonomy.
Find the position of each MEP here.
—
To learn more about where MEPs stand on climate issues, including on the 'do-no-harm' principle amongst others, consult our dedicated matrices here.
---
4. Trade
The European Parliament's report on Critical Raw Materials also provides an opportunity to assess the current level of support for integrating more sustainability into EU trade policies. As is the case for the aforementioned initiatives on CRM sourcing, there seems to be a certain level of hesitancy amongst MEPs for developing new trade and investment agreements that integrate transversal sustainability requirements. Such a proposal falls short of receiving a majority (-68 MEPs), with most of Renew members taking a more pro-market stance and allowing the EPP to be on the winning side of the vote.
Find the position of each MEP here.
The current level of support for integrating sanctionable sustainability requirements in Free Trade Agreements (FTAs) receives even lower support (-297 MEPs). S&D members are joining Renew Europe and the EPP in securing a broad majority against such a proposal, with The Left and Greens/EFA being the main supporters. While MEPs are increasingly pushing for more sustainability clauses in EU trade agreements, this vote also shows they are not ready to introduce sanctionable requirements on energy or critical raw materials. At the same time, stakeholders should note that several delegations from national governing parties (including from France, Germany, the Netherlands, Spain and Poland amongst others) are opposing this initiative, which would point towards low support in the Council as well. Insightfully, MEPs from Macron's governing party are all in favour of targeted sustainability requirements in FTAs, a position which will need to be closely followed in light of the upcoming French presidential elections as well as the French Council presidency.
Find the position of each MEP here.
—
To learn more about coalition building dynamics on EU trade policy, including how to identify the most influential MEPs and pivotal voters, make sure to take a look at our dedicated influence matrices on Trade and Due Diligence.
---
For more information, training, consultancy or media relations, contact us at [email protected]