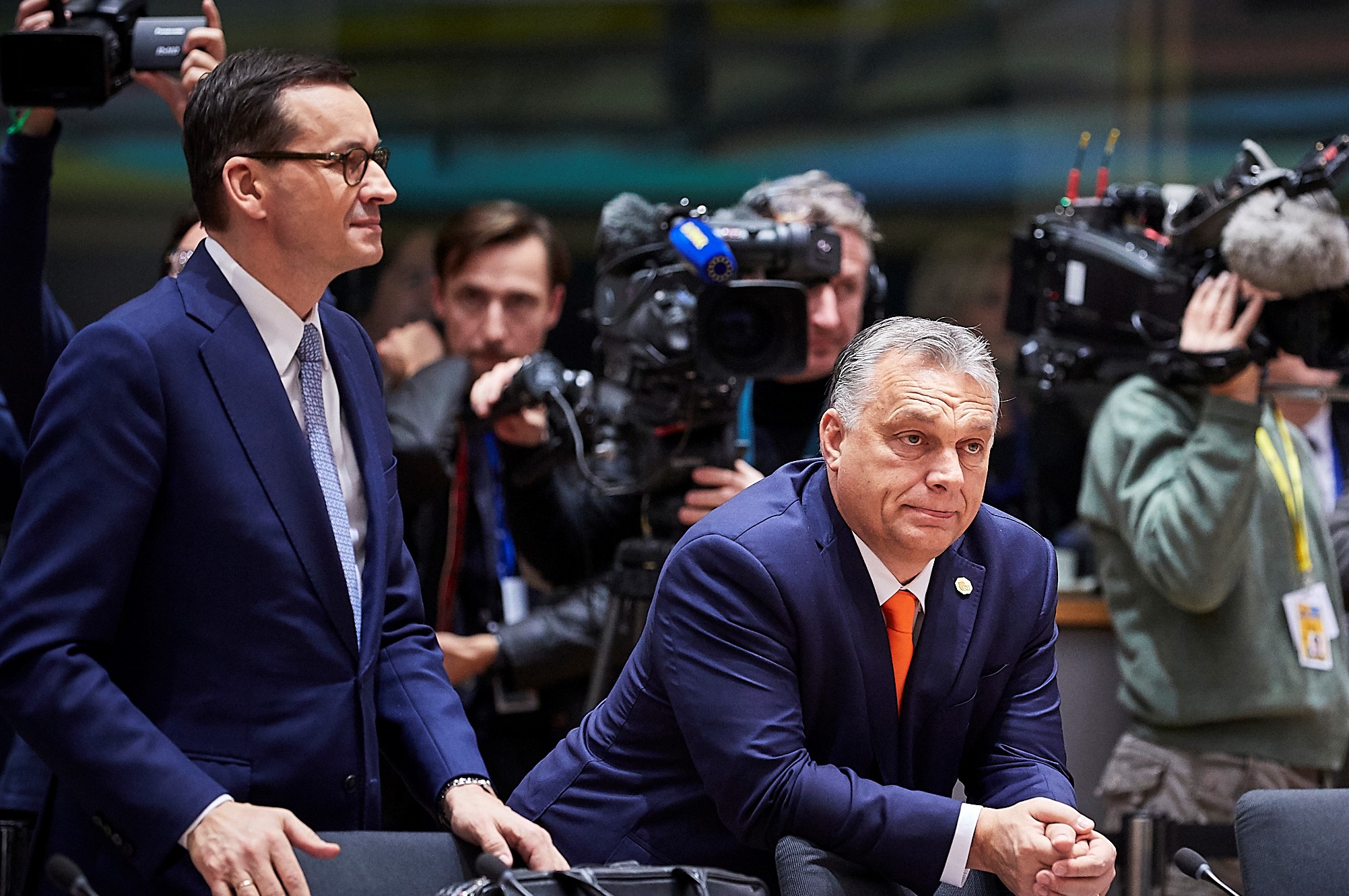 The result of the current negotiations for a new political alliance will tell us whether what we are witnessing is geographical clustering (a sign of a rift between "richer" North-Western EU on the one hand and the South and East on the other), or if it's a broader regrouping of the nationalists across the EU into the main opposition force in the European Parliament.
—
In the context of the ongoing discussions between forces that are dissatisfied with what they perceive as over-centralisation of the EU, such as Lega, Fidesz and Polish PiS, we have run a simulation of the most likely scenarios of the size and impact of this alliance. 
Some media have circulated the scenario of a broad coalition of parties from ECR, ID and the Fidesz, which could result in the 2nd largest group in the European Parliament, de facto making it the main opposition force in European politics.
Our analysis, based on actual voting behavior in the European Parliament, suggests that a more limited restructuring of ECR is much more likely than a full merger of the different nationalist currents across the EU into a single "opposition" force. 
The report includes an interactive chart that shows how the new balance of power can look like in the EP.
—
The latest developments
In early March, Fidesz left the EPP, and its 12 MEPs became non-attached. The Hungarian party now sees this as an opportunity to restructure the increasingly divided right-wing. Viktor Orbán is currently focusing his attention on Salvini's Italian Lega and the Polish PiS, two parties that are part of the governments in their countries and that hold some of the largest delegations in the EP. The statements after the recent meeting of the 3 leaders provide clues of the trends that we are witnessing and what we can expect next. 
What these parties have in common is that they come from countries outside of the "richer" North-Western EU. What unites them is the perception that the interests of their countries are not properly factored into the general EU policy-making, hence their allegations of "over-centralisation" of the EU (a narrative also present in the case of the British Conservatives in the run-up to Brexit). Beyond economics and power-sharing, however, a key EU orientation that they are united in rejecting is "cultural standardisation" (which they see as a threat to the family values), reason for which they push back by appealing to the principle of "respecting national/regional diversities".
The potential payoff is significant, as these three parties combined would already have 66 MEPs, which is more than the current number of ECR MEPs. Still, forming a formal coalition will not be an easy task. This is especially the case for Lega, which wants to strengthen its European network, but whose policy positions do not always match the views of Hungarian Fidesz or Polish PiS. 
—
Who else could likely join the club?
Even if the three managed to reach an agreement, they would still need the support of more parties. ECR members seem to be the most suitable candidates in terms of voting behaviour, although some of their members have discrepancies with Fidesz and Lega (especially the latter) and it is unclear if they will be willing to overlook them (more on this later). 
It is unlikely that EPP members would want to leave the largest EP group to join a more fringe force. Only smaller parties could consider such an option. The Slovenian Democratic Party (SDS) and the representatives of the Hungarian minority in Romania (UDMR) are the EPP members with the closest relations with Orbán, and among the closest EPP members to ECR positions (as confirmed by their actual voting behavior). 
The last option, and also the least likely, to win allies would be to try to enlist the support of ID members. The French Rassemblement National (RN) and the German Alternative für Deutschland (AfD) are the two biggest ID members after Lega, with 23 and 11 MEPs respectively. However, their positions are rather far from those of the CEE conservatives. Differently from RN and AfD, the two CEE parties, Fidesz and PiS, have a strong governing experience at the national and local levels and do not suffer from the same 'pariah' status domestically. Additionally, our data show that their policy differences are especially significant on key topics such as foreign affairs, budget and employment. 
—
Delegations who could be at odds with the new coalition
The addition of Lega to ECR might not be well-received by all ECR members. For instance, while Fratelli d'Italia, a leading member of the group (their leader Giorgia Meloni is also the President of the ECR party), is the ECR member closest to Lega in terms of voting behavior, the two Italian parties are rivals at the national level, which complicates any plans to include them into the same group. Similarly, while Lega is also relatively close to Vox in terms of voting behavior, particularly on civil liberties and foreign affairs, the Spanish are still somewhat at odds with Salvini's MEPs due to Lega's separatist past and its currently ambiguous stance on Catalan independence.
Belgian N-VA, who is currently part of ECR, is likely to feel uncomfortable with the substantial increase of Southern and Eastern representation in this new group. Indeed, N-VA members are already at odds with the Polish on issues such as rule of law (but not only) and have a difficult relationship with Spanish Vox due to their protection of Puigdemont from prosecution in Spain. Our data on voting behavior shows that the Flemish N-VA MEPs already agree more with the EPP group than with their own political group (ECR) and can therefore be expected to leave if they receive a final "push". 
To a lesser extent, another party that could disapprove of a new coalition alongside Lega and Fidesz can be Slovak Sloboda a Solidarita (SaS). This is mainly due to the fact that they represent a more libertarian force within ECR, particularly when it comes to civil liberties. Given that SaS is closer to Fidesz than it is to Lega, they would more likely remain a part of ECR if the new arrangement only included Hungarian MEPs from Orbán's party. 
—
Possible scenarios
The following section provides an overview of different possible scenarios, which you can visualise in the graph below. However, as discussed above, there might also be some losses for ECR, which are difficult to quantify at the moment. Our scenarios are also compatible with the possibility of the operation resulting in a re-branding of ECR. In this case, the re-branded group should be seen as a successor of the ECR group, in the same way as Renew Europe is a successor of ALDE. 
---
Likely scenarios: geographical clustering
Scenario 1: only Fidesz joins ECR
In the event that Orbán gives up on the plans to create a broader alliance and decides to join a restructured ECR, political dynamics would also undergo more limited changes.
The increasingly influential (at domestic level) Spanish Vox and Fratelli d'Italia would be pleased to welcome Orbán, while Polish PiS would find it rather easy to accommodate the Hungarians as they generally agree in the EP (over 70% of the times), even though they still have different views when it comes to the relations with Russia. Even where there are disagreements between PiS and Fidesz, this arrangement would ensure that the Polish remain the biggest party in the group and, therefore, retain control of the expanded ECR.
Yet, Fidesz's entry would create an imbalance in the group towards CEE interests and cause difficulties in finding common ground with parties from North-Western Europe such as Swedish Sverigedemokraterna and Dutch JA21. These parties are already at odds with several Polish positions, as our data shows that they agree more often with the ID group rather than their own ECR group. Hungarians and Poles are usually in favour of a larger EU budget, while MEPs from frugal member states don't want to hear that. At the same time, the Dutch and the Swedish nationalists are eager to introduce more restrictions on intra-EU migration (as on posting of workers), which is staunchly opposed by PiS, Fidesz and most other conservative forces from CEE. 
For the Dutch and Swedish ECR members, the accession of Lega to their group would be more beneficial, as they share more similar views on budget and civil liberties and it would provide the group with a stronger geographical balance. This leads to a new possible scenario. 
—
Scenario 2: Fidesz and Lega join ECR
The new conservative front could look much different if both Salvini's Lega and Orbán's Fidesz joined ECR, which would likely increase the size of the group to almost 100 MEPs. As this would make ECR more geographically and politically diverse, it would undeniably mean the group will become more appealing to other political forces, and thus have a much stronger voice across Europe. 
However, the size of Lega's representation in the EP is comparable to the one of Polish PiS, which means that the Polish would no longer be able to fully control the policy direction of their group. This is especially relevant with regards to the issues where the two parties have different views. While Lega agrees rather broadly with PiS on civil liberties and home affairs, their positions are much more different in other policy areas. For instance, given that Italy is a net contributor to the EU's budget, it is not surprising to see them disagree with MEPs from Kaczyński's party on a majority of budgetary proposals.
Divisions are the most present when it comes to economic policies of the EU, which can be best understood when considering that Italy is part of the Eurozone, unlike Poland and Hungary. Indeed, according to VoteWatch's data on voting behavior, Lega agrees with PiS and Fidesz over 50% of the time (which is already very low), but these numbers tend to be even lower when it comes to economic and monetary affairs. Employment is another policy area that is likely to ignite divisions, if Lega were to join ECR, in particular with regards to the posting of workers from Eastern Europe. 
On the other hand, it is relevant to keep in mind that Lega is getting closer to PiS and Fidesz on foreign affairs, which could be enough to make this coalition a reality. Lega is notably hardening its positions on Russia, in part to accommodate PiS, and already agrees with Kaczyński's and Orbán's MEPs on more than 50% of proposals related to the EU's foreign policy. In comparison, according to VoteWatch data on voting behaviour, German MEPs from AfD and French members from RN only agree with PiS and Fidesz around 30% of the time on foreign policy positions. 
—
Unlikely radical scenario: broad nationalist front becomes the main EU opposition force in the EP
Another scenario, though highly unlikely, would see a full merger of ECR and ID, with the addition of Fidesz and possibly other EPP dissidents. As a result, this new conservative front could even become the second-largest political group, after the EPP. It must be kept in mind, however, that such a wide political group would comprise several power brokers with opposing positions on key topics, including Polish PiS, Italian Lega, French RN, German AfD and Hungarian Fidesz. While the group would benefit from its big size when formally needed, it would find it very hard to speak with one voice on most topics, therefore limiting its impact on coalition-building in the European Parliament.
All in all, it is important to keep in mind that irrespective of how these new developments reshuffle the political groups in the European Parliament, the general impact on coalition building will not be as dramatic as some of the absolute numbers might suggest. Indeed, these new developments do not change our previous observation that the European Parliament is increasingly moving towards a more 'center-left' orientation, with Renew Europe being able to secure majorities alongside other political groups from the left of the political spectrum, even without the support of the EPP group. This is increasingly the case with regards to environmental topics, for example, whereas the picture is different when it comes to trade and other policy areas. As previously highlighted by VoteWatch, majorities in the current Parliamentary term can take different forms depending on the subject at hand, even within the same policy area.
Want to know more about coalition-building in the European Parliament? Find our tools on specific policy areas here, or contact VoteWatch at [email protected] for any additional information.