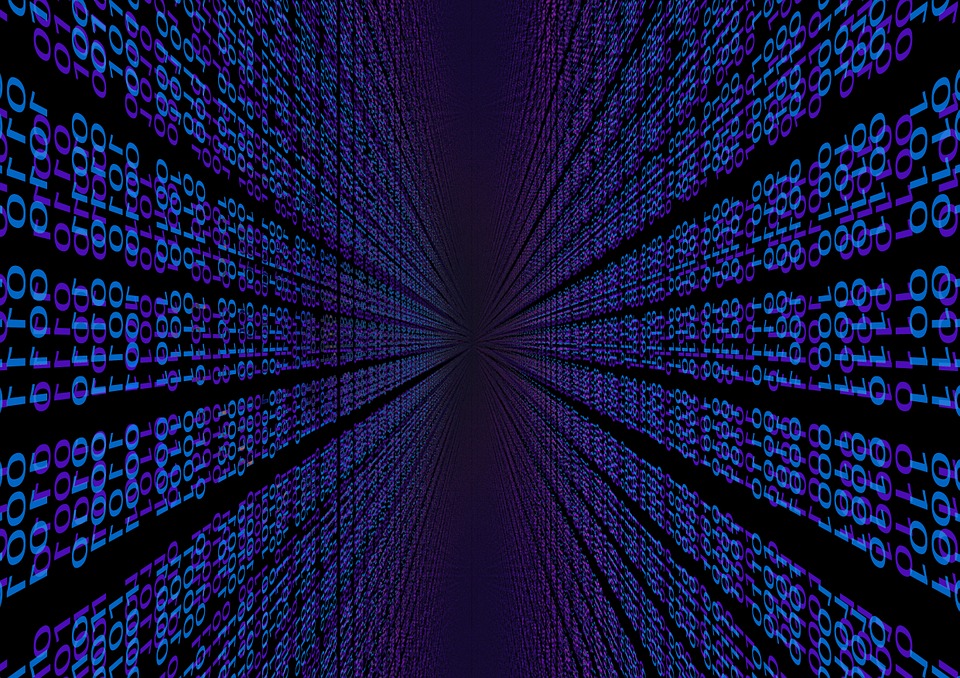 We are in the midst of the digital revolution. Individuals, businesses and policy makers alike are scrambling to make sense of the challenges and opportunities that new technologies create. It's complicated to regulate an ecosystem that is so dynamic, complex, and fresh – although some think that it's necessary.
European institutions have been making efforts to protect citizens and give everyone a fair chance to benefit from the digital expansion. The Digital Agenda for Europe (DAE) was conceived as one of the seven flagship initiatives of the Europe 2020 strategy adopted by the Commission and it's on Juncker's top 10 priorities list. DAE includes priorities such as achieving a digital single market, strengthening online trust and security, promoting fast Internet access for all, and investing in research and innovation.
The digital environment is influencing everyone's daily lives, be it at home or at work. Businesses depend on the Internet to promote themselves and reach customers. Digital policy has a direct impact on all of us. It's only natural to wonder: who influences it?
–
Top Most and Least Influential EU Parliamentarians on Digital and Telecommunication Policy
The short answer is that German Members of the European Parliament (MEPs) are the most influential on digital and telecommunication policy. From the top 25 most influential MEPs in our list (using a comprehensive methodology described below), six are Germans. Italy, France, Spain, Poland, UK and Romania are also among the most influential countries, when considering the size of country delegations.
However, when looking at individual MEPs, Estonia stands out. Estonian MEPs are very active in this area and hence punch way above their (otherwise very small) weight. According to our findings, Greek and Cypriot MEPs are the least influential on digital and telecommunication policy, as they have not exerted almost any influence when decisions on digital are being made.
Notably, EU Parliamentarians representing North European countries such as Denmark, Sweden, but also Ireland and the Netherlands have, on average, a rather weak voice in the European Parliament on this policy area, despite these countries being digitally advanced (although some individual MEPs from these countries stand out as very active, the average is brought down by the rest of the delegation).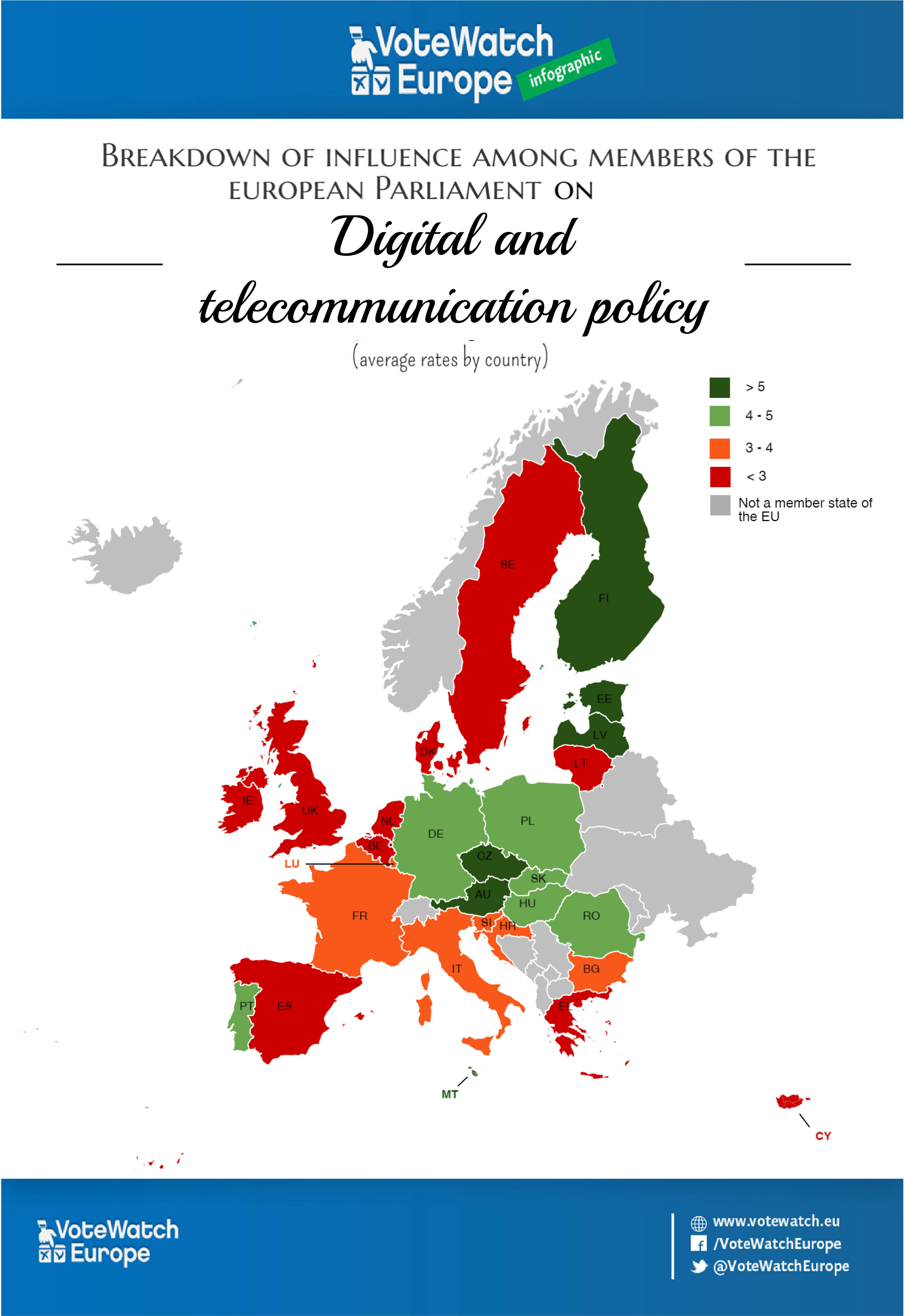 –
Why Being Active on Your Own Is Not Enough
Looking at the most and least influential MEPs tells only half the story. The other half is that though influential, MEPs tend to undermine each other on important issues. As anyone familiar with European politics knows, just because they share nationality, it doesn't mean that a group of MEPs will see things the same way and collaborate.
For example, the two most influential MEPs on digital policy, Sabine Verheyen and Julia Reda, are both German, but they are members of different parties, CDU and the Pirate Party of Germany. As you can see in the infographic (which is based on their actual votes on decisions, and not mere statements), they have different views on the copyright reform, net neutrality, and e-commerce. And we can find many similar examples.
To determine the way in which MEPs are shaping European digital and telecommunication policy, we must consider the views of each. While ranking influence by country shows the overall picture, only by analyzing each MEP and each policy can we get a clear picture of who's shaping policies and how.
In the infographic, you can see the positions taken by the most influential EU Parliamentarians on four dimensions encompassing some of the most important issues in EU digital policy: the level of EU spending in digital infrastructure, the reform of copyright, the degree of promotion and promotion of e-commerce, and the commitment to the principle of net neutrality.
Click on the image to zoom in: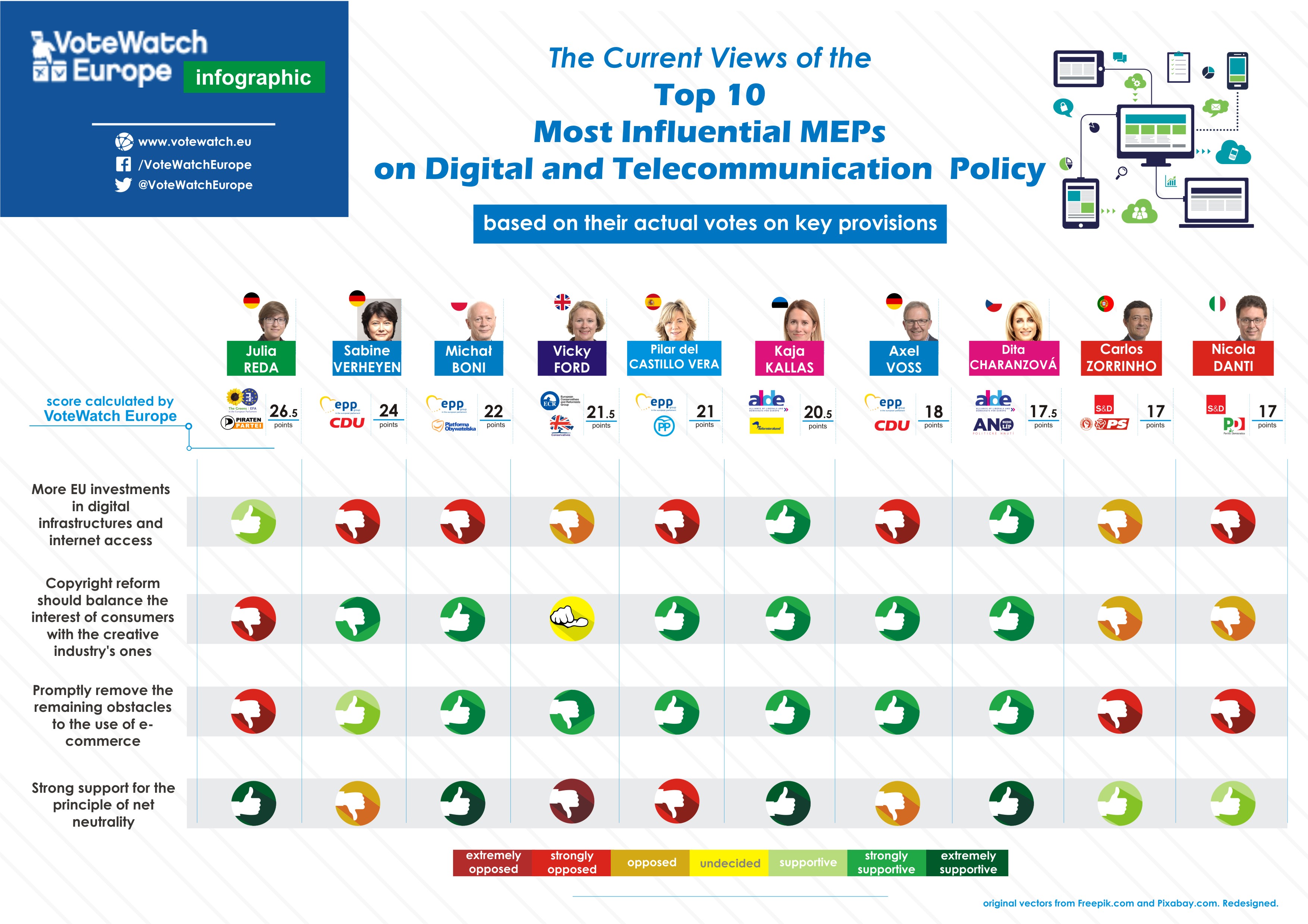 To find out the level of influence and the views of all European Parliamentarians on digital policy, contact us at [email protected].
As the need for regulation and policy coherence in the digital environment increases, so will the activity of the EU Parliamentarians around these issues. MEPs who want to rise to the top and have an influence on digital and telecommunication policy need to be active both in the EP and in specialised policy forums. Those already influential need to find new allies among those whose share their views to get traction and truly impact decision-making. One should always keep in mind that in parliaments the leading politicians can propose a measure, but in order for a proposal to pass (or be blocked) one needs a political majority on its side. For this reason, one should always be equipped with a full mapping of all influencers and the views of all MEPs (or at least know who the swing voters/king makers are).
If you are a citizen or a business with a strong view on some of these important policies, let your MEPs know. After all, they are there to serve your interests and digital is here to stay.
–
How Top Influencers Were Established
We conducted this research through an algorithm based on a set of criteria suggested and weighed by more than 200 experts in EU Affairs, who deal with MEPs and parliamentary documents on a daily basis. The algorithm, which we have used before to establish influence in other policy areas, was customized to fit the area of digital policy. We added data related to the legislative activities of the MEPs with figures that reflect their membership in groups dedicated to digital policy. Membership in the EP Intergroup on the Digital Agenda, as well as the activity in the working group on the Digital Single Market in IMCO and the involvement in the European Digital Forum and the European Internet Forum were all considered.
As there is no specific EP Committee specialized on digital policy, we factored in the chairs and vice-chairs of the three committees that are dealing with digital and telecommunication policy the most: Internal Market and Consumer Protection (IMCO), Industry, Research and Energy (ITRE) and Legal Affairs (JURI). In total, for assessing the level of influence of all 751 MEPs on digital policy we have collected and processed around 8000 pieces of relevant political data.
Our assessment is based on the positions taken by the MEPs, thus filtering out claims, rumours or subjective perceptions. The positions of the MEPs were measured per their voting behaviors on key amendments to the report on supporting consumer rights in the digital single market (2014/2973(RSP)). In total, for assessing the actual views of all 751 MEPs on digital policy, we have collected and processed more than 6500 individual decisions (votes) on directly-relevant subjects.
To find out the results for other EU Parliamentarians, or to send us suggestions, questions and media inquiries feel free to contact us at [email protected]
VoteWatch Europe is the independent think tank most followed by the European Parliamentarians, according to an independent study.
Also read:
Who are the Most Influential EU Parliamentarians on Trade policy?
Who are the Most Influential EU Parliamentarians on Neighborhood Policy?
Who are the most influential EU Parliamentarians on Energy Policy?
ANNEX I: Most influential MEPs by country
–
ANNEX II: Algorithm for influence assessment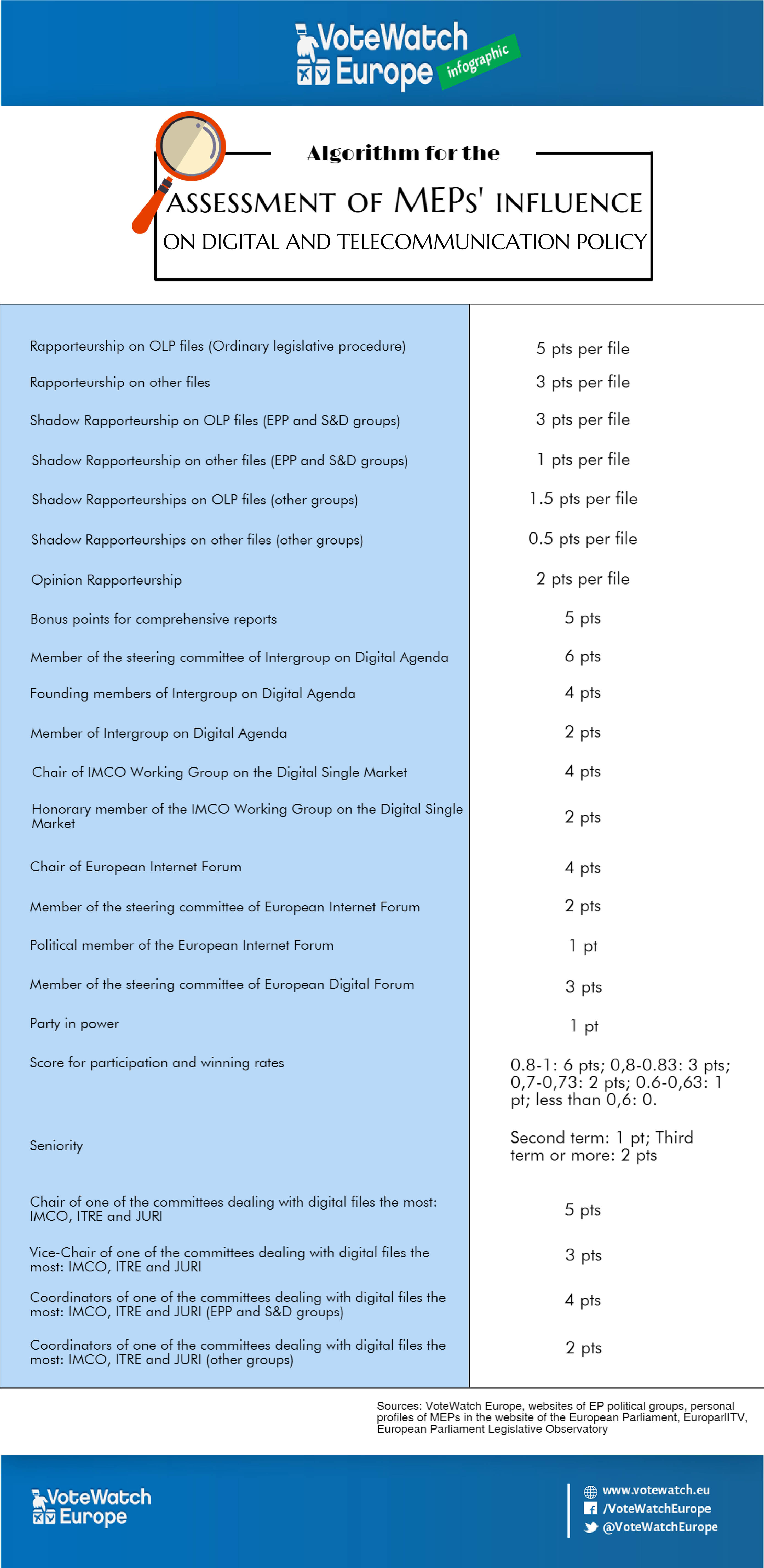 –