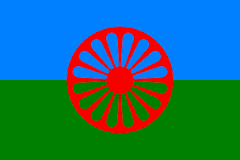 The EU parliamentarians adopted a non-legislative resolution officially recognising the genocide of Roma that took place during World War II and calling for the establishment of a "European Roma Holocaust Memorial Day" dedicated to commemorating the victims of the genocide of Roma.
The resolution was adopted by 554 votes in favour, 13 against and 44 abstentions. All the EU political groups voted in favour. The votes against the final text came mainly from the Non-Attached MEPs of far-right parties like the Greek Golden Down, the Italian Lega Nord and the Dutch PVV, while French Front National decided to abstain on the vote on the final text.
Click here to see how each EU parliamentarian voted.
With this resolution, the MEPs expressed their concern over the rise of anti-Gypsyism in Europe. The text condemns all form of racism and discrimination against the ethnic minority and encourages Member States to address the history of Roma, in particular the genocide of Roma during World War II and to do more to end discrimination against Roma people.
The votes on the amendments were very close. These were linked to the wording to be used in the resolution. For example, an amendment proposed by the EPP and ALDE groups on the choice of wording for the European day dedicated to the victims of the genocide of Roma was narrowly defeated by 261 votes in favour, 316 against and 70 abstentions. This particular amendment wished to replace the words "Roma Holocaust" by "Roma Genocide". A centre-left coalition of the socialists, the greens and the radical left plus the Italian delegation of the EFDD group opposed the change.
Click here to see how each MEP voted on this amendment.
Roma people are Europe's largest ethnic minority with an estimated population of 10 to 12 million in Europe.