MEPs passed a resolution condemning the acts of terrorism and voted to adopt new anti-terrorism measures in the EU. An overwhelming majority was formed by the Socialists, Liberal democrats, Christian democrats and Conservatives. Click here to see how each MEP voted.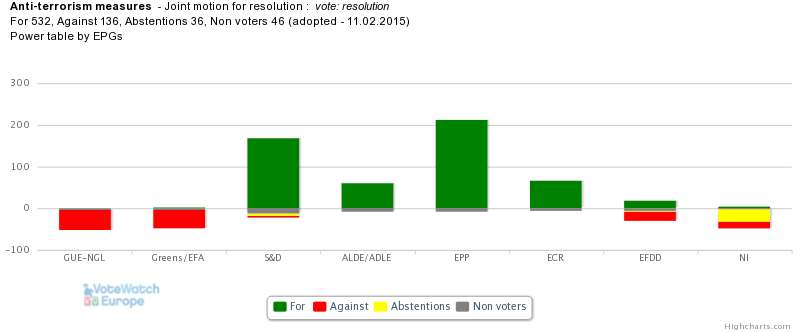 The resolution called on Member States to strengthen external border controls and expressed concerns about the rapidly rising number of EU nationals traveling to conflict areas. These nationals travel to join terrorist organisations and there is a need for more specialised measures to tackle this problem. The text also encouraged Member States to adopt strategies and use existing databases for the prevention of radicalisation at a European level.
By far the most disputed aspect of the resolution is the issue of the passenger name record (PNR) agreement, a mechanism which collects information provided by passengers on international flights. The agreement brings out controversial opinions between political parties whether the EU should analyse and retain this data for the purposes of preventing and detecting terrorist offences.
The right-leaning ECR group strongly supports the PNR system, stating that at present there is no EU legal framework for citizens or the airlines in the usage of this type of data. The directive would provide these rights and clear legal boundaries. Socialists and liberal democrats state that they are in favour of a European PNR system but it must pair with guarantees and the protection of data and privacy. The need for creating a system for services in Europe to share information and common analysis of risks was pointed out as well.
Left wing greens oppose the system, stating that the proposed PNR system and a mass surveillance of citizens is exactly the opposite of creating security. Instead of PNR, leftists support strengthening the capacity of police officers and security personnel – locally, regionally and at a European level.
As extreme rights proposed reinstating internal borders, centrists from ALDE group stand firm to the opinion that the problem is not Schengen, but the fact that the EU is not in a place to sufficiently strengthen the outside borders of the Schengen area.