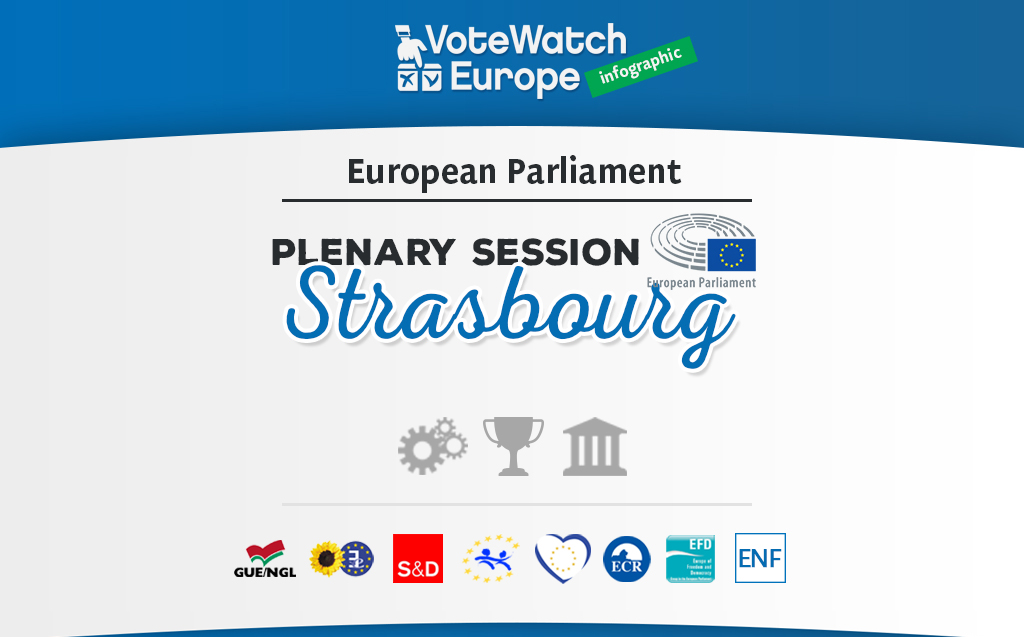 by Doru P. Frantescu, director & co-founder of VoteWatch Europe
The plenary (or part-session) of the European Parliament between 5-8 October saw some interesting trends in the behavior of the political groups. Here are just a few.
How cohesive has been each of the political groups?
Firstly, the Greens/EFA were the most united among the groups. We measure the level of internal unity of a political group using the indicator "cohesion", which looks at the extent in which the members vote the same way regardless of the country they come from. In last weeks' plenary, the Greens/EFA MEPs voted cohesively in 98% of the votes. The Socialists (S&D) group was also highly cohesive last week (97%), while the EPP came third at this indicator (93%). By far the least cohesive, as always, was the EFDD group, who experiences fundamental disagreements between its main delegations, UKIP and 5-Star movement.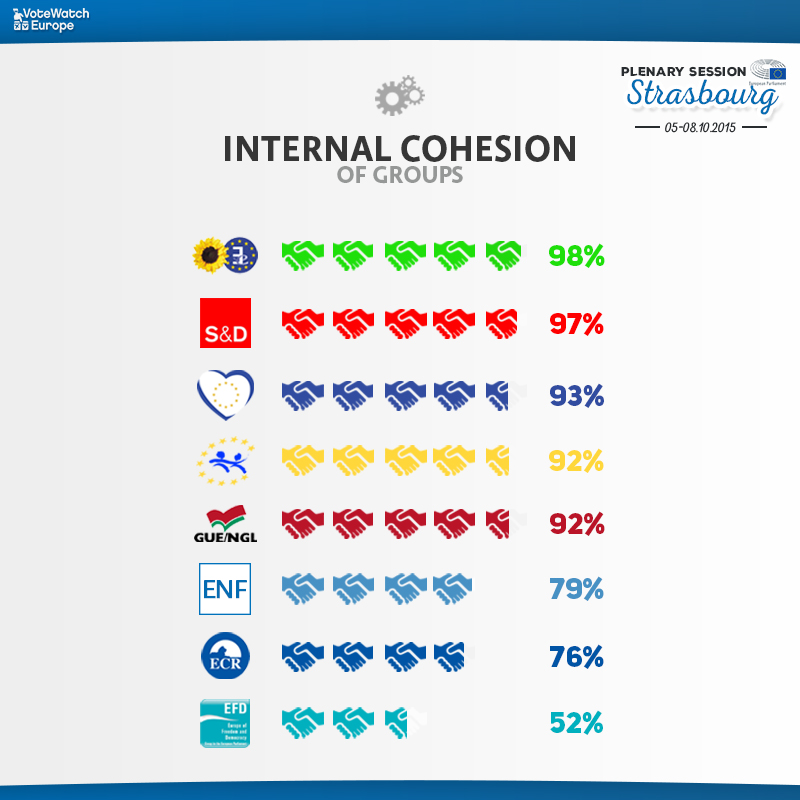 Who won the votes?
Although only 4th largest, ALDE group has won the most votes during this plenary session, 94%, closely followed by S&D group. EPP group, although the largest group, has only won 78% of the votes. It is worth noting that this intermediary result is way below EPP's general success rate and it is caused by the big number of votes on gender equality issues, a subject where the EPP is in minority due to a stable majority coalition made up by the groups at the left and ALDE. The small groups at the fringes, eurosceptic EFDD and far-right EFN have been on the losing side in around two-thirds of the votes.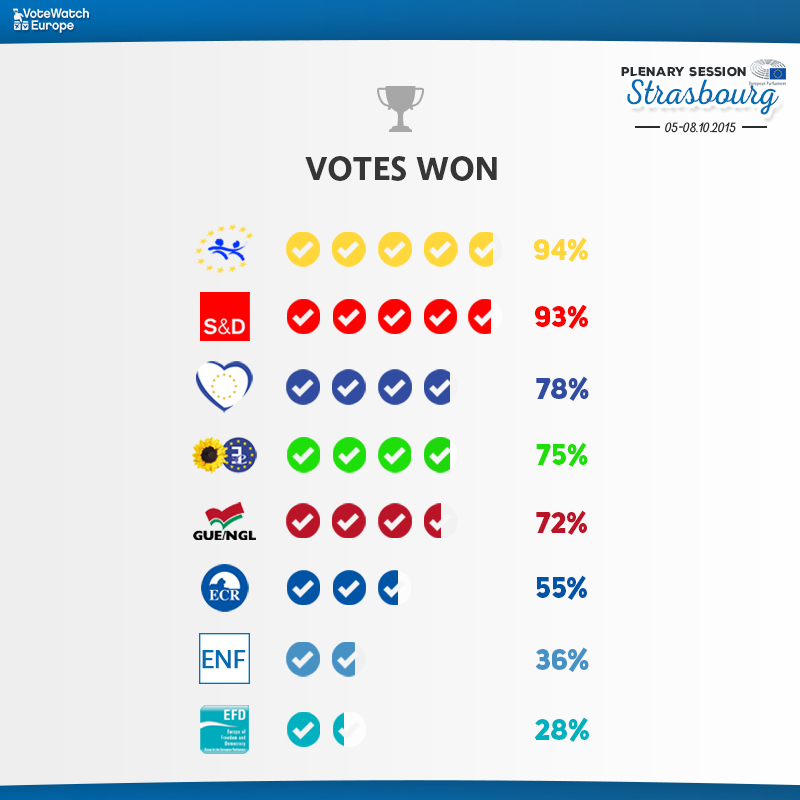 Who participated in votes?
On the other hand, the MEPs of the same fringe groups have participated more in the votes last week than the ones of the big centrist groups. These stats should give food for thought to the coordinators of the centrist groups, who may find more difficult to push through key decisions if their members are less interested in taking part in votes. However, overall (since the beginning of the term in July 2014), the situation is reversed, i.e. MEPs from the centrist groups have been more participatory than those from groups such as EFN or EFDD (click here to see the overall stats).
Which votes did the MEPs find most/less interesting?
Environmental policy seems to be much more appealing than gender equality issues to MEPs, at least this is what one could gather by comparing the turnout among the Members when two key documents from these areas were put to vote last week. Concretely, 705 MEPs cast their votes on a report dealing with limitation of emissions of certain pollutants into the air, but only 568 MEPs voted on a report dealing with equal opportunities in matters of employment. However, the turnout in general in votes last week was rather high.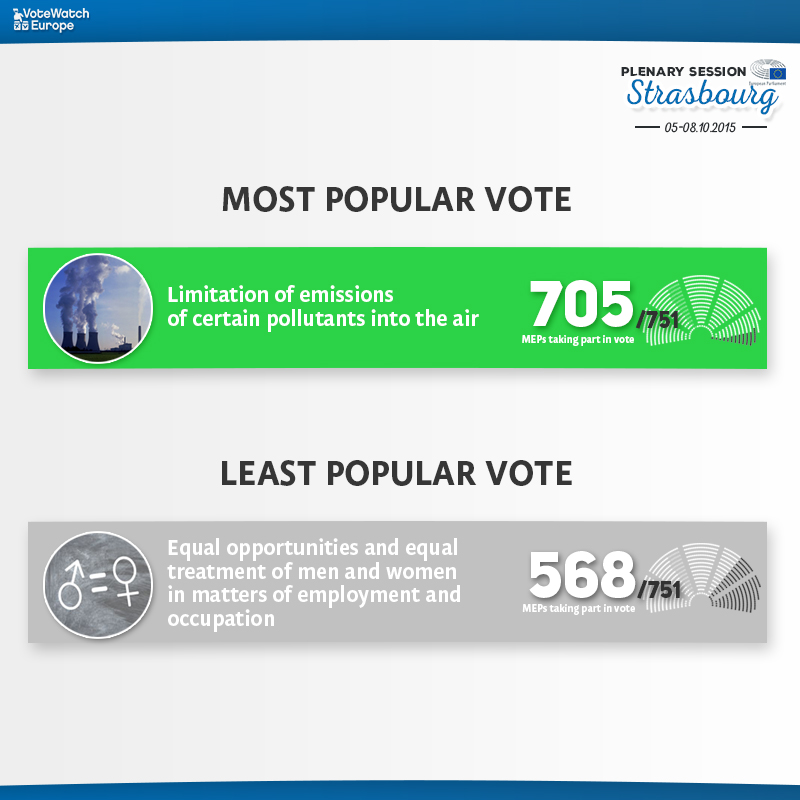 For more information and analysis of EU politics contact us at [email protected].