The Motion of Censure on the EU Commission, tabled by 76 EFDD and non-attached MEPs, was rejected by 101 votes in favour, 461 against and 88 abstentions. The number of MEPs voting against the motion, and thus in favour of the Commission, was higher than the number of MEPs who have voted in favour of the appointment of Juncker's Commission in October 2014.
Click here to see how each MEP voted on the resolution.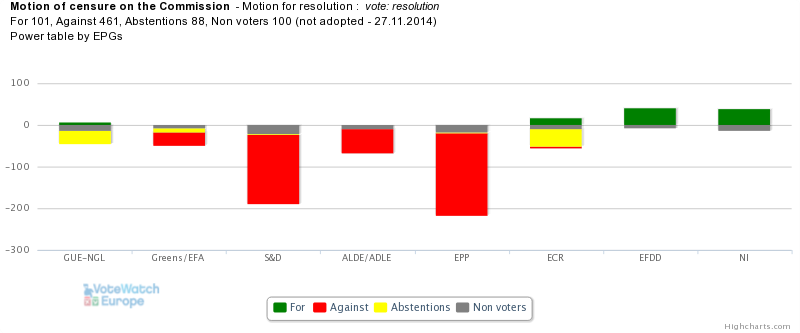 (The see how the MEPs voted on the appointment of Juncker's Commission in October 2014 click here.)
The motion of censure was based on the so-called Luxleaks affair and the state aid investigation that the European Commission is conducting into the tax arrangements applied to companies in the Grand Duchy of Luxembourg. Some MEPs claimed that Mr Juncker is in a controversial position, since during these alleged corporate tax avoidance schemes he was prime minister of Luxembourg.
One of the main roles of the EU Parliament is to scrutinise other EU institutions, particularly the Commission, to make sure they are working democratically. As part of the parliamentary control process, the EP can call on the Commission to resign during its period in office through the motion of censure.
It is not the first time that a Commission is threatened by a motion of censure: eight such votes have taken place in the history of the European Parliament. The latest to date was the one on the Barroso's Commission in 2005 which had also been tabled by the Eurosceptic MEPs. At that time, the motion had been easily defeated by the biggest EU groups.
Perhaps the most known case is, however, that of the Santer Commission, which eventually had to resign in 1999 even before a vote in the EP, after a corruption scandal was linked to one of its Commissioners.
To be adopted, the motion needs to reach two-thirds of the votes cast and a majority of all MEPs. This has never happened so far.