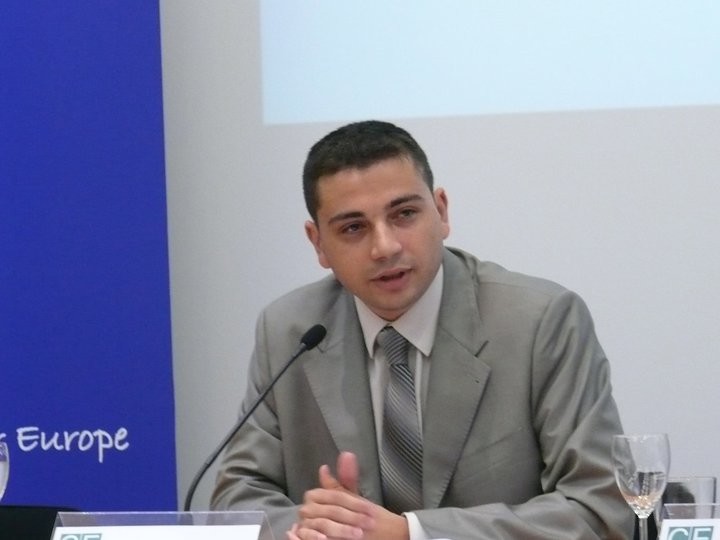 The Director and co-Founder of VoteWatch Europe, Doru Peter Frantescu, has been recently interviewed by Anna Aleksandra Koj, of European Affairs Recruitment Specialists (EARS). During the discussion, Frantescu showcased the sound business practices adopted by VoteWatch Europe, arguably the most successful and innovative digital company within the EU Affairs community. He also provided insights on the role of big data in shaping the political debate, the current political trends in the European Union, and what we can expect from the future.
Read the full interview below: 
** If you are interested in discovering more about the future political developments in the EU, the positions of the European groups and the individual EU Parliamentarians, or simply to find out who and how is shaping EU politics in general, contact us at  [email protected].
–
Anna/EARS: You co-founded VoteWatchEurope in 2009. What were your main motivations for starting this project and what struggles did you face in making it a success?
Doru/VoteWatch Europe: In terms of motivation, first I was surprised that no such project was already operating; I knew many people that would have been interested in this type of information.
Secondly, I studied political science, journalism, communications and computer science. This offered the ideal mix for doing something on monitoring politics, using big data with the ability to focus both on the micro and macro environments. 
However, things were very different in 2009; it's been quite a ride since then. We were creating a system for constantly monitoring EU politicians' activity – specifically their voting decisions – which was something that no one had tried before. There were many sceptical voices about our chances of success as we were entering unchartered territory.
It was hugely exciting to be the first to create such a project, one that uses information technology to collect and process political data and then communicate it to stakeholders. We have created a system that can show you the positions of politicians from all EU countries, on every subject, in just a few clicks. 
–
Anna/EARS: You have managed to make a name for yourself in Brussels and establish a stable presence. What was the tipping point?
Doru/VoteWatch Europe: It made a huge difference to be able to look systematically at actual voting decisions, rather than statements or electoral promises. With a few years experience, you begin to feel like Neo, the lead character in the first 'Matrix' movie, when he starts seeing the source code that lies behind what is put artificially in front of his eyes. 
In the same way, our partners have learned to see the 'source code' behind EU decisions and thus have learned to appreciate the added value of our work. With time, we have gained our place and have become a landmark in Brussels. Many organisations, both in Brussels and further afield, now rely on us for the information to prepare their strategy. 
–
Anna/EARS: What are the key challenges and opportunities now on your horizon?
Doru/VoteWatch Europe: It has not been, and it will not be, an easy ride. Running an independent organisation providing non-biased but accurate forecasts with relatively few resources is a big challenge. We are now heading for the 2019 European elections and all our projects pivot around this. Major political shakeups are inevitable, but the day-to-day work keeps most people in Brussels so busy that they don't have time to think too far ahead. This is where we can help them stay ahead of the game, by anticipating the impact of the coming changes on their work. 
–
Anna/EARS: Is there anything you wish you had known back in 2009?
Doru/VoteWatch Europe: I would have liked to have known more about running an organisation, i.e. how to create and pursue a sustainable business model. VoteWatchEurope started its life as a semi-academic, semi-civil society project. Credit for the academic part must go to Professor Simon Hix, my co-founder. With his colleagues, he has brought academic acumen to our operations and given us a welcome edge. 
Although we had plenty of enthusiasm and knowledge, we didn't know much about running a business per se. What we have learned over the years is that international exposure in the media or meeting with high-level officials doesn't automatically guarantee you the funds you need to build your business. You need a more pragmatic approach and you need to learn that sometimes you need to take tough, strategic decisions on the direction of your services.
–
Anna/EARS: You now head a well-functioning organisation with a team of four; how would you describe your leadership style?
Doru/VoteWatch Europe: My leadership style has adapted to the circumstances. Given that our work is very diverse, I would say that my leadership style is equally so. 
Much of our work is centred on collecting and analysing big data, which requires a lot of rigour and precision. Therefore as a leader I have to create an atmosphere that encourages the necessary focus and high concentration levels. Attention to detail is a must; this is why people trust us and why it is very difficult for others to create something similar. 
On the other hand, we also have to disseminate the results of our work and come up with creative communication materials that are accessible to non-sociologists or non-political scientists. This demands creativity, improvisation and 'out of the box' thinking, which requires another kind of atmosphere. 
–
Anna/EARS: So, when you're looking for people to join your team, are you looking for the versatility to adapt to both mindsets or for specific profiles for specific roles?
Doru/VoteWatch Europe: It is difficult for one person to hold both skillsets simultaneously, particularly early in their career. The ability to switch between mindsets is challenging and requires a lot of mental energy. For someone in my position, it is a must, but it is something you develop through doing the job over the years. Therefore when recruiting young professionals, it's usually for a specific role. 
–
Anna/EARS: Your work is largely based on data analysis. How has this changed the wider understanding of political developments and how has it impacted the Brussels public affairs sphere?
Doru/VoteWatch Europe: For those that analyse the political data closely, as we do, the impact and the evolution have been tremendous; something I think will become clear to most people in the near future. Scientists have a maxim that "without data, you only have an opinion". Usually, opinions are far from the facts, as they are inherently distorted by our personal biases. From years of experience, I can assure you that in political analysis, this is very close to the truth. Big data is fundamental in understanding objective reality. Access to big data and processing capabilities can be valuable in preparing your advocacy strategy. 
We can also help fight fake and manipulative news, an increasingly common phenomenon in public affairs. In many instances, an actor uses an event or a statement to suggest to the public that it is part of a broader trend, or that the specific statement represents the majority opinion. In reality, however, sometimes the event either didn't happen in the first place or was an isolated incident. Without checking the actual trends using big data, there is no way for you to verify whether that trend or majority is real.
In politics and public affairs, having an accurate, unbiased picture of your operating environment is probably more important than in any other sector. It is what makes the difference between you being a driving force or a follower. 
–
Anna/EARS: Have you ever had to intervene because someone was using your data selectively to foment manipulative news? 
Doru/VoteWatch Europe: We have had to intervene on a few occasions, but only where our data is clearly being misreported or wrongly cited. For example, there was a case where a journalist said that a group of MEPs had voted in a particular direction, when in reality the opposite was true. It was so blatant that it was difficult to say whether that was done on purpose or whether the person didn't properly understand the data. 
In such cases, we would normally intervene and correct the wrongly-cited information. However, with journalists we tend not to, because when they report on developments, they focus on specific angles they find pertinent for their public, rather than the whole story as reported by us. As long as they credit us as the initial source we can live with that, because people can still visit our website to check the bigger picture.
–
Anna/EARS: With the nationalistic sentiments growing in Europe, do you see a trend for more MEPs to support specific national interests rather than align with their European political party's position?
Doru/VoteWatch Europe: To some extent, although perhaps not as much as originally feared. However, as the European elections approach things will become even more complicated in all the European institutions. We have seen huge fragmentation in recent years, with traditional parties diminishing in significance and power or even collapsing completely and new forces emerging across the political spectrum. 
It will become much more difficult to gain a majority in the European Parliament after the elections. MEPs will need to focus on pressing national interests simply because they won't have sufficient political capital to spend it on taking decisions with long-term outlooks. Each decision will count and will have a potential impact on moving parties from government to opposition.
The Council has already become more politically colourful than before, when we only had leaders from the EPP, S&D and ALDE. Now, we also have them from the Conservative family, we have Macron who is yet to build his European political formation and an interesting new Italian government. 
–
Anna/EARS: With the elections next year, the European Parliament will inevitably slow down in the coming months. What are remaining key moments to watch for before the end of this legislature?
Doru/VoteWatch Europe: First, discussions around the allocation of the money – the Multiannual Financial Framework. The Commission has put forward its own proposal, but divisions remain between both the different political families and the Member States. This is usually the case when money is discussed, but with the UK leaving and less money in the pot, these divisions are even greater than before. It remains unclear whether this proposal will be adopted before the end of this term. However, if it is difficult to achieve a compromise now, it will be harder still after the elections, due to the likely increase in fragmentation. 
There is also a less visible, but equally fierce, battle for the upcoming positions in the institutions. The Presidencies of the European Parliament, the European Commission, the Council and the European Central Bank will be up for grabs next year. Despite the lack of media coverage, there is a lot of activity behind the scenes within parties and governments. This is definitely a process worth tracking, as the distribution of power in these institutions could either strengthen the institutions or cause further fractures. It all depends on what all countries and parties are prepared to accept. 
–
Anna/EARS: Given the number of worrying geopolitical developments these days, what is your vision for Europe?
Doru/VoteWatch Europe: First, the EU needs to be far more pragmatic, while the institutions need to focus on the big issues and on making sure that what they do, they do well given their powers and capacity.
Interestingly, the Union is increasingly united when facing a major external threat. There is no shortage of such threats in international politics, pushing EU countries to act together on a range of issues. We can, for example, expect the EU to be more united on foreign affairs, international trade and energy policies. On these macro issues we see far fewer disagreements than before. 
However, on economic and social affairs issues, views differ sharply between Member States. There are a number of reasons why we should not expect rapid progress here. First, the national economic and social situations are very different. Second, understanding of these differences within the political elite is limited, particularly at national and local levels. Third, some countries feel that the distribution of power in the EU remains uneven and are understandably unhappy about it. These issues need to be addressed before we can move ahead and increase unity; otherwise we risk further fractures instead. 
–