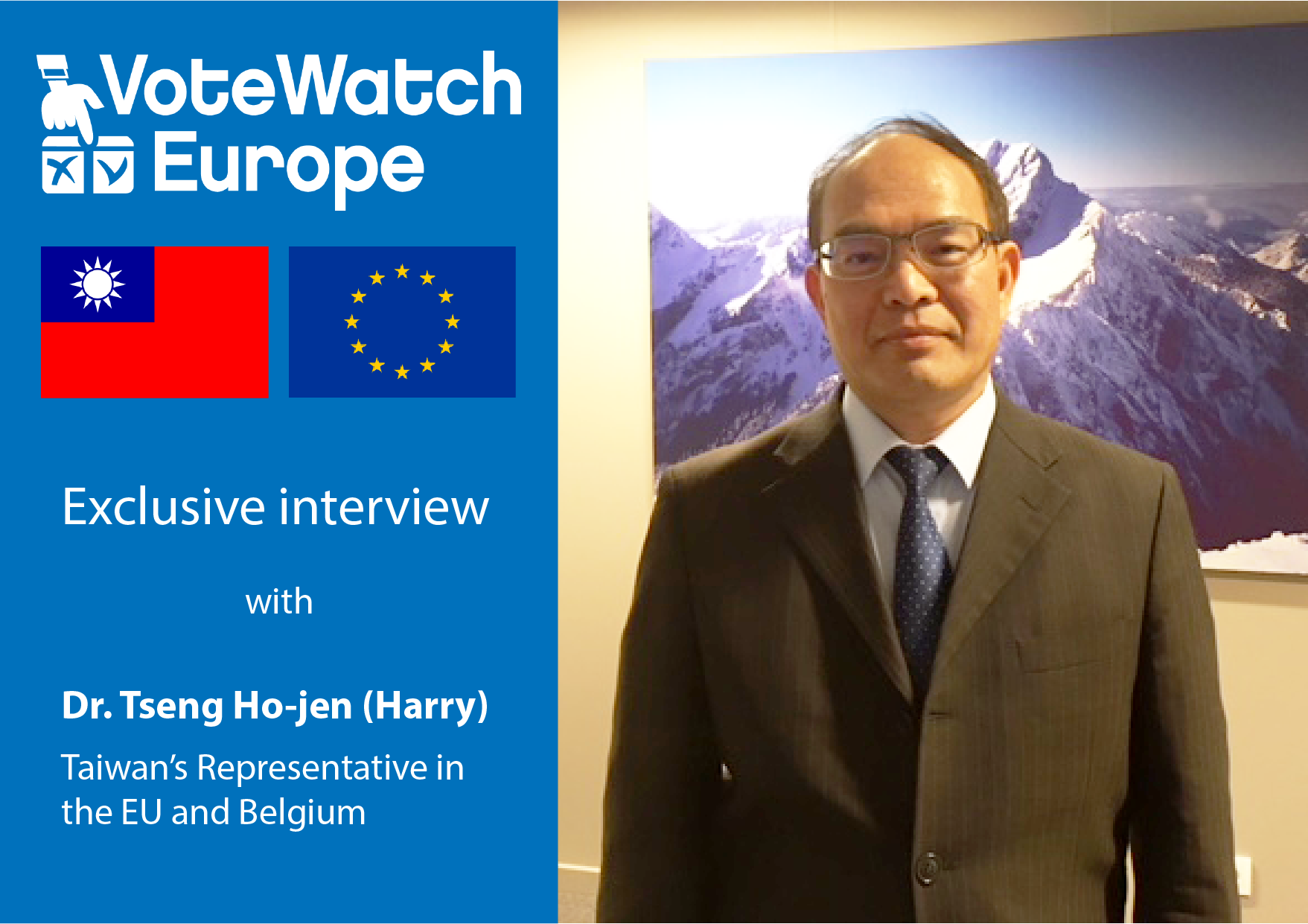 by Hsiao-Chiang (Jeff) Hsu – Business Development Assistant at VoteWatch Europe
–
Despite the absence of formal diplomatic relationships with Taiwan, the EU has established solid relations with the first democratic country in East Asia over the past decades. Economic relations between the two partners are particularly close and dynamic: Taiwan is currently the EU's fourth largest trading partner in Asia and the EU is Taiwan's fourth largest export market. In addition, the EU also accounts for the largest share of foreign direct investment to Taiwan, surpassing the US and Japan by a big margin.
The inclusion of Taiwan in the European Commission's "Trade for all" document, which lays out the EU's new trade strategy, in 2015 was a major breakthrough to the Taiwanese government. Making a step even further, last year, the Commission has expressed in its mid-term trade policy review, saying that it is ready to start negotiating a Bilateral Investment Agreement (BIA) with Taiwan, which would go beyond investment protection and adopt a comprehensive approach with respect to market access as well as rules that improve the overall regulatory framework. But in the meantime, Taiwan's main threat on the international stage, China, is also cozying up with the EU. Especially after the US has turned its back on upholding the international trade order and fighting against climate change, China and the EU have suddenly discovered many issues on which they can work closer together. As Beijing tries to impose maximum pressure on the pro-independence government in Taipei, closer China-EU relations would potentially restrain the development of EU-Taiwan relations.
In this critical phase of EU-Taiwan relations, VoteWatch Europe was glad to have the opportunity to interview the Taiwanese Representative in the EU and Belgium in his office near the European Parliament. Representative Tseng, with a PhD degree in international relations, is a career diplomat of Taiwan who has previously served in the Ministry of Foreign Affairs and the National Security Council. In this exclusive interview, Representative Tseng has shared with us his views on the current EU-Taiwan relations, the impact of a potential BIA and Brexit on Taiwan, and the role played by China while Taiwan pursues closer economic relations with the EU.
Check the full interview below to find out how Taiwan withstands the growing influence of China in the EU.
–
1) VoteWatch: Representative Tseng, it has been more than 10 months since you became the head of Taipei Representative Office in the EU and Belgium. How would you describe the current state of EU-Taiwan relations? And what would you, in an ideal scenario, wish to accomplish by the end of your mandate?
Representative Tseng: In my opinion, the current EU-Taiwan relation is very healthy, sound and comprehensive. It touches on many different aspects and not just about trade or investment. Throughout the past many years, my government in Taiwan has established extensive contacts within the EU institutions, and official exchanges between the EU and Taiwan have also been increasing. For example, this year the EU has agreed to accept seven officials from different ministries in Taiwan to come to work as interns in various EU institutions. In the past, the EU usually only accepted up to four officials from Taiwan annually. Official exchanges and training programs like this, together with other short-term workshops organized by the EU, help us better understand the functioning of EU institutions, which I think is conducive to our long-term relations with the EU.
That being said, there is still ample room for improvement with regards to the current EU-Taiwan relations. In fact, there are many issues with which we would like to cooperate more or increase exchanges with our EU counterparts. Unfortunately, in some areas the EU holds a very reserved attitude due to possible unhappiness from China. The concern over China's possible reaction appears in many aspects. So there is still much to be done to further strengthen our relationship with the EU, despite the difficulties to achieve substantial progress in a short period of time. But generally speaking, I am working on a very strong and sound foundation built up by many of my predecessors, and I hope through my contribution I can keep on enhancing EU-Taiwan relations.
Regarding what I wish to accomplish by the end of my tenure, as you might already know, the European Commission has signaled its willingness last year to commence negotiating a Bilateral Investment Agreement (BIA) with Taiwan. It makes economic sense to conclude a Taiwan-EU BIA as soon as possible. And as EU is the largest source of Foreign Direct Investment (FDI) to Taiwan, a BIA will see European investments in Taiwan benefit more than those from Taiwan to Europe. It is my hope that during my tenure I can oversee some significant progress being made on this matter.
–
2) VoteWatch: As you just mentioned, last September, the European Commission expressed in its 2017 Trade Policy Review that the EU is prepared to start evaluating a potential Taiwan-EU bilateral investment agreement. What is the expected impact of BIA on Taiwan?
Representative Tseng: The Bilateral Investment Agreement is important to Taiwan in many ways, and particularly it will help our government to achieve its 'nuclear-free homeland' pledge and to further increase bilateral investments. During the 2016 Taiwanese presidential election, President Tsai Ing-wen has made a campaign promise to phase-out the use of nuclear energy in Taiwan by 2025, replacing it with renewable energy such as solar and wind energy. Given that Taiwan is a small island with high population density, it will be less controversial and more economic if we build offshore wind farms to harness renewable energy. Looking around the world, and you will find European companies having the most advanced offshore renewable energy technology.
There are 36 offshore wind farms allocated by our government, attracting companies from 12 European countries to come for exploration. Several of them have started their initial investments in our huge and untapped renewable energy market. But all these European companies share a common concern: who will be the impartial arbitrator should an investment dispute arise? This is why a BIA is relevant and necessary. We hope that by signing the BIA, European companies will be even more willing to invest in Taiwan, helping Taiwan to undergo its energy transition. In this regard, we are glad to see that the European Parliament has already passed several resolutions, urging the European Commission to start BIA negotiation with Taiwan as soon as possible. But ultimately, it will be up to the Council of the EU to decide when to give its authorization to the Commission to start the formal negotiation.
–
3) VoteWatch: Official visits between the EU and Taiwan are becoming more and more frequent in the past few years, and Taipei City Mayor Ko Wen-je has just become the first Taiwanese elected-official to speak inside the European Parliament. What do you think are the factors that contribute to this development? In your opinion, what are the challenges and foundations of developing closer Taiwan-EU relations?
Representative Tseng: Indeed, the exchange of official visits between Taiwan and Europe has seen a steady upward trend over the past few years. It is a very welcome phenomenon. For example, prior to the visit of Taipei City Mayor Ko Wen-je, at the end of May 2017, we had a delegation of more than 120 people comprising business leaders as well as senior ministerial-level officials from Taiwan, who were in Brussels to promote better trade relations between the EU and Taiwan. In comparison, while there were officials from various DGs visiting Taiwan, incumbent EU commissioners have rarely visited Taiwan. As the US Congress recently passed a bill, which was then signed into law by President Trump, to encourage officials of all levels to visit Taiwan, we would very much like to see similar actions taken in Europe.
In my view, the main reason that contributes to an increasing exchange between the EU and Taiwan is because the EU has taken a more proactive role regarding issues other than trade and business. The EU has gradually realized that Taiwan is a reliable partner and that it can cooperate in the areas such as health, human rights, research and innovation for instance. In recent years, China has become more ambitious and assertive in projecting its power into Europe. With China's influence growing stronger than ever in the EU, Taiwan presents a strategic value in the relations between the EU and China. We have proven that democracy can function very well in Chinese society, that we can build a prosperous society based on rule of law, respect for human rights and free but fair trade.
The challenges that we face when developing closer relationships with the EU come unsurprisingly from China. Although Taiwan is a truly democratic country and the 22nd largest economy in the world, we are only recognized by 20 countries and can only participate in a handful of international organizations. Never in the history of contemporary international politics have you seen a country of our strength being so sidelined and ignored by others. And we are facing an even more difficult situation after China launched its Belt Road Initiative, which lashes out investment to build infrastructures in many central and eastern European countries. We have repeatedly advised caution to the EU for the potential threat of China with regards to its own value system. In fact, the messages conveyed from Chinese Communist Party's 19th Congress last October are worrisome, as China is advocating its "Chinese model" to the world.  I hope the like-minded countries in the family of Western values will work together to safeguard their own value system.
–
4) VoteWatch: Do you think Brexit will impact Taiwan-EU relations? If yes, in which way? How should the Taiwanese government react to this on-going process?
Representative Tseng: If Brexit is going to become a political reality, there is nothing we can do to stop it from happening. The UK is our third largest trade partner in the EU, only after Germany and the Netherlands. So of course, Brexit poses a major challenge to our trade relations with the UK. But the scale and degree of the impact of Brexit on Taiwan will largely depend on the future trade relations established by the EU and the UK, which is still under negotiations. What we can do right now, is to closely monitor the development of negotiations and try to keep our economic relations with the UK as tight as possible. But thinking from another angle, maybe Brexit will be a window of opportunity to enhance our trade relations with the UK, as Taiwan is more experienced in negotiating bilateral trade agreements with a single country than with a group of countries.
–
5) VoteWatch: With Trump taking charge in the White House, it seems that bilateral exchanges between the EU and China have become more frequent and intense (e.g. French President and UK Prime Minister's visit to China). In your opinion, how would this development affect Taiwan-EU relations?
Representative Tseng: The US has long been regarded as a big family member in the West. The EU and the US might not see eye to eye with each other on many issues now, but that doesn't write-off the importance of the US in Europe, especially on security issues. For example, the US wants to increase the military spending and the number of personnel of NATO. The US may be concerned about PESCO for the fear that it might undermine the crucial role of NATO. I think it is actually a good sign because it shows the US' intention to reinforce NATO, therefore to defend Europe. As we face a more assertive China in the Asia Pacific region, the US is also trying to reinforce relations on security and defense issues with Japan, India, Australia, Philippines and Taiwan. The fact that there was bipartisan support in the US congress for the rectification of National Defense Authorization Act 2018, which takes into account possible exchanges of port visit between the US and Taiwan naval ships, and more recently the Taiwan Travel Act, which encourages more exchanges of high-ranking officials between the US and Taiwan, has clearly shown this trend.
As you can see, a more powerful China poses both opportunities and challenges to EU-Taiwan relations. On the one hand, I have tried to convince my European partners that they should achieve similar breakthroughs with Taiwan as the US has done. I tried to make the argument that if you want to keep your value system intact, then Taiwan is a good partner to work with. But on the other hand, a stronger influence of China in the EU makes it harder for our voices to be heard. Even without prior warnings from China, some EU Member States are reluctant to forge closer ties with Taiwan, fretting that any mistaken step would upset China. There is no short cut to solve this problem. The only thing we can do is to keep convincing our European Partners to look beyond short-term economic interests from China, and pay more attention to the political agenda hidden behind.
At VoteWatch Europe we help you forecast the future developments by looking at the political dynamics  and trends behind the EU decisions. For more information, feel free to contact us at [email protected]