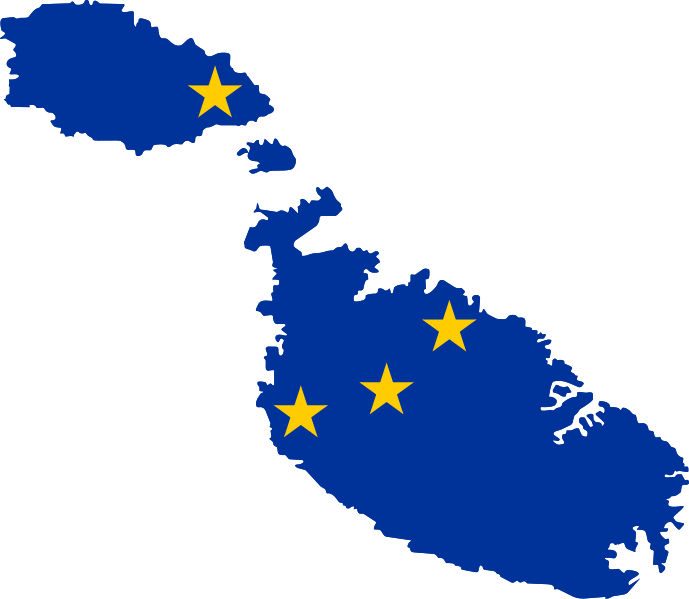 Note: this country-based report is part of the broader study that measured the influence of MEPs from all 27 EU Members States. To consult the methodology and cross-country comparisons check out the full study.
The analysis uses data and insights from the one-year period up to August 2020. There have since been some changes in European parliamentary seats and leadership positions. 
1) Roberta Metsola (Partit Nazzjonalista, EPP) is coordinator of Civil Liberties, Justice and Home Affairs on behalf of the Christian-Democrats. She is also the Co-Chair of the intergroup on Anti-Corruption. Metsola is the rapporteur on dossiers aimed at cooperation on combating cross-border crime and terrorism as well as on a file on the false and authentic documents online (FADO), the System for Frontex, the European Border and Coast Guard. In the past Metsola has been the Vice-Chair for the Petitions Committee. She has also been involved in an investigation into money laundering, tax avoidance and tax evasion.
2) Alex Agius Saliba (Partit Laburista, S&D) is the Coordinator of Petitions for S&D and he has been charged with key dossiers related to digital issues. He is the rapporteur for the Digital Services Act, expected to set rules on how platforms such as Google and Facebook police illegal content online, as well as the rapporteur for "the right to disconnect". In addition to his legislative work, he occupies the position of Vice-President of the Biodiversity, Hunting and Countryside intergroup and the co-chair of the MEP Alliance for Mental Health and is a member of the MEPs Against Cancer group. 
3) Miriam Dalli (Partit Laburista, S&D) is Vice-Chair of S&D Group and an influential MEP on environmental and public health issues. During her previous term, she represented the European Parliament in the Climate Change Conference (COP21) held in Paris in 2015. Dalli was named as one of the best five new MEPs by The Parliament Magazine in 2015 and 'MEP of the Year' in the Energy sector in 2016. Currently, she is the rapporteur of "New Avenues for Legal Labour Migration", an intiative aiming at developing sectoral labour migration, long-term residence, family reunification rights to tackle illegal immigration. In 2020, she joined the Special Committee on Beating Cancer.
For more information about the methodology and the rest of the assessment, contact us at [email protected].
Read our overall assessment on the most politically influential MEPs in the European Parliament and the most politically influential MEPs on different policy areas.
Also read the other updated assessments by country:
Austria – Belgium – Bulgaria – Croatia – Cyprus – Czechia – Denmark – Estonia – Finland – France – Germany – Greece – Hungary – Ireland – Italy – Latvia – Lithuania – Luxembourg – Netherlands – Poland – Portugal – Romania – Slovakia – Slovenia –Spain – Sweden