The majority of the Members of the European Parliament finally have reached a consensus on what and how can be cultivated on the EU territory, and the grounds on which the individual Member States can prohibit or restrict cultivation of GMOs.
The controversial law was adopted by 480 votes in favour, 159 against and 58 abstentions. The political forces supporting the legislation were the Christian-democrat (EPP) group, the Socialists (S&D), the conservatives (ECR) and the liberals (ALDE). On the other hand, the Greens/EFA, the far left (GUE-NGL) and the nationalists opposed the deal.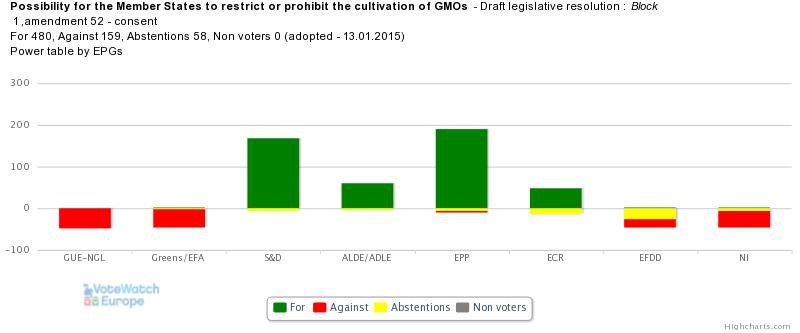 Click here to see how each EU parliamentarian voted.
Since the beginning of negotiations, the resolution was disputed both between the political families and between governments, being stuck for almost 5 years in the EU decision-making structures.
The new legislation entitles member states to pass legally binding acts restricting or prohibiting the cultivation of GMO crops on their territory, even if they have been authorised at EU level. The legislation will come into force in spring 2015, after which states will be able to limit or ban unwanted GMO crops on environmental, agricultural or other compelling grounds such as town and country planning, land use, socio economic impacts or public policy.
Member states are left the freedom of choice. However, if they decide to grow GMO crops on their territory, they must prevent the contamination of other products and also border areas of neighbouring countries. It is up to member states to take effective labelling and information measures about the presence of GMOs on their territory.
If you wish to know more about the topic, you can find more information on the European Parliament News Hub here.