At a time when Europe can count less on the US and the UK, Germany becomes more important than ever in determining the future of Europe, reason for which the entire continent now has a huge stake in Berlin's future policy orientations. After an incredible 11 continuous years in government, Merkel's CDU is poised to win yet another round of elections in September 2017. However, the grand coalition that has ruled Germany (and to a large extent Europe) is probably living its last year. Under heavy pressure from rising populism, the German establishment is looking for a fresh 'business' model.
A new government configuration might take shape, which would change fundamentally Berlin's policy agenda (and with it, that of the EU). Additionally, Merkel herself is likely to pass on the chancellorship during the next parliamentary term to a party colleague, which in itself requires additional policy impact assessments. 
This article looks into the political dynamics that we are likely to see during the next year and how these will shape future German and European policies.
Despite the tremendous economic and societal challenges, Merkel has managed to find a way to bring equilibrium to German politics and survive in power.  However, the marriage with the SPD has not been easy. CDU has struggled hard to push through its policies in some key areas, especially on foreign and security policy, due the outright opposition from the SPD. For example, CDU would have wanted stronger transatlantic ties, a firmer stance on Russia and the building of an European Defence Union, objectives not shared by the SPD, which, importantly, has controlled the foreign policy portfolio through Steinmeier.
Moreover, promoting a consistent conservative economic policy agenda in Europe has been difficult for Merkel&co: SPD has pushed for the introduction of the minimum wage in Germany and has undermined CDU's efforts of 'exporting' budget-discipline / austerity to other EU member states. For example, the strong SPD delegation in the European Parliament has consistently rallied its social-democrat colleagues from the other EU members to push for more flexibility of public spending in the yearly country assessments that are conducted by the European Commission (and which scrutinize and make recommendation on the macroeconomic policies of the member states).
All of these, and others, have generated a lot of frustration among the CDU members, who are now looking for an opportunity to gain more control of the government. Both the conservatives and the social-democrats have lost substantial electoral support in Germany, which went towards AfD, the Greens and a variety of smaller parties. By putting SPD in opposition, CDU would solve two issues: gain more room for maneuvering in the government and avoid further fragmentation and instability of the German political spectrum. Although some argue that the party in power could normally benefit from a fragmented opposition, we're talking, after all, about Germans, who prefer a stable and predictable political system.
However, the arithmetic is not that simple. CDU's electorate has diminished considerably as a result of the perceived "overly welcoming" policy towards refugees and the attack in the Berlin Christmas market does not make things easier for them at all. Consequently, CDU has shrunk from over 40% to around 32%, which means that CDU needs to build a broad coalition in order to continue governing Germany. The conservatives would fancy returning to a coalition with the liberals (FDP), which is much smaller and which shares many of its economic and pro-European views. However, FDP has still to fully recover and it is not clear if they will make it back into the Bundestag. Even if they do, CDU will need additional parliamentary support. Merkel's party has made some experiments of governing with the Greens at regional level and, despite difficult beginnings, this type of black-green coalition has survived. Moreover, Merkel has reached out to the Green electorate especially with her move towards denuclearisation and, more recently, with her pro-migration stance. Hence, a CDU/CSU-Greens-FDP coalition seems to be the preferred scenario by the German conservatives.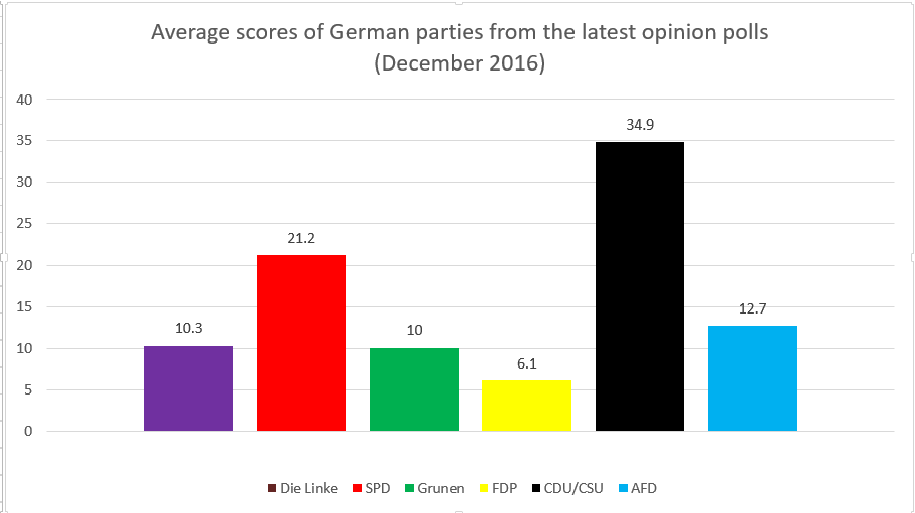 –
How would the new German government configuration change Berlin's policies?
In this likely scenario, CDU will have a greater power in government than now. However, it will have to accommodate some of the views of its junior coalition partners in order to survive. As in any coalition government, all partners will have to adjust slightly their "natural" views, in order to reach a compromise. The infographic below shows the starting positions of negotiations of the German political parties, as proven by their voting records in the European Parliament (the votes in the EP are an excellent indicator of the "natural" views of the political parties, as the MEPs are not bound by the position of their governments and hence can express themselves freely).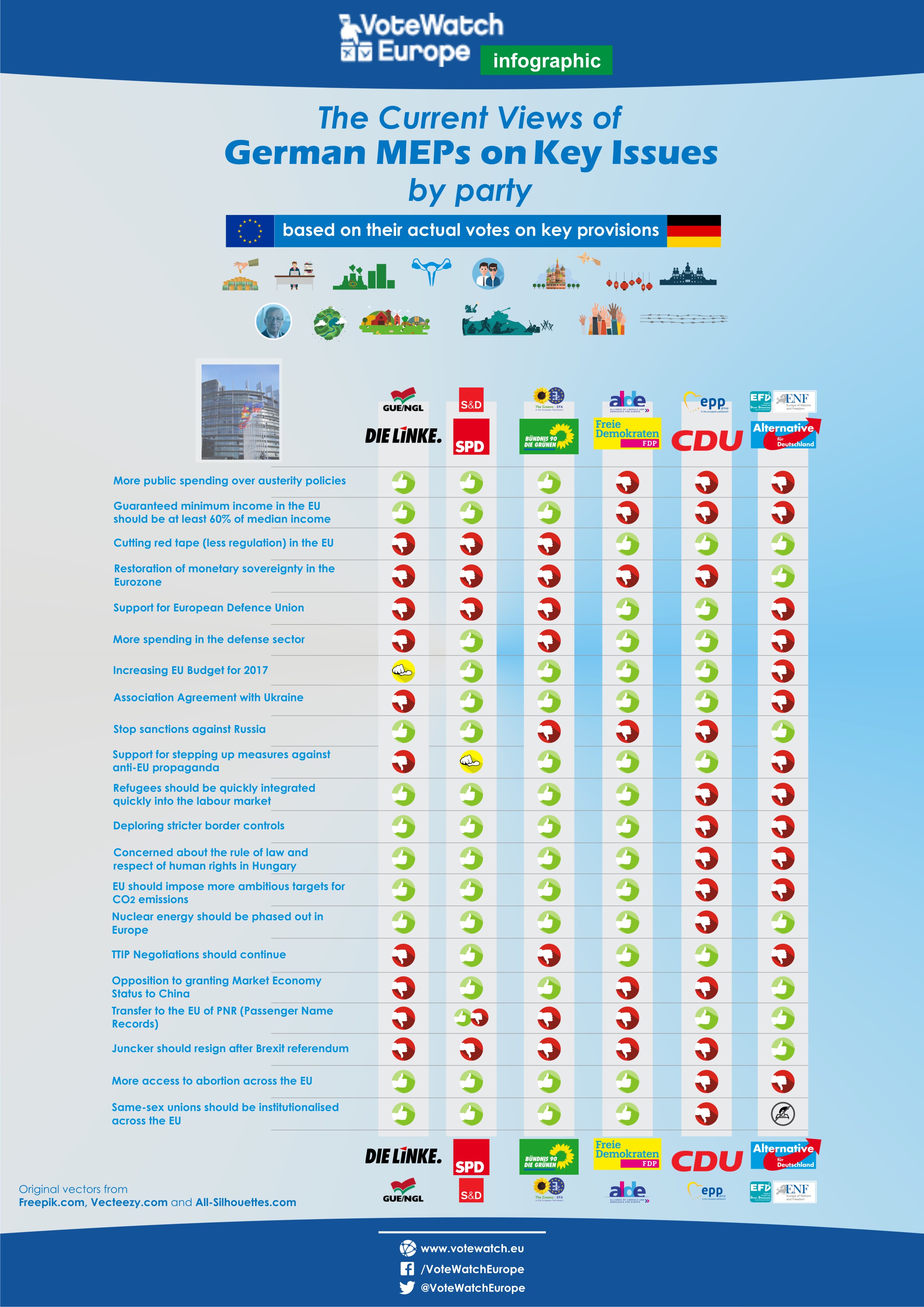 CDU/CSU will probably have to make room for the promotion of socially-liberal agenda, for example in what regards sexual minorities and abortion, to appease both the Greens and the FDP (though this will upset its Bavarian side, the CSU). CDU/CSU will also find it difficult to stiffen its stance on immigration, given that both the FDP and the Greens have migrants-friendly positions.
On the other hand, Merkel's conservatives will be in a stronger position than now to promote a more coherent foreign policy, as both the Greens and the liberals (unlike the SPD) share CDU/CSU's desire for a stronger stance against Russia's geo-political ambitions in the region. One can assume that Moscow too is aware of this and, acknowledging its interest, might be tempted to leverage its influence to prevent the formation of this coalition, which make recent reports of Russia's planned interference more plausible.
Similarly, the push for Defense Union would be easier in this new governmental configuration, even though here the CDU/CSU would only count on the support of the FDP and not on the Greens. Importantly, CDU/CSU will have somewhat more room for maneuvering in promoting a conservative economic agenda, such as cutting red tape and imposing budget discipline. However, while FDP shares these economic policy views, Merkel's party will have a tough dispute with the Greens, who drastically opposed austerity.
These are just a few hints of how the future governmental coalition in Berlin is likely to stir its policies. However, we first have to see if the FDP will actually make it back into the Bundestag and if these parties combined manage to reach a majority. Secondly, we need to follow closely the public debate in Germany this year and track which factions within these parties gain more traction, especially in the CDU, whose leader may well change during the course of the next parliamentary term (after the victory in the elections will have been secured).
Also read: Top 10 most influential German MEPs.
For questions, suggestions and media requests, feel free to contact us at [email protected].