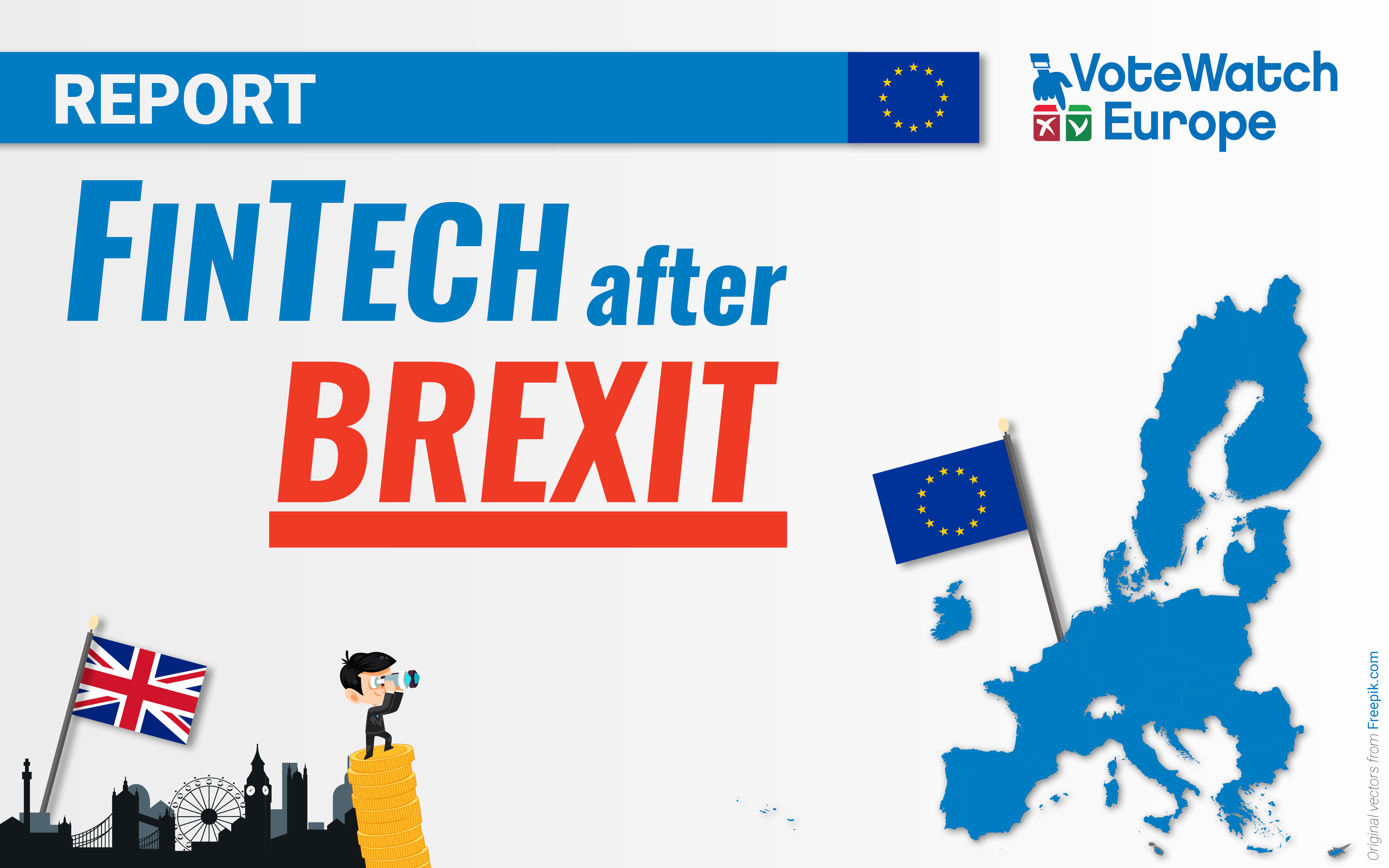 The consequences of Brexit are yet to come. What will happen to FinTech companies after the United Kingdom leaves the European Union? The majority of these start-ups mixing finance and technology are currently located in the UK. They are likely to lose passporting rights after Brexit, obliging them to move part of their operations to mainland Europe if they want to secure access to the EU's single market. Yet, today's capital markets situation in Europe remains very underdeveloped, compared to the situation on the other side of the channel. But this may change soon: the Capital Markets Union (CMU) launched in 2015 by the European Commission seeks to tackle this situation. In this report, we combine the views of decision-makers with those of key stakeholders to assess the future of FinTech under a European CMU in the coming years.
Have you ever opened a bank account on a mobile phone? Transferred money via a peer-to-peer online platform? Or even made investments on an online wealth manager? If so, you are using a FinTech company, an acronym for Financial Technology. These companies provide financial services in a more cost-effective, accessible and consumer-friendly way, leading to an improved access to financial products and services.
Revolut, for instance, allows clients to open an account in only a few minutes and get credit at very interesting rates. Another example is TransferWise, which provides money-transfer services with better rates than traditional banks. Last but not least, NutMeg is a "robo-investing" platform which offers an intelligent investment portfolio with low fees.
Common to all these three FinTech companies is their location in the United Kingdom (UK), London being the worldwide hub of Fintech. The UK has been ranked number one by an EY analysis among global FinTech hubs, followed by New York, California, and Germany. The study assessed the market size, investment, workforce, as well as the regulation and government policies. In all these domains, London outperforms all the other EU countries put together. FinTechs based in London are interested in the "business-friendly culture, the regulatory approach and access to venture capital funds", summarised Tilen Čuk, research director at Fintech Policy, a Brussels-based independent FinTech knowledge hub.
–
The EU places itself as an alternative to London
It comes as no surprise that the EU would like to undercut UK's leading position after it leaves the Single Market. Brussels, together with the EU capitals, has already taken up the issue. The French stock market regulator (AMF) has, for instance, proposed a straightforward licensing procedure for FinTech companies that are currently supervised by the English regulator (FCA).
Some of the FinTech companies are already looking into moving staff and investment out of the UK, as do traditional banking players. "Berlin, Frankfurt and Amsterdam have the highest chances in this game", Tilen Čuk affirms. For the time being, UK-based financial companies are granted a "passport", allowing them to access customers in other EU Member States. Without this possibility, banks and FinTech businesses will have to open offices in another EU country to secure access to the European Single Market. "And so far, we haven't seen any assurances from the British side that the UK will be bound by the EU legislation after Brexit", Tilen Čuk adds.
In such a situation, the loss of passport rights would be devastating for London, where around 60,000 people work for FinTech companies. Not to mention that these businesses employ staff from other countries and many of them are run by non-British bosses, such as TransferWise, founded by two Estonians in 2011. A critical issue for FinTechs, in the light of Theresa May's strict views on migration, will be to continue attracting highly skilled workers.
–
Develop a fully integrated Capital Markets Union
London is a world-wide financial hub with the most active equity markets in Europe. With a great environment for entrepreneurship, attractive regulation, and a developed FinTech ecosystem, businesses are not keen on leaving the City for mainland Europe, especially since EU's capital markets are still embryonic and fragmented.
But this may change as the European Union is developing a Capital Markets Union (CMU). The plan launched in early 2015 aims at developing and integrating capital markets in the EU, thus creating new opportunities for savers, investors and businesses. The City of London could have become the cornerstone of this plan but is now likely to be left aside. With the Capital Markets Union, Brussels aims at developing an alternative EU27 capital market to London.
If achieved, the CMU will bring new market players and a more competitive environment, as well as increasing the demand for more efficient and innovative financial solutions. In this regard, it would be unthinkable for FinTechs, which provide services such as crowdfunding, robo-advice and online-banking, to stay away from European capital markets.
–
An opportunity for the EU27
The Capital Markets Union has long been delayed, especially by the British, who did not want to give more financial regulatory power to the EU. Brexit can be a window of opportunity: currently highly dependent on British capital markets, the EU will need to establish itself as a major financial centre.
UK's exit from the EU raises many issues. EU capital markets currently rely on the British regulatory authorities. Similarly, the majority of central counterparty clearing (CCP) institutions, which are crucial intermediaries to both sides of a financial transaction, is located on the other side of the channel. These issues, as well as reinforcing the EU financial regulatory authority (ESMA), will need to be tackled to avoid instability in the EU.
Without strong, stable, and integrated capital markets, the European Union will find it difficult to measure up to the City of London, even after Brexit, and to attract new financial companies. The European Commission recently proposed to reinforce the EU framework for CCP, and will look to strengthen the role of ESMA. FinTech regulation is also on the radar, even though "it could move a little faster", indicated Roman Kessler, co-chair of the European FinTech Alliance, an organisation representing FinTechs in Brussels.
–
Toward a new special regime for FinTech companies
While the British government seems entangled in dealing with domestic issues, weakening its position in Brexit negotiations, the EU has now free hands for implementing the CMU. Member States with strong capital markets, such as France, Belgium, the Netherlands and Sweden are pushing it forward.
But things are not so easy. Pooling sovereignty has always been a difficult move; especially at a time where the EU is more and more concerned about its future (see our report on the Future of Europe).
Moreover, the global capital markets environment is only one piece of the puzzle when it comes to FinTechs development. These companies can face costly regulatory requirements compared to established players when they want to test their services. The European Commission could propose an EU-wide "sandbox" regime later this year, allowing FinTechs to test their innovation in live settings.
On this issue, EU legislators will have to find a compromise over the balance between managing risk and fostering innovation, as well as to agree on a common regime. The European Parliament FinTech report highlighted the importance to have "a controlled environment for experimentation [that] may take the form of regulatory sandbox for FinTech services". According to MEP Brian Hayes, shadow rapporteur, a sandbox is "an opportunity to allow new players to bring their products to markets in an easier way and to give bigger players the opportunity to grow their business more and more. It's all about competition".
"Our concern is that individual EU Member States design and launch their individual sandboxes programme without a pan-European coordination", Tilen Čuk adds. According to Roman Kessler, the main priority at the moment is better communication with authorities: "In many EU countries, start-ups complain that they aren't heard at the local authorities".
–
The future of FinTech's shaped by regulation
In all cases, the highly centralised EU28 financial system dominated by the City is likely to be replaced by a more distributed network system for the remaining 27 Member States. The ability of the European Union to appeal to FinTech companies will mostly depend on the policies adopted. FinTechs could be given passporting rights to operate anywhere within the Single Market. "We will find ourselves out of the game if we do not jump aboard the FinTech train soon", summarised the MEP Cora Van Nieuwenhuizen (rapporteur on the FinTech report) in one of our previous articles.
Regulation will shape the direction the FinTech industry moves, as well as its relations with other market participants, including traditional banking players. "If FinTech startups find a level playing field in which they can scale their business models as fast as in the U.S., they got game. If not, they will have to cooperate [with traditional banks] at some point, stagnate or even go bust", warned Roman Kessler. Yet, according to Tilen Čuk, "cooperation between banks and startups is a very positive thing. It is mutually beneficial for both sides".
In parallel, London will certainly remain an important financial centre. The British government will do its best to minimise the damage to the City. According to Roman Kessler, one scenario for FinTechs is that "there will be competing regulatory standards on both sides of the channel". In other words, the competition has just started.