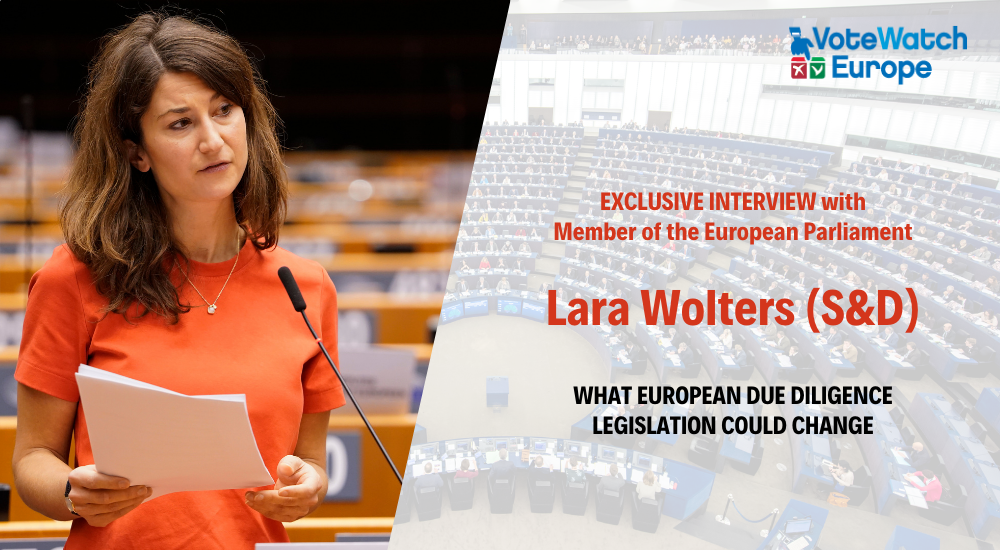 ---
In March 2021, the European Parliament called on the Commission to put forward a European Due Diligence framework, which will notably require companies to deal with human rights and environmental issues in their supply chains.
VoteWatch reached out Dutch MEP Lara Wolters from the S&D (rapporteur for the Corporate Due Diligence and corporate accountability legislative initiative report) to find out more about the upcoming framework and what impacts it will have. 
---
VoteWatch Europe: According to a Commission study, only 37% of companies apply some form of Due Diligence. Additionally, the Commission wanted to propose a Directive in the second quarter of 2021, but until today, no initiative has been taken on the EP's resolution. In your opinion, what might be some reasons for this?
Lara Wolters: Officially, the proposal has been delayed as the impact assessment is referred back to the Commission's Regulatory Scrutiny Board. However, clearly some aspects of the Commission's proposed Directive are a bone of contention between different political players in the Commission, following fierce lobbying from powerful industry players. This is somewhat surprising, given that in March the European Parliament was remarkably united in its position, with five political groups from left to right backing a legislative initiative report. So, from our side there are high expectations on the Commission to deliver an ambitious proposal which meets the Parliament's expectations.
---
VoteWatch Europe: Some MEPs who supported the resolution in general would have liked to introduce the possibility for Member States to exempt SMEs from Due Diligence obligations. What do you think about this proposal?
Lara Wolters: I think that ultimately the Parliament struck the right balance on the SME question. What the Parliament proposed is to include those SMEs which can be considered "high-risk" for instance in the garment or cocoa sectors, and/or are listed on the stock exchange. These SMEs would face proportionate and reasonable obligations, and would receive additional support in understanding their responsibilities and best practices. A blanket SME exemption would leave thousands of European companies out of the scope of this legislation, undermining a much-needed level playing field and the overall effectiveness of Due Diligence obligations, while shifting all obligations onto bigger companies which are supplied by EU SMEs. At the end of the day, this legislation should benefit businesses, by avoiding a regulatory patchwork and ensuring that all market players are subject to the same rules, and that the wider public can have confidence that people and our planet have not been harmed.
VoteWatch Europe: The Report proposes a proportionate application of Due Diligence obligations. It says that "a proportionate approach should take into account, amongst other elements, the sector of activity, the size of the undertaking, the severity and likelihood of risks […]". Additionally, no "disproportionate disadvantages" shall be created for undertakings. How could this be applied in practice and what could or should be the institutional design in order to ensure the practicability and efficiency of Due Diligence? In the end, what could be the optimal mix between substantive duty and formal requirements?
Lara Wolters: Due Diligence should not be thought of as a tick-box exercise, but rather a proactive process which affords the flexibility needed to ensure it is conducted in a way appropriate to different types of companies and risks. The report sets out obligations and possible sanctions, but also would empower the Commission to develop guidelines appropriate to businesses of different sizes and sectors, consulting widely with relevant agencies and Member States and taking due account of existing guidance from the UN, OECD and the ILO to name but a few. SMEs would also be able to publish a "no risk statement" if they conclude that they do not pose a risk to the environment, human rights or good governance, which would exempt them from publishing a Due Diligence strategy.
---
VoteWatch Europe: With regard to timber extractions, a European legal framework of Due Diligence is already in place. How do you evaluate the impacts of this Directive?
Lara Wolters: I think it is important to say that our aim for overarching Due Diligence legislation at EU level is not intended to supersede any sectoral legislation which is currently in place. Indeed, the legislation related to timber extractions that you mention is complementary to what we have proposed, and it is right to have targeted, sectoral legislation in place in parallel for specific sectors such as timber or the responsible sourcing of minerals. It's also worth mentioning that timber legislation comes at these issues from a trade perspective, which is of course important, but that new Due Diligence rules should be within the framework of EU company law, and therefore focus on the process businesses should undertake as regards their value chains, both within and outside of the Single Market, as well as their liability.
VoteWatch Europe: Looking concretely at Member States like Germany, France, or the Netherlands, do you believe that their Due Diligence legislation meets the Parliament's objectives?
Lara Wolters: It is definitely welcome that national legislatures are taking action, and in all of the examples you mention some key elements are shared with our objectives, namely Due Diligence requirements based on UN and OECD guidelines, and the requirement for companies to report transparently on their risks and strategies. That said, there is considerable variation between the laws, or proposed laws, at national level, for instance whether or not to include SMEs, how far to go down the value chain, or how to establish civil liability for companies falling short of Due Diligence requirements. To avoid a further EU 'patchwork,' national lawmakers are therefore calling for EU action, including many of the governments which have already legislated or are in the process of doing so. EU action is needed even in places where legislation exists at national level, to ensure coordination and a level-playing field throughout the Single Market.
VoteWatch Europe: What impacts do you expect from European Due Diligence obligations in the short- and long-term with regards to trade relations between the EU and third countries?
Lara Wolters:In the vast majority of cases, the consequences of a lack of Due Diligence are felt in developing countries, yet those who hold responsibility are often based in Europe or the US. Therefore, any legislation put in place at European level must include the necessary provisions to ensure that EU-based companies are held responsible for actions outside of the Single Market, and that those responsible for failings can be brought to justice in the EU. In this way, the envisaged law would have an effect on the EU's role within global supply chains, but can also create pressure to set standards and foster change worldwide.
You can check all available interviews with MEPs here.
---
If you want to discover more about the MEPs' position on Due Diligence issues, take a look at our in-depth assessment of the views and influence of MEPs' on due diligence policy. For more information, training, consultancy or media relations, contact us at [email protected]