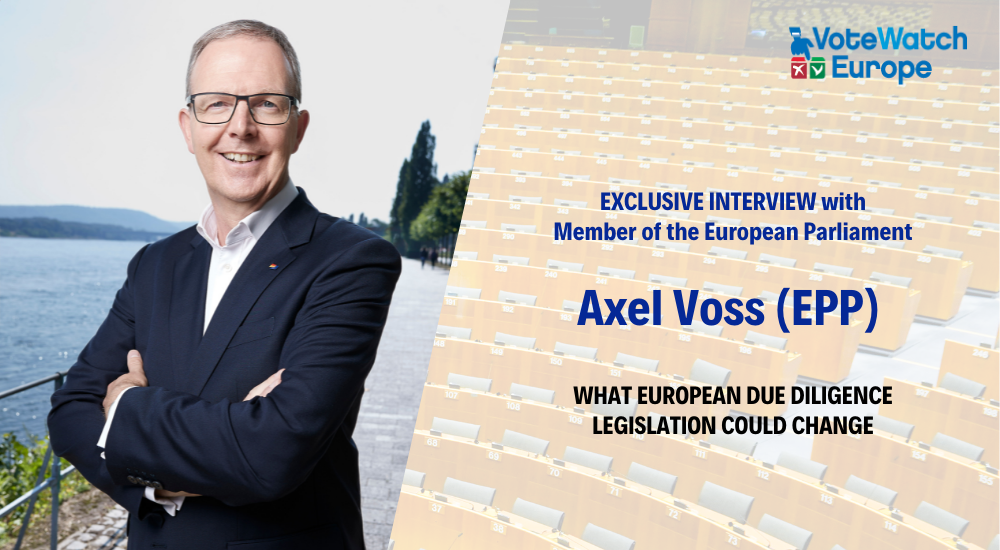 In March 2021, the European Parliament called on the Commission to put forward a European due diligence framework, which will notably require companies to deal with human rights and environmental issues in their supply chains.
VoteWatch reached out to German MEP Axel Voss from the EPP (shadow rapporteur for the Corporate due diligence and corporate accountability legislative initiative report) to find out more about the upcoming framework and what impacts it will have.
---
VoteWatch Europe: According to a Commission study, only 37% of companies apply some form of due diligence. Additionally, the Commission wanted to propose a Directive in the second quarter of 2021, but until today, no initiative has been taken on the EP's resolution. In your opinion, what might be some reasons for this?
Axel Voss: The Commission is working hard with several DGs [Directorate-Generals] to try and hopefully find a way to propose a Directive that is practical and actually achieves the wished results. This is likely to be done by the end of this year.
---
VoteWatch Europe: Some MEPs who supported the resolution in general would have liked to introduce the possibility for Member States to exempt Small and Medium sized Enterprises (SMEs) from due diligence obligations. What do you think about this proposal?
Axel Voss: In any case, SMEs should not have the same obligations as large undertakings. However, some SMEs might have the capacity and leverage to comply with due diligence obligations and some might want to do so voluntarily. We need to help them have appropriate guidelines to achieve legal certainty and a level playing field.
---
VoteWatch Europe: The Report proposes a proportionate application of Due Diligence obligations. It says that "a proportionate approach should take into account, amongst other elements, the sector of activity, the size of the undertaking, the severity and likelihood of risks […]". Additionally, no "disproportionate disadvantages" shall be created for undertakings. How could this be applied in practice and what could or should be the institutional design in order to ensure the practicability and efficiency of due diligence? In the end, what could be the optimal mix between substantive duty and formal requirements?
Axel Voss: We should not forget that the due diligence process is an obligation of means, not an obligation of results. Undertakings should do their best to mitigate risks but in many cases this is simply not traceable. That is why we proposed a risk-based approach. The Commission needs to assess how this can be designed based on the large scale consultation they have done earlier this year.
---
VoteWatch Europe: With regard to timber extractions, a European legal framework of due diligence is already in place. How do you evaluate the impacts of this directive?
Axel Voss: Certain sectoral applications have shown that a due diligence process can lead to success. However, we are trying to create a horizontal approach that is applicable to many different sectors and business structures.
---
VoteWatch Europe: Looking concretely at member states like Germany, France, or the Netherlands, do you believe that their due diligence legislation meet the Parliament's objectives?
Axel Voss: The national approaches have diverse angles regarding the scope of undertakings covered and standards that need to be fulfilled. In the European dimension, we are working towards an approach that incorporates human rights and sustainable goals including large undertakings and partly SMEs, however based on the risk-based approach.
---
VoteWatch Europe: What impacts do you expect of European due diligence obligations in the short- and long-term with regards to the trade relations between the EU and third countries?
Axel Voss: European initiatives like the GDPR have shown that the EU can be a standard setter instead of a standard taker. In the long term, we hope to become a role model for more responsibility and sustainability in global value chains.
---
If you want to discover more about the MEPs' position on due diligence issues, take a look at our in-depth assessment of the views and influence of MEPs' on due diligence policy. For more information, training, consultancy or media relations, contact us at [email protected]