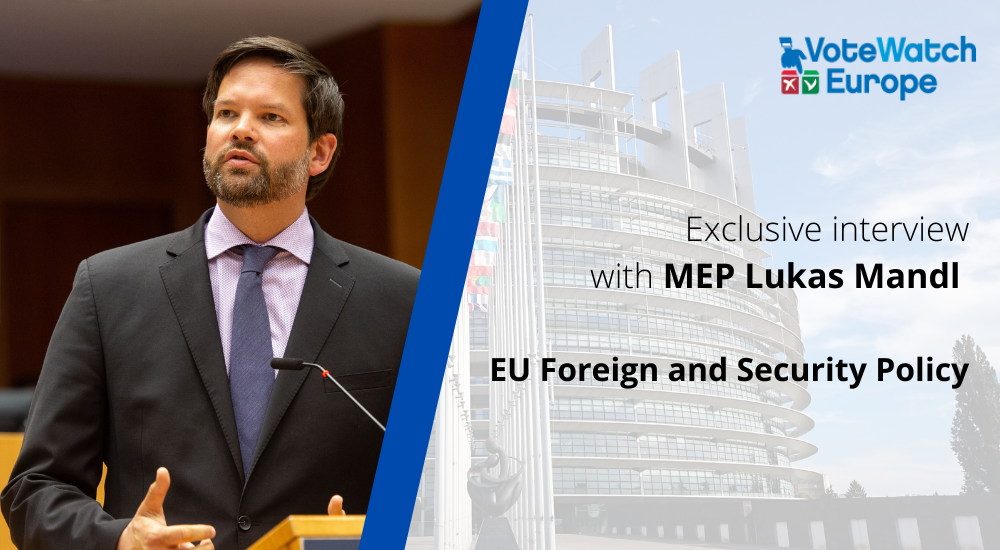 ---
The recent military withdrawal from Afghanistan has re-ignited debate on the future of European defence and the prospect of an "EU Army". Vice-President Borrell's suggestion of a rapid reaction force is the latest proposal for closer EU coordination in defence. However, it still remains a controversial issue with supporters and detractors across the political spectrum.
To provide a view of the opinions within the European Parliament, Lukas Mandl, Vice-Chair of the Security and Defence subcommittee gives his views on European Defence and the possibility of a rapid reaction force.
---
VoteWatch Europe: Do you believe that EU defence at present meets the needs of EU interests as global politics becomes more multilateral?
Lukas Mandl: No. That's why we have to intensively and tirelessly work on it. At the start of her mandate, Commission President Ursula von der Leyen has literally pointed out that her Commission will be a geopolitical one. Although some major steps forward have been made since then – among other things the further development of PESCO, the start of the EDF – the current EU capabilities in the defence sector still do not meet what EU citizens can expect in terms of security and strength of Europe in the geopolitical context. If we want to be taken seriously, we need to become more autonomous especially in the realm of security and defence. We also need to be better able to protect EU citizens facing a number of risks, including hybrid threats such as cyber-attacks and disinformation campaigns, which have further increased during the pandemic.
VoteWatch Europe: At present, do you believe that the EU should endeavour to become more independent in terms of defence of the US and NATO or should there be closer defensive collaboration?
Lukas Mandl: Closer cooperation will be needed. And this cooperation will be much stronger and on a more equal footing if Europe improves its own military capabilities. We need to be capable of handling crises in our neighbourhood on our own, if necessary, and to further develop our capabilities. NATO remains an important security umbrella for everybody. The US remains our most important ally. We must establish much closer cooperation with the UK as well as with Switzerland when it comes to security and defence. I very much regret that it was not possible to negotiate an agreement on foreign and security policy with the UK. The fact that the US, Canada and Norway participate in a PESCO project on military mobility is an excellent example showing that strengthening European defence also means strengthening NATO.
VoteWatch Europe: Are you supportive of collaborative initiatives such as PESCO and the European Defence fund as alternatives for the need for a reaction force, as well as the European Peace Facility which would involve arming and training foreign armies?
Lukas Mandl: Of course we also need a reaction force. I highly appreciate the recent initiative of Germany, Finland, the Netherlands, Portugal and Slovenia in that field. I demand the proposal by the High Representative which has been announced for November to be a major step forward. But a typical European approach would also be to sustainably strengthen our ties and our innovation capabilities as it is already ongoing with PESCO and the EDF.
VoteWatch Europe: Would you agree with Vice-President Borrell's recent comments that the EU must be more interventionist and requires the means to do so in a rapid reaction force? Or should focus be placed solely on defence instead?
Lukas Mandl: I agree with the High Representative here. He is doing exactly what the Commissions' President in the Mission Letter has asked him to do. I consider all his efforts to be understood in the framework of defence. Defence is what all of this is about.
VoteWatch Europe: If a reaction force were created, what would be the major differences required in your view from the previous EU Battlegroups which were brought in but never implemented?
Lukas Mandl: Obviously the EU Battlegroups methodology is not good enough. The reaction force must provide EU Member States with a more practical approach. The ongoing discussions on the EU's strategic compass might enlighten our path to reach that goal.
You can check all available interviews with MEPs here.
---
If you want to discover more about the MEPs' position on specific issues, take a look at our in-depth assessment of the views and influence of MEPs' on the Fit for 55 package. For more information, training, consultancy or media relations, contact us at [email protected]