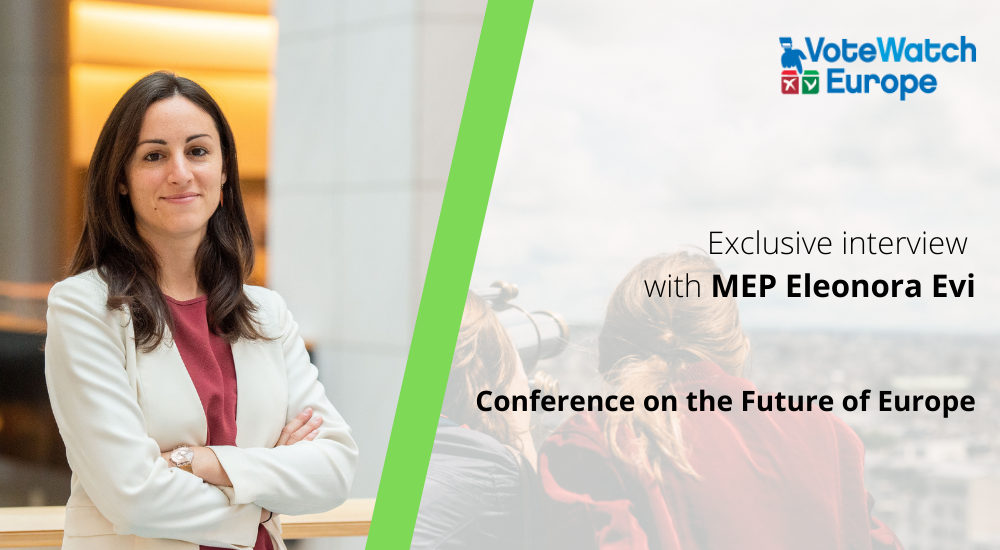 ---
In spring 2021, the Conference on the Future of Europe (CoFoE) was launched, sparking a series of debates and consultations across the continent with the goal of collecting ideas from citizens and stakeholders to shape the future of the EU.
The European Parliament, Council and Commission agreed on a joint presidency, and each appointed representatives for a common Executive Board. As a result, physical and digital conferences, debates and panels have been taking place, where citizens from all types of backgrounds, civil society, and high representatives of the European Institutions come together. In this deliberative democracy exercise, young people have been given particular importance, celebrating the European Youth Event in early October to come up with ideas for the CoFoE.
The CoFoE is expected to come to an end by spring 2022, when all the ideas will be taken into consideration and the Executive Board is tasked with drafting a final report on the Conference's results. Since the beginning there have been ongoing discussions regarding whether this conference will lead to substantive changes or will be a communication exercise without concrete outcomes.
VoteWatch reached out to MEP Eleonora Evi from Greens/EFA, who has been significantly involved in the process as a Member of the Delegation to the Conference on the Future of Europe, and asked for her insights and expectations.
---
VoteWatch: Before the conferences and debates began, there were some worries as to whether the results of the CoFoE would not live up to the expectations. As a member of the delegation and having an insider perspective, do you share this concern or are you more optimistic?
Eleonora Evi: I believe that these concerns were legitimate: the risk of turning the Conference on the Future of Europe into a charade – a mere communication exercise for the EU and its top politicians to pretend they are open to citizen participation – was high. And it's still very high.
If citizens feel that their proposals and ideas are not listed to and are not at the heart of the agenda of the Conference; if they leave this conference with the feeling that its outcome has been decided in advance or that their proposals have been watered down in the Conference's conclusions and are no longer something they can identify with, we will not only lose an incredible opportunity to reform our Union through an unprecedented excise of participatory democracy, but we will also further alienate citizens and widen the existing gap between them and the EU institutions.
But the success of the Conference also depends on us as delegates. This is why, we, Greens, are trying to play a constructive role by making clear proposals on how to make this process more effective, transparent and citizen-centred.
VoteWatch: CoFoE is expected to end by spring 2022. Earlier this year Greens/EFA expressed their concern that "limiting the conference to a 12 month process would ensure that it cannot succeed" and that it "should be allowed to take the necessary time to deliver results, while ensuring that there are concrete outcomes". From your point of view, do you think it should be extended?
Eleonora Evi: Absolutely, 12 months is not enough and this is becoming clearer every day. We are already running out of time; the conference is supposed to end in the spring and we're now on the eve of the Christmas break and haven't gotten to discuss content or any concrete proposals. How do we think we will be able, in only a couple of months, to deliver any meaningful recommendations/conclusions on the reforms Europe needs on such a wide range of topics, from democracy and migration to climate change and social justice?
There are talks about two additional conference plenaries in April and May but this is yet to be officially confirmed.
I really hope we can agree on extending the Conference's calendar in order to have enough time not to rush discussions on issues which are key to the future of Europe and be able to dedicate them the time they deserve.
At the same time, we cannot afford to waste any more time in endless procedural discussions or inconclusive debates. We need to use the limited time at our disposal to analyse as many citizens' proposals as possible and decide what are our reform priorities for each subject area. Citizens who have invested their time putting forward their proposals and ideas for the EU of tomorrow deserve to see these ideas being debated at the Conference and taken into due consideration.
To this end, together with the other Greens/EFA members of the CoFoE we have put forward to our respective working group chairs a proposal to restructure the next working group meetings, which we hope will be taken into account (see proposal below).
VoteWatch: The European Parliament Youth Survey 2021 revealed that "a majority of respondents feel they don't have much, or any, say over important decisions, laws and policies affecting them". Do you think this perception will change after the CoFoE comes to an end?
Eleonora Evi: The contagious success of youth climate protests demonstrate that our youth has a lot to say on how our institutions should address today's most pressing issues. It's therefore extremely urgent to give them a platform to channel their actions and voices so that they can feed into our decision-making process at the European level.
There's no better platform to do so than the Conference on the Future of Europe. After all, this conference is meant to design the Europe of tomorrow, which belongs to our youth. We cannot afford to do it without them.
I have been attending the past editions of the European Youth Event, where young people from all over Europe come together to discuss the Europe they want. I was really surprised by their proposals and by their desire to engage and take part in the decision-making process. We need to meet this demand for participation and the Conference on the Future of Europe is the perfect opportunity.
VoteWatch: The CoFoE uses the multilingual Digital platform as a hub for citizens from all over Europe to submit their ideas for different topics. Climate change and the environment is the most discussed topic on the platform, with more than 2000 idea submissions. Do you think the CoFoE will lead to more environmentally friendly policies in the EU?
Eleonora Evi: I surely hope so. The fact that climate and environment is the most discussed topic on the platform and the one with the largest number of idea submissions shows that citizens consider it as a top priority for EU action. This will have to be reflected in the Conference's conclusions and lead to concrete changes in our climate action and environmental policies towards a higher level of ambition.
The overwhelming majority of citizen proposals reflect many long standing battles and demands that we Greens have been fighting for in the past years. I really hope that with the support of the citizens they can become among the flagship proposals of the Conference and will finally be taken up by the EU institutions.
VoteWatch: You are one of the many signatories of the joint declaration of the UEF – Spinelli Group, where the CoFoE is mentioned as "an event […] to debate and decide how to go about adapting our institutions in a way that will complete the building of our federal Europe". Being half-way now, do you think this event will bring Europe a step closer to this federal project?
Eleonora Evi: This conference is not only a platform for European federalists and those who would like to see a more united Europe. In this conference, we also have representatives from those governments who are openly violating fundamental European values and principles and parties that advocate for a return to more national sovereignty.
I really hope that the strength of our arguments will make a federalist vision for Europe to prevail over the one of national egoisms and I am sure that the citizens component of the Conference will be our ally on this.
I am confident that the Conference on the Future of Europe can contribute to building new momentum for European integration and be a driving force in bringing us a step closer to a more united Europe.
---
Greens/EFA WG proposal:
Proposal: From many ideas to few conclusions
1. Collect and narrow down ideas
– Clear deadline for additional proposals (for WG and online platform), e.g. 30 Nov 2021 – it makes no sense to continue collecting ideas that won't be considered/debated.
– To reduce the number of citizen ideas from the online platform, the CoFoE Common secretariat clusters ideas with similar content and adds up their respective endorsements, shortlists those ideas with the most endorsements.
– CoFoE Common Secretariat checks which ideas coming from EU Citizen panels overlap with clustered ideas from the online platform and the WG members.
2. Use limited WG time to decide on priority ideas
– To take an informed decision on proposals, we propose to present each proposal to the WG for 2 minutes. Then have up to 2 speeches each in favour and against. Then WG should vote if the respective proposal should be put to plenary for final approval. This means 10 minutes per proposal. Each CoFoE WG, if they continue to last 120 mins, can debate and vote on 12 ideas.
– WGs on 18 December discuss and vote for the ideas of the online-platform. Each WG debates and votes the ideas crossing a certain threshold of endorsements on the online platform, e.g. 100+ endorsements.
– WGs on 21 January discuss and vote the ideas of the WG members. Each WG debates and votes the 12 ideas with the most support of WG Members which they indicate in a written procedure before the meeting. This could be complemented with additional ideas from the online platform.
– Additional WGs early January discuss and vote the ideas of EU citizen panels 1 & 2.
– Additional WGs end January discuss and vote the ideas of EU citizens panels 3 & 4.
– These additional meetings are necessary, because voting in WGs cannot happen before the debate in Plenary. The additional WGs last as long as all recommendations are voted on.
– Coordination in advance decides on who speaks in favour or against. Interests can be checked by email in advance and coordinated by one representative each of MEPs, MPs, national governments, Commission and randomly selected citizens.
– Written reports contain the supported ideas and voting results.
– WGs are conducted with public broadcasting.
---
To read more exclusive interviews with other EU Professionals and MEPs, click here.
---
For more information, training, consultancy or media relations, contact us at [email protected]