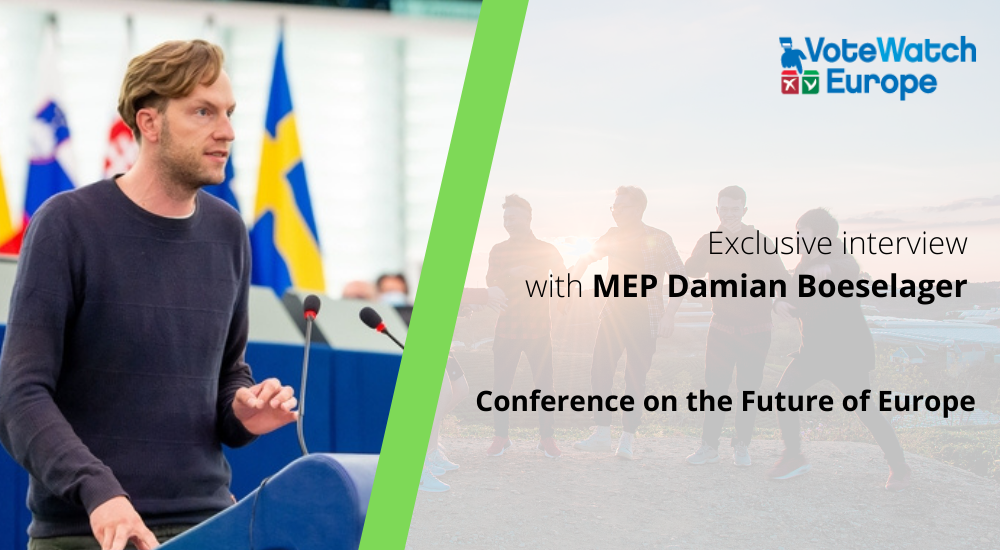 ---
The Conference on the Future of Europe (CoFoE), an exercise of deliberative democracy bringing together citizens and representatives of the EU institutions, is expected to come to an end by spring 2022. After one year of debates and consultations, questions remain regarding what the final outcome will be.
---
Votewatch Europe has carried out several interviews as part of a series of materials about the Conference, sharing last week the insights and expectations of MEP Eleonora Evi (read it here). Today we present an exclusive interview with MEP Damian Boeselager, Member of the Delegation to the Conference from the Greens/EFA (Germany); he equally plays an active role.
---
Votewatch: Before the conferences and debates began, there were some worries as to whether the results of the CoFoE would not live up to the expectations. As a member of the delegation and having an insider perspective, do you share this concern or are you more optimistic?
Damian Boeselager: There was always the worry that this whole Conference would not be a real thing and it would not actually change Europe. We all have seen how long it took to make it happen and how difficult it was to reach an agreement between the three EU institutions, so it is unclear where we will go from here. But my perspective is a bit different.
I think as a Member of the Conference my role is to try to push it as much as possible because we definitely need a debate about the future of Europe, then we will see what comes out of it. If it doesn't yield anything we still need to push for the future of Europe. If I can be helpful in this path then I'm happy.
To say it in different words: In either scenario I will push as hard as possible to try to change the European Union and make it more democratic.
Votewatch: CoFoE is expected to end by spring 2022. Earlier this year, the Greens/EFA expressed their concern that "limiting the Conference to a 12-month process would ensure that it cannot succeed" and that it "should be allowed to take the necessary time to deliver results, while ensuring that there are concrete outcomes". From your point of view, do you reckon it should be extended?
Damian Boeselager: I think there are two considerations: One is how to keep the pressure up to reach results, and the second one is how to ensure an actual honest and good debate. I think both need to be taken into account, and I think it's therefore important to keep the pressure up. But yes, I think it could be useful to have a more ongoing discussion about the future of Europe.
Votewatch: The European Parliament Youth Survey 2021 revealed that "a majority of respondents feel they don't have much, or any, say over important decisions, laws and policies affecting them". Do you think this perception will change after the CoFoE comes to an end?
Damian Boeselager: This perception will change if there are changes. If there are no changes then nothing will change. The reason why I believe people feel disconnected is because normally in a democracy you vote for a political direction – let's say for example for conservative Europe – and then if this direction forms the majority, maybe with a coalition partner, they would fill the government and then be able to implement conservative politics. This is not the case in Europe, we as the parliament don't fill the government and therefore we don't represent the political direction that is the majority of this house in the policies that are being proposed. This is also due to the fact that the Council is a Member State body, and the national leading political ideas are shaping the EU from that perspective. The only way to change the perception of not having an influence is by empowering voting citizens and allowing the European Parliament to fill the European government.
Votewatch: The CoFoE uses the multilingual digital platform as a hub for citizens from all over Europe to submit their ideas for different topics. "Climate Change and the Environment" is the most discussed topic in the platform, with more than 2,000 idea submissions. Do you think the CoFoE will lead to more environmentally friendly policies in the EU?
Damian Boeselager: I hope so, but I don't know exactly how the Conference will influence policy-making. My hope is that the Commission, the Member States and the Parliament understand that there is a lot of need and willingness among the population to engage and be more ambitious. But we will see.
Votewatch: You are one of the many signatories of the joint declaration of the UEF – Spinelli Group, where the CoFoE is mentioned as "an event […] to debate and decide how to go about adapting our institutions in a way that will complete the building of our federal Europe". Also being a representative of a pan-European movement, do you think this event will bring Europe a step closer to this federal project?
Damian Boeselager: I don't know but I will try my best to make it work. I founded Volt because I believe that we need change in Europe and we need a more federal Europe. I will use all means possible to try to push for that, such as via this Conference and via the work that I do in Parliament. For example, the Electoral Law Act where I'm trying to implement the second vote for European political parties and movements, and via running in all national contexts to ensure that political parties move in the direction of a federal Europe. This is also the reason for the Conference. I cannot say if it will yield, I can only say that I see myself as an active participant trying to make it happen, and I will not stop until it is somehow achieved.
Votewatch: Anything else to add?
Damian Boeselager: If you want to call Volt a different way you could call it "the party for the future of Europe". Obviously, I am happy that the Conference on the Future of Europe exists and I will use it, but if the institutional interests and structures don't allow us to take the steps that are needed within this Conference, we will continue fighting for it by the party that started exactly for this purpose. We can either perceive what is going on as passive observers or we understand that we are part of shaping what comes out of it, and that is the whole message that we are trying to send.
---
To read more exclusive interviews with other EU Professionals and MEPs, click here.
---
For more information, training, consultancy or media relations, contact us at [email protected]