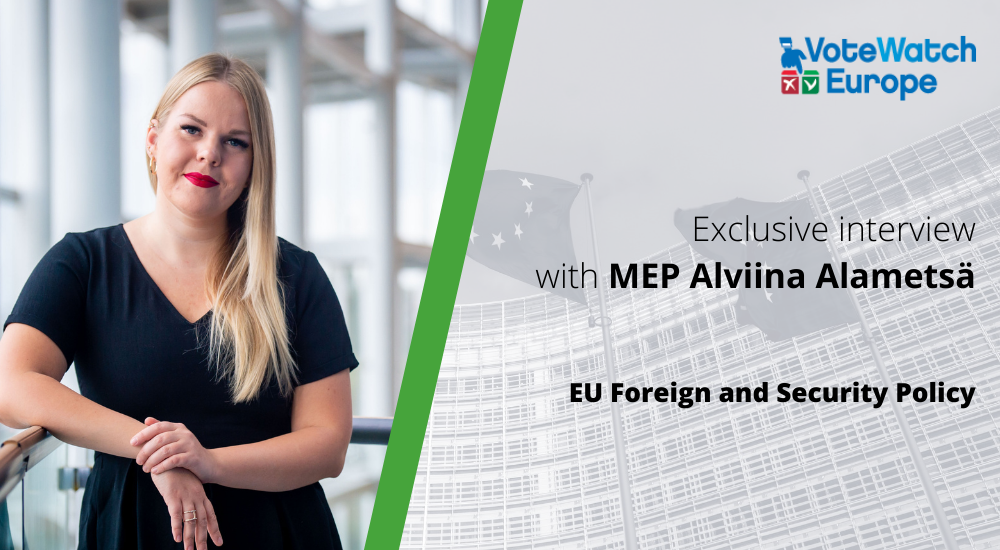 ---
The turmoil surrounding the withdrawal from Afghanistan has re-ignited debate on the future of European defence and the prospect of an "EU Army". Vice-President Borrell's suggestion of a rapid reaction force for such situations is the latest proposal for closer EU coordination in defence. However, it remains a controversial issue with supporters and detractors across the political spectrum. To provide a view of the opinions within the European Parliament, VoteWatch spoke to MEP Alviina Alametsä (Greens/EFA) , Member of the Security and Defence subcommittee and asked her views on European Defence and the possibility of an EU rapid reaction force.
You can already read exclusive interviews with MEP Lukas Mandl (EPP) and MEP Mick Wallace (The Left) on the topic of EU Foreign and Security Policy.
---
VoteWatch: Do you believe that EU defence at present meets the needs of EU interests as global politics becomes more multilateral?
Alviina Alametsä: The EU's objectives to promote peace, end conflicts and strengthen international security cannot be achieved by Member States on their own. Instead, they must cooperate much more in order to be a meaningful player in the world. The European defence and security landscape is currently fragmented, with a need to strengthen our shared idea of defence and security, as well as capacities and capabilities that are needed to achieve them. We need a more holistic EU policy, which is able to respond to not only traditional security threats but new, emerging ones from cyber and hybrid attacks to climate change. However, defence policy is not the only toolbox the EU has in its hands to play a meaningful role in the global, multilateral system. We also have to strengthen the UN as a strategic objective and our efforts in conflict prevention, peacekeeping and peacebuilding, and align our defence and security policies with the rest of the EU's foreing policy agenda, trade and development policy.
VoteWatch: At present, do you believe that the EU should endeavour to become more independent in terms of defence of the US and NATO or should there be closer defensive collaboration.
Alviina Alametsä: Afghanistan military evacuation in August 2021 showed that the EU Member States are not able to act in unison when it comes to issues of defence and security. It also highlighted that there is a strong need to do so.
However, developing a common defence and security policy does not have to be at the expense of cooperation with the US and NATO – or with any other partner. An EU with a coherent, clear and shared vision of defence and security would most likely be a better partner to others. And indeed, the EU should seek a strong partnership in leadership with the US, which focuses on shared interests. Through this, it will also be easier to deal with issues about which we do not see eye to eye, whether it is Russia, China or different conflicts around the world.
VoteWatch: Are you supportive of collaborative initiatives such as PESCO and the European Defence fund as alternatives for the need for a reaction force, as well as the European Peace Facility which among would involve arming and training foreign armies?
Alviina Alametsä: These instruments are not alternatives to each other, but they are all part of the EU's security and defence toolbox, each serving a different purpose. However, they all suffer from the lack of shared vision and policy on defence and security, for which the current strategic compass process is trying to respond to. For example, PESCO projects do not respond to any strategy or to the already identified capability gaps across the EU and therefore leaves much to hope for.
Furthermore, I believe we need to direct EU funds to those actions and instruments that most effectively deliver on our objectives to prevent conflict and build peace. We cannot simply fund instruments such as EDF and EPF, but we must also ensure that funds are directed to crisis management through civilian missions, supporting peace processes in countries affected by conflict and to address new security threats such as climate change. An integrated approach of military and civilian instruments is also very important.
VoteWatch: Would you agree with Vice-President Borrell's recent comments that the EU must be more interventionist and requires the means to do so in a rapid reaction force? Or should focus instead be put purely towards defence?
Alviina Alametsä: The biggest challenge in developing genuine European defence is the resistance of Member States to engage in one. While everyone talks about the "European Defence Union", the Member States still jealously guard their national authority in all things foreign policy and defence. Until that changes towards a willingness to move some decision making powers to the EU level, the focus can barely be on genuine European defence.
Nor should we strive for a defence union that is purely military in nature or aim for traditional, territorial defence. Instead, we must put human security at the heart of our defence and security policy and that leads us to evaluate our defence and security needs differently. Furthermore, we already have an agreement among Member States that our defence and security focus is on peacekeeping and crises management abroad, and as a result stopping instability moving also to the EU. Why not strengthen this? The proposal of rapid reaction force is a proposal to do exactly this.
VoteWatch: If a reaction force were created, what would be the major differences required in your view from the previous EU battlegroups which were brought in but never implemented?
Alviina Alametsä: I am in favour of establishing a rapid reaction force, but it has to be set up in a manner that allows its deployment, unlike the EU battlegroups, use of which has been hampered by the unanimity decision making rule in the Council. I therefore welcome the idea to use Article 44 of TFEU to enable a coalition of willing Member States to execute military tasks. The possibility of qualified majority voting should be explored in order to prevent the use of the force becoming a lame duck once again. And most importantly, there must be a genuine commitment from Member States to use the force. Without it, we will have battlegroup II in our hands.
To read more exclusive interviews with other EU Professionals and MEPs, click here.
---
For more information, training, consultancy or media relations, contact us at [email protected]