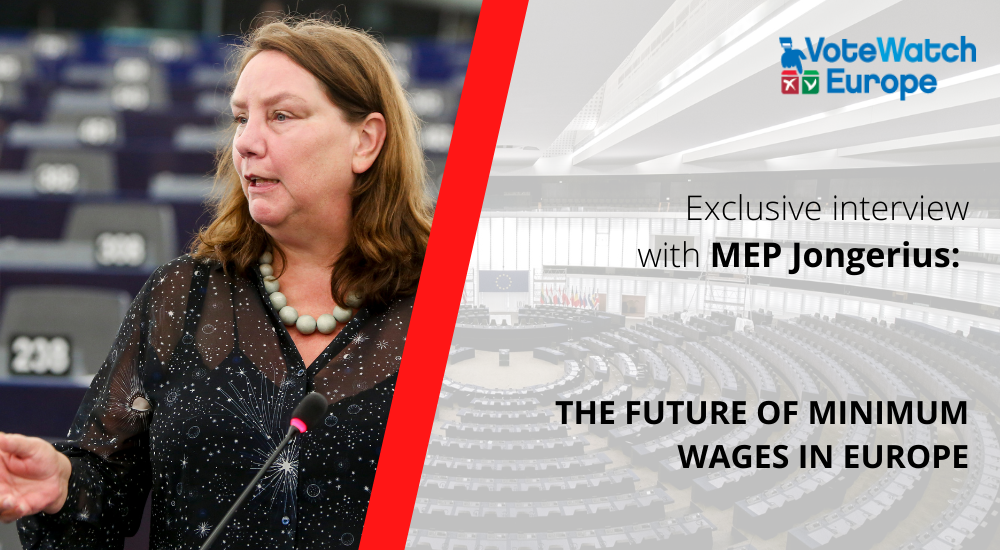 ---
In October 2020, after two rounds of consultation with social partners, the European Commission presented a proposal for a Directive on Adequate Minimum Wages in the European Union. The proposal has been met with mixed feelings. If on one side social partners saw in the Directive a chance for the European Union to improve the lives of millions of EU workers, other parties started questioning whether the European Union has the competences to put forward such a proposal and whether the Directive will be effective in achieving its objectives.
As the committee vote is approaching, VoteWatch Europe reached out to Agnes Jongerius, MEP of the S&D group and rapporteur for the Directive on Adequate Minimum Wages, to hear her insights on the Directive and on the future of social policies.
The Dutch MEP has plenty of experience on the matter, having worked for years for FNV (Federation of Dutch Trade Unions) and served as rapporteur for important social policy initiatives such as the Revisions of the Posting of Workers Directive. Moreover, she is highly influential on this specific policy area, as discovered by our special assessment of the influence of MEPs on the social pillar.
---
VoteWatch Europe: According to Eurostat, 9.4% of EU workers live in households that are at risk of poverty. Do you believe the Directive proposed by the European Commission, and on which EMPL Committee is working, will have the strength to significantly improve the lives of millions of EU workers? Which effects do you expect in the short and long term?
Agnes Jongerius: I think that with this Directive we can make a difference for a lot of people, actually for millions of people, if and when we are able to ensure a fair and adequate threshold of decency – because this is what we are trying to define now.
A second thing we want to push for is that all workers are being treated equally. In the proposal of the Commission there is a little bit of room for deductions and exemptions, but we are trying to close this door. Thirdly, another way in which this Directive can help millions of people, is by increasing the number of workers covered by collective agreements. In general there is, at least in the European Parliament, a growing support for the idea that it is a disgrace that in Europe people are working hard and they have insufficient incomes. We have seen this during the pandemic, especially for those people who keep the society afloat – people that clean hospitals, people that provide our food and work in logistics – these are also the people with insufficient income. I believe we can end this disgrace, and therefore by supporting this Directive in the European Parliament, we propose our objective – to protect these peoples' livelihoods.
---
VoteWatch Europe: Some MEPs, including some of the members of the EMPL Committee, believe that the EU has no competence to act in the field of minimum wages, and ask for the rejection of the Directive by the European Parliament. What do you think about this competence dispute? Do you think it will be possible to find an agreement in the European Parliament?
Agnes Jongerius: I do know there is resistance against the proposal. For instance, BusinessEurope is claiming that we do not need this Directive and that there is no competence. I think this is more wishful thinking than based on reality. It is clear that the European Commission did not come forward with a proposal that is impossible. The council, and even this presidency, is negotiating quite strongly about this – this is really taken seriously. From our side in the European Parliament, we are sticking between the boundaries of the Treaty and, as I quoted wishful thinking, we would not invest such an amount of time in a proposal if it cannot be done. We are not wasting our time, we take it seriously. It is indeed necessary to stay within the boundaries set by the Treaties because we do not want to have this proposal fired away from the Court of Justice of the European Union. It can be done.
---
VoteWatch Europe: The Directive puts great focus on the promotion of collective agreement. The European Commission's goal is to achieve 70% of collective agreement coverage, while some of the amendments proposed by the EMPL Committee ask for 90%. Do you believe it will be possible to agree on this threshold?
Agnes Jongerius: We already found an agreement in an early report I wrote together with Dennis Radtke, in preparation for the social summit. There, we have put on the table this idea of having a threshold of 90% and it was broadly supported in the European Parliament. Therefore we saw no reason to keep this from the table. You can see also in the targets the Commission presented that the best way of lifting people out of poverty is ensuring that they are covered by collective agreement. There is enough scientific evidence that this should be the preferred route. There are also studies that show that countries with strong social partners are the happiest in the world. I think it is time that we raise ambitions in Europe, and this can be done through this Directive. If we know that this Directive will lift people out of poverty, and if we know we will get a more equitable society, let's do it.
We saw during the banking crisis that a recipe from the European Union was lowering the level of minimum wage and lowering the level of collective bargaining. I believe it is time to have a different task and obligation.
The 90% threshold has already been supported by the European Parliament, so we saw no reason to work with a lower target. I think it is now clear in this proposal that member states must come up with action plans, and that they are held accountable for working towards the rise of the level of people covered by collective bargaining. This is indeed a change in the policies, but a much needed change.
---
VoteWatch Europe: The US is struggling with union-busting, and ETUC argues that this phenomenon is growing in the EU as well. Is this Directive going to be enough to stop union-busting in the European Union?
Agnes Jongerius: This is a rather difficult question to answer, because indeed union-busting is a growing problem. It is not only a method used in the United States, but it is also spreading in the Netherlands, for instance. Only a few months ago, I was visiting a camp site in the Netherlands where a temporary work agency was housing European labour migrants working in logistics. There, we were threatened, we were refused access to the site, and we were not allowed to speak with these workers. This was the "decent treatment". A trade union official that was there earlier was beaten up. This is happening in parts of the labour market where people need our support the most. In this proposal we are strengthening the rights of workers and unions to organise, to help them get the information they need, and to conclude meaningful collective agreement. Does this really stop employers threatening workers or beating up trade union officials? I wish I could answer this question with "yes", but I also know that the distance existing between European policy makers and a camping site in the southern part of the Netherlands is quite big. Nevertheless, I think it is important to bring a message across, and that is: in Europe we respect the basic social rights and all the core conventions of ILO.
---
VoteWatch Europe: The Directive proposed by the European Commission leaves Member States free to define what adequate wages mean to them. Do you think this is enough to guarantee that Member States will take appropriate measures to ensure fair minimum wages?
Agnes Jongerius: If you look at the way the whole welfare states are being constructed and work together, it is clear that the biggest work on implementing this Directive has to be done at the level of the member states. However, this does not mean that we cannot set targets and require actions from the member states. Together with the shadow rapporteurs, we are trying to see if we can work towards a set of criteria which member states will have to take into account to assess whether their minimum wage protection is adequate. You can think of in-work poverty rates, or purchasing power. But this is indeed, at this time, still a work in progress. But we do want to set targets at the European level, and we also want to be clear that in Europe equal treatment of workers is key. For me this means that it cannot be justified that a 16 year old supermarket stocker in the Netherlands earns only half of what an 18 year old colleague is earning. This has to change. Equal treatment is part of the design of the European Union, it was already included in the treaty of Rome, and we have to work towards this. Next to that, we want Member States to commit to a threshold of decency of 60% of the median wage and 50% of the average wage. And if they do not, we want them to have some explanations as to why they think their minimum wage protection is still fair and adequate. As I said, at this time, it is still a work in progress. Of course, my co-rapporteur and I want to have a majority supporting our proposal. This is a sensitive issue. It is clear that member states have the biggest task in ensuring adequate minimum wage protection, but it is also clear that at the European level we want to formulate what we call a "threshold of decency" and a way to end deductions and exemptions from minimum wage protection.
---
VoteWatch Europe: Following the introduction of the European Pillar of Social Rights in 2017, the EU passed two Directives in the field of social policies, namely on work-life balance and on transparent and predictable working conditions. Now is the time for adequate minimum wages. In which direction do you think the EU will move next in the field of social policies?
Agnes Jongerius: I hope you do not find it vain of me that I also point out the revision of the Directive on the posting of workers, on which I worked during the previous mandate with Elisabeth Morin-Chartier, which I think was also an important piece of legislation.
I do hope that next to the minimum wage protection, we also get a legislative proposal on the protection of platform workers, and we plead for the revision of the burden of proof for employment status. I think the Commission knows that the European Parliament is expecting strong legislation on this. We also hope that the Commission will hurry up with the right to disconnect, because it is clear that our lives have changed since the time when everyone worked nine to five in an office. This more digital way of working requires rules and regulations, especially about when work ends and when employees can say "no" to their employers. Also, we succeeded in getting headline targets in quality employment reducing inequalities in the Porto Declaration, and I think it is now time to deliver. We also asked the Commission for an action plan on the revision of the Temporary Work Agency because, as I say when I mentioned the example of the southern part of the Netherlands, there are certain people in this sector taking advantage of the weak position of certain labour migrants or people outside of the labour market, and pushing for keeping people in precarious situations. We also need to make some progress on health and safety at work, as every now and then new harmful substances are introduced to the work floor and people need protection from them.
I have quite a lot of wishes. There is of course the whole "fit for 55" topic, and what that would mean to the purchasing power of people and also to our old industrial base. This transition needs to be embedded in the area of social policy, and this will help living up to the European slogan "leave no one behind". It is quite a short slogan, but if you really want to take it seriously, we still need some more policies to make it a reality.
---
For more information, training, consultancy or media relations, contact us at [email protected]