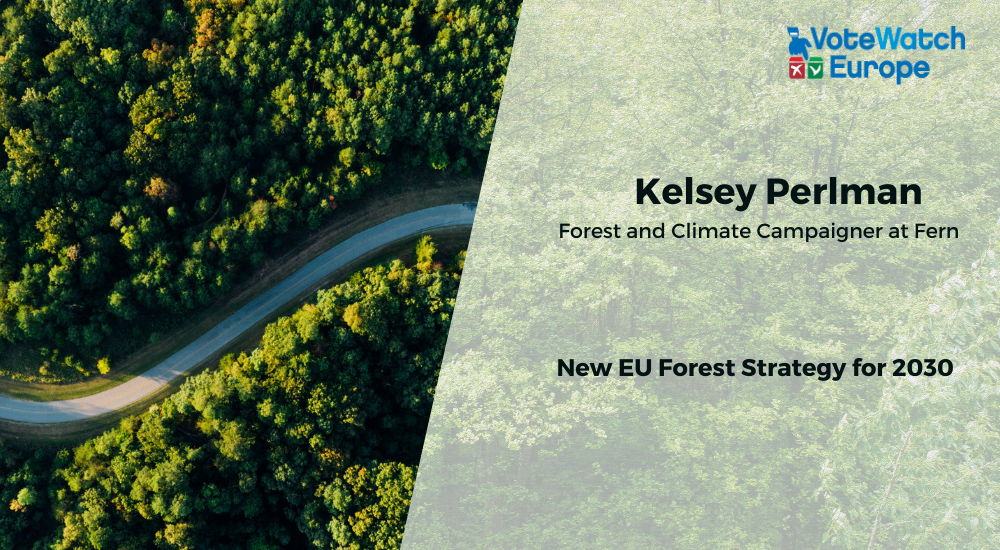 ---
In July 2021, the European Commission presented the New EU Forest Strategy for 2030, a key component to deliver on the European Green Deal. The strategy and the different aspects it touches upon have been widely discussed and spoken about after its publication, with some disagreements regarding its effectiveness or viability.
Votewatch Europe has reached out to Kelsey Perlman, Forest and Climate Campaigner at Fern, to ask about her insights and opinions on the New EU Forest Strategy and Fern's contribution to the matter.
---
VoteWatch: Last summer, the Communication on the New EU Forest Strategy for 2030 was presented by the European Commission. What do you think the overall impact will be?
Kelsey Perlman: If the spirit of the document is kept and turned into policies, the EU will lay a path for a better relationship with forests. In addition to broad calls for strict protection of primary and old growth forests, a central pillar of the strategy calls for the EU to define sustainable forestry so that it can be distinguished from current mainstream industrial forestry practices based on clearcutting, which is environmentally harmful.
Another key element is the proposal of a new legislative proposal on Forest Monitoring and Data Collection which could set the ground for a much more informed and healthier debate on the state of EU forests. For more information, please read our press release.
VoteWatch: There are concerns about whether the New Forest Strategy is properly balancing the environmental, economic and social aspects of forests. Do you share these concerns?
Kelsey Perlman: I share the concerns, although not for the same reasons as others. The 2020 forest strategy consisted of voluntary initiatives that did not bend the curve of biodiversity loss. While this strategy attempts to lay out more comprehensive monitoring of the problem and define best practice to prepare the sector for the future, it may be too little too late in the face of climate change and billions in environmentally harmful subsidies.
VoteWatch: While biomass is seen as a source of energy that can help replace fossil fuels, there are disagreements over their role in the climate transition. In your opinion, how is this strategy going to affect the bioenergy sector?
Kelsey Perlman: This strategy is about the entire sector and not just the production of bioenergy. Foresters recognize a need for diversification to avoid environmental and economic risks. In this regard, the strategy champions a multifunctional forestry and the "cascading principle" for using wood. This means moving away from burning wood for energy and prioritizing the production of larger diameter higher quality wood. There will always be a proportion of wood that will be available for heating, but a single-minded strategy to produce a product running into clear sustainability limits never made sense in the first place.
VoteWatch: Carbon farming and carbon removal certification have also been at the heart of the discussion, with the Commission's proposal to merge forest and agriculture sectors under the "LULUCF" (Land Use Change and Forestry). As previously assessed by Votewatch, there are disagreements in the European Parliament with regards to this proposition. Could you tell us your position on the matter?
Kelsey Perlman: The debate around offsetting is two decades old. The experience shows that it hasn't delivered: for example, a study commissioned by the EU Commission found that 85% of projects stemming from the UN's clean development mechanism have failed to deliver "real, measurable and additional" emission reductions.
There is also a specific problem with forest offsets: there are still huge uncertainties in data around forest sinks, and forest stocks continue to be impermanent. Not least because forest health is likely to be further undermined by the higher range of temperatures expected due to the climate crisis.
Despite this, due to the climate emergency and the lack of overall ambition to drastically reduce emissions, we are seeing a come back of offsetting. At the EU level, it is materializing in this proposal of merging the agriculture and land-use sectors. It's fundamental we learn from the past: we need separate targets for decreasing the emissions from intensive agriculture and increasing the carbon remove by our forests and soils. For more information, you can read our open letter.
VoteWatch: There are concerns regarding the Forest Strategy indirectly leading to imported deforestation from areas where the measures are not as strict as within the EU borders. Do you believe this could potentially become a problem?
Kelsey Perlman: Bioenergy policy has already done this. The long-term rise in EU imports of energy wood continued in 2019 with annual import value rising 13% to 2.84 billion euro building on 20% growth the previous year. There was another sharp increase in EU imports of energy wood from the United States in 2019 (now dominated by pellets), to reach nearly 1.3 billion euro, with most destined for the UK where the DRAX plant is. Imports of energy wood also increased sharply from Russia, to nearly 0.5 billion euro, and Belarus, mainly destined for continental EU.
So our current model already forces us to think about our production and consumption patterns regardless. The Forest Strategy is largely concerned with how we can produce wood in a way that doesn't undermine the productivity of forest land so that it can continue to contribute to the European economy. Some of the less intensive models allow for production of wood for furniture which is a welcome move away from the "fast furniture" model that sources from Eastern Europe.
VoteWatch: Thank you very much.
To read more exclusive interviews with other stakeholders and MEPs, click here.
---
For more information, training, consultancy or media relations, contact us at [email protected]