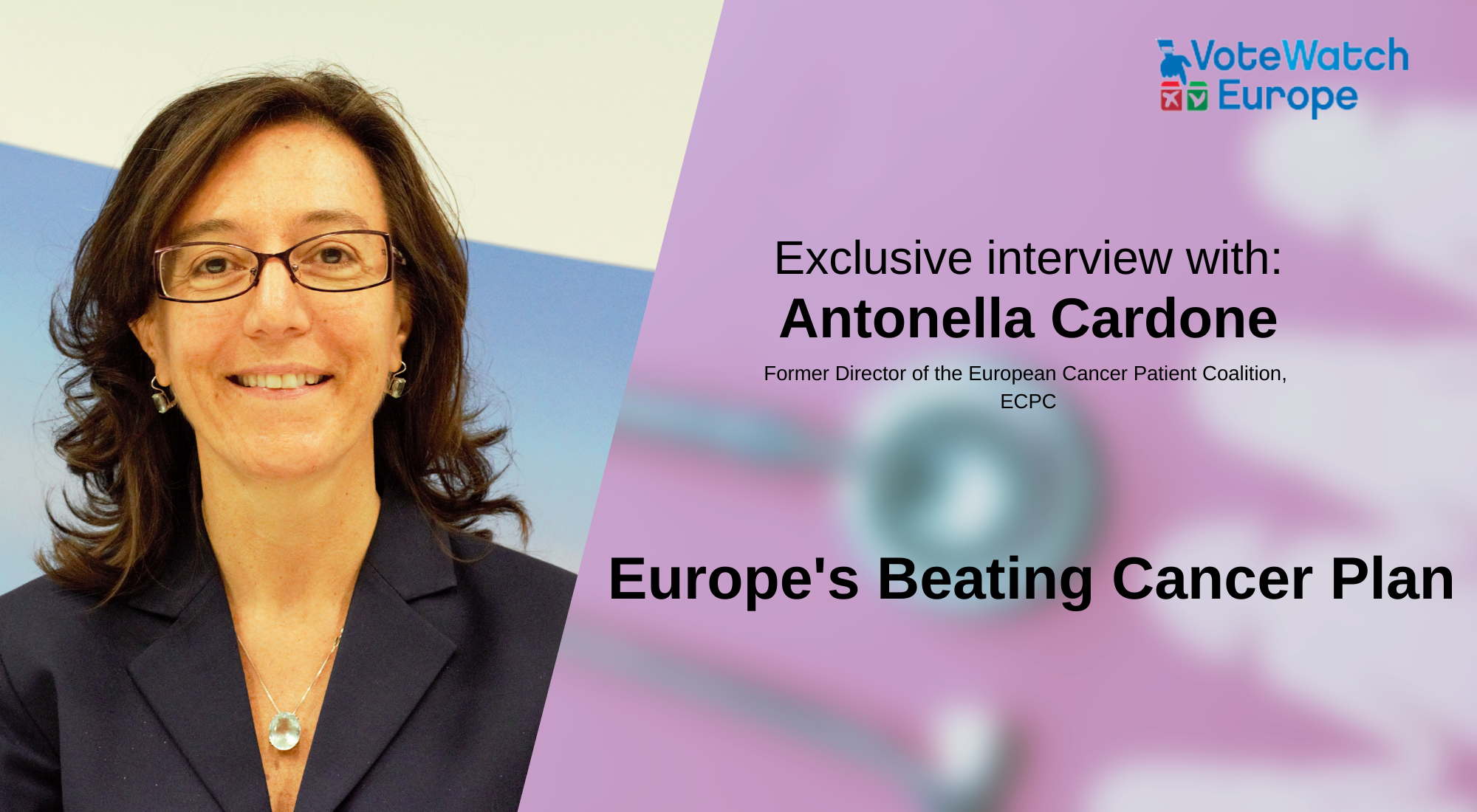 In the last few years, the EU has paid increasing attention to health topics, including the fight against cancer through actions linked to preventing, treating, combating, recognizing the challenges that cancer implies and opportunities in the developments in cancer care. To continue developing these actions for reducing the suffering caused by cancer, the European Commission presented on 3 February 2021, the Europe's Beating Cancer Plan. This commitment of the EU has four main goals such as preventing through actions regarding tobacco, alcohol consumption, environmental pollution or hazardous substances, detection of cancer through upgrading access, quality and diagnostics, diagnosis and treatment through actions that ensure better care and equal access to medicines and also improving quality of life of cancer patients and survivors.
To get a better understanding of the current state of the discussions, but also to get an idea of what to look forward to in the EU's actions, VoteWatch Europe has reached out to Antonella Cardone, the former Director of the European Cancer Patient Coalition (ECPC). Her insights will help you understand how the plan is built, and how it can help prevent and fight against cancer.
VoteWatch: Europe's Beating Cancer Plan will have €4 billion of funding, including €1.25 billion from the future EU4Health programme. Do you believe this figure will be sufficient in order to make a real impact on EU cancer statistics?
Antonella Cardone: The amount is never enough, more would always be better. But it is also important to realize that Europe's Beating Cancer Plan is not just about funds, it has an impact on the way healthcare professionals, policy makers, patient organizations, healthcare systems and carers work together. So I think it has an impact on the culture, as well of people working in the cancer arena across Europe. Money is essential, is fundamental, but is not the only fundamental component for a successful Europe's Beating Cancer Plan.
VoteWatch: There are substantial differences between Member States in terms of early detection of cancer, for example, ranging from 6-90% for breast cancer and 25-80% for cervical cancer. With regards to this discrepancy, how can the EU take action to create greater equality between Member States?
Antonella Cardone: First of all, it's important to share the good practices, as there are countries with a very high standard in early detection and prevention, then the best would be that other countries follow the good example and that a good example is not, as I mentioned before, always based on putting more money into the system, but it is also about optimizing the services, the implementation of the services, the work around prevention, mainly when countries that are lagging behind can build on the good experience or the good results that other countries have implemented.
VoteWatch: A new EU-supported Cancer Screening Scheme aims to offer 90% of the EU population who qualify for breast, cervical and colorectal cancer screenings the option by 2025. What are the major challenges which jeopardize achieving this objective?
Antonella Cardone: Member states are not complying with the recommendations of the European Union, so that is the first thing. There must be willingness on the side of all member states, mainly the member states who need this most to follow the recommendations of the European Union. So that is the first part, the willingness because without willingness, we go nowhere. And then, those countries should also invest more because screening programmes require an investment. I would like to stress the word investment because it is really an investment and not just a cost. Detecting cancer earlier saves costs in treatment in the labor market, in the overall social welfare system.
VoteWatch: According to the EU, 40% of cancer cases are preventable. The EU Beating Cancer Plan sets out Directives which review consumption of harmful substances such as tobacco, alcohol and carcinogenic food. From your point of view, is taxation legislation the most effective method to improve EU citizens' lifestyle or should the EU focus on alternative projects such as the 'HealthyLifestyle4All' campaign?
Antonella Cardone: The campaign is definitely a good way to go, but taxation is more impactful, because we see that voluntary measures do not work, if we look at the tobacco control measures. Voluntary measures do not work as the industry is behind the tobacco or the tobacco industry and the alcohol industry are very aggressive. They are very wealthy and very aggressive. One of the most effective measures would be taxation, increasing the taxation.
VoteWatch: For women in the EU aged 15-44, cervical cancer is the second most common form of cancer. HPV vaccination uptake in many EU countries is well below the EU's target of 90%. The EU's Beating Cancer Plan aims to achieve 90% 2nd dose vaccination rate across all Member States by 2025 – is this a realistic goal in your opinion?
Antonella Cardone: I think it is a realistic goal if backed up by effective measures. And in this case, again, it is not just a matter of investing money, but also a matter of culture because we see with the knockbacks movement, they might have arguments against the HPV vaccination beyond any scientific evidence. So the evidence on HPV is clear and vaccination not only for women, but also for men, that's really important.
To read more exclusive interviews with other stakeholders and MEPs, click here.
---
For more information, training, consultancy or media relations, contact us at [email protected]