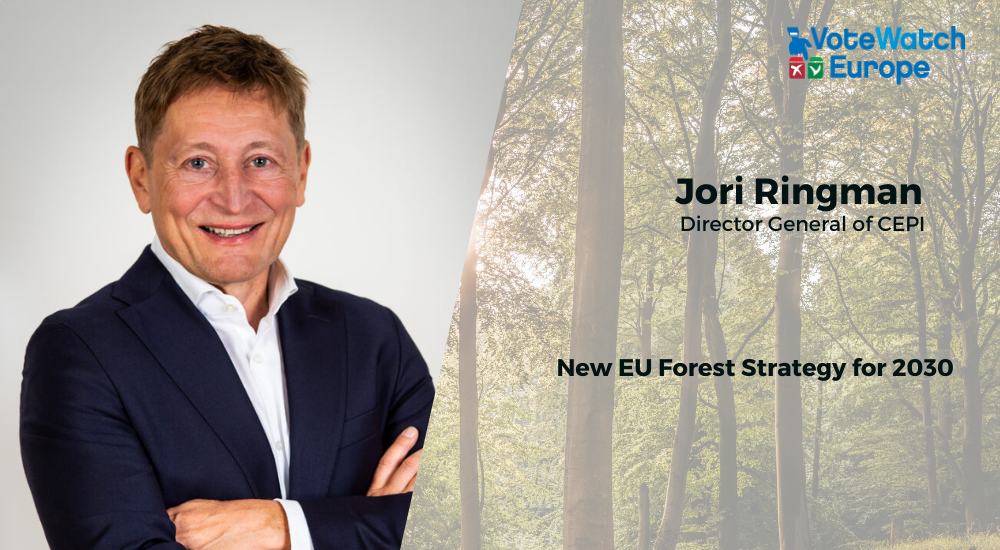 ---
In July 2021, the European Commission presented the New EU Forest Strategy for 2030, a key component to deliver on the European Green Deal. The strategy and the different aspects it touches upon have been widely discussed and spoken about after its publication, with some disagreements regarding its effectiveness or viability.
As part of a series of interviews on the Forest Strategy, Votewatch Europe has reached out to the Director General of CEPI (Confederation of European Paper Industries), Jori Ringman, to ask about his insights and opinions on the topic.
---
VoteWatch: Last summer, the Communication on the New EU Forest Strategy for 2030 was presented by the European Commission. What do you think the overall impact will be?
Jori Ringman: The strategy sets the European Commission's vision for how to manage EU forests, and for what purposes. As such, it will have an impact on all forest-related legislation developed under the EU Green Deal. The angle taken by the strategy is that the purpose of forest management should mainly be the enhancement of forests' carbon sink function and the protection of biodiversity. These are both laudable objectives, but there is so much more European forests can do. In a multifunctional approach to forest management, forests also provide renewable materials and energy that could be just as important as factors in the overall carbon accounting of the EU, while the permanence of forest sinks is guaranteed through active forest management practices and climate adaptation strategies. In terms of biodiversity, this has already contributed to important achievements for European forestry: positive trends are registered for many indicators such as forest area, growing stock, wood supply, as well as deadwood volumes, tree species diversity, forest area designed for biodiversity conservation and forest bird species.
It is not easy to predict the consequences of the changes the new EU Forest Strategy could introduce, and different scenarios are possible depending on how Member States will implement future legislation stemming from the strategy. But it is becoming increasingly clear that there will be an impact on the procurement of wood for the European forest-based industries. The unintended consequence would be that it would be more difficult to manufacture wood products, which displace carbon-intensive materials, and trap and store carbon in bio-materials. Another risk, which we are already witnessing is what we call the leakage effect – that is, the displacement of production, jobs and added value outside of Europe, in places where climate and biodiversity-friendly practices might not be as strongly enforced. A recent study by the Thuenen Institute has demonstrated the extent of what these adverse effects might be in Germany and more research to be published mid-year will probably demonstrate the same effects for Europe as a whole.
VoteWatch: There are concerns about whether the New Forest Strategy is properly balancing the environmental, economic and social aspects of forests. Do you share these concerns?
Jori Ringman: Recent conclusions of the Council of the EU on the Forest Strategy, reflect quite well our own assessment: a comprehensive framework for the forestry sector should include strong socio-economic goals. The forest-based industries play a very important role for the achievement of the objectives of the Green Deal. Forest-based products not only help substituting CO2-intensive raw materials and fossil energy, but also support the EU economy by creating green jobs in the sector. We are creating jobs precisely in these areas which will support the most the EU's climate and reforestation objectives. With 420.000 enterprises and around 4 million workers, the forest-based sector represents a significant share of the European bioeconomy. The paper industry in particular is driving forward the circular economy through ever increasing rates of recycling, which now represents more than 50% of raw materials sourcing and, for the rest, our forest sourcing is done in an industrial symbiotic ecosystem where we mostly use parts of the trees that are not good for timber production. With that, no amount of the harvested wood gets wasted.
This is not to say that further discussions on the environmental pillar of Sustainable Forest Management should not take place: on the contrary, important challenges are ahead, which require a cooperative approach between all actors in the sector. The adaptation of forests to climate change, aiming at reducing the vulnerability to fires, droughts or pest outbreaks, is one example.
VoteWatch: While paper is seen as an alternative to plastics in the context of the circular economy, there are sometimes disagreements over its environmental footprint. In your opinion, how is this strategy going to affect the paper sector?
Jori Ringman: Paper is a good and sustainable alternative to plastics and, in the preparation for the Single Use Plastics Directive, was also considered as such by the European Commission. The paper industry is one of the few sectors that have real life cycle and footprint calculations. That includes the entire life cycle from primary material sourcing to end of life. We have successfully reached decoupling of environmental impacts from economic growth, and are champions in climate change mitigation, water stewardship and circularity. We have recently adopted a new commitment to ensure all products in the paper and pulp sector are sustainable.
The European paper industry has already delivered a successful decoupling of carbon emissions from economic growth, and forest fibre and paper-based products offer alternatives to fossil-based ones as they are coming from renewable sources, are recyclable, and contribute to trapping carbon pulled out of the atmosphere by trees. This comes in addition to large investments in green technologies planned over the coming years, an area where forest fibre and paper producers are already ahead of other sectors of the EU's manufacturing industry.
If we look at a wider scope in evaluating our footprint, we have to consider that reaching climate neutrality will require acting systematically across value chains and sectors. This is why we have started a cross-industry alliance, 4evergreen, to boost the contribution of fibre-based packaging in a circular and sustainable economy that minimises climate and environmental impact. Industry members within 4evergreen aim is to raise the overall recycling rate of fibre-based packaging to 90% by 2030, which is higher than required in the Packaging and Packaging Waste Directive. This collaboration is one more part of our comprehensive consumer-centred approach to climate mitigation, so that we can do our part in Europe's transition to climate neutrality by 2050.
Finally, a study published last year shows that in some cases paper-based single-use packaging can have a better environmental footprint not only than plastics, but also than reusable packaging.
VoteWatch: Carbon farming and carbon removal certification have also been at the heart of the discussion, with the Commission's proposal to merge forest and agriculture sectors under the "LULUCF" (Land Use Change and Forestry). As previously assessed by Votewatch, there are disagreements in the European Parliament with regards to this proposition. Could you tell us your position on the matter?
Jori Ringman: Forests are key allies in fighting climate change: currently they remove from the atmosphere almost 10% of the CO2 emitted in the EU. Increasing the forest area in the EU through long-term afforestation projects is also very important, which is why Cepi is contributing to the EU's pledge of planting 3 billion additional trees in the EU by 2030. Having said that, forests should not be used to offset emissions in "hard-to-decarbonise" sectors. We see the risk of diluting the overall ambition to decarbonise the European economy by over-relying on forest sinks, which would be inefficient and unfair.
It is also risky since old-growth forests can become a source of emissions as they become more vulnerable and get affected by fires and other calamities, resulting in the carbon they have trapped being released in the atmosphere, contributing to climate change. Climate benefits of forests go beyond carbon sequestration and include the carbon storage and substitution effects linked to forest-based products such as paper, wood-based textiles, and construction products. The substitution effect is just as relevant as the sink. It allows to reduce EU emissions by another 10%, or 410 Mt CO2 equivalent per year, by replacing fossil-based or CO2-intensive materials with wood-based products. And the untapped potential is much higher. If consumers are empowered to choose the right thing – to select the low-carbon product instead of the fossil-intensive one – it will have a significant and immediate climate mitigation effect.
VoteWatch: There are concerns regarding the Forest Strategy indirectly leading to imported deforestation from areas where the measures are not as strict as within the EU borders. Do you believe this could potentially become a problem?
Jori Ringman: The European Commission has recently proposed to introduce new requirements against imported deforestation with a proposal for a regulation, which is now in discussion in the European Parliament and Council. Therefore, we don't see a direct risk of increasing imported deforestation once this new instrument is in place, provided that the scope of the regulation is consistent across categories of products. For example, pulp and paper products are included in the scope and subject to the new rules, while printed products – such as children's books – are out. This is a loophole that should be closed. What is also likely is that a very detailed and prescriptive approach to forest management imposed at EU level will place a disproportionate burden on European forest industries and related value chains.
That is because EU Member States have already developed robust legislative frameworks on Sustainable Forest Management which are adapted to local conditions, climate impacts on particularly exposed regions and endemic biodiversity for example. One also has to consider the investments already made by the industry in third-party certification to prove sustainable wood sourcing, and which are currently covering 74% of the wood that enters production. We also see a tendency to impose different sustainability criteria in different strands of EU legislation, for example in energy legislation, in the EU green taxonomy for financial investments, or in the new deforestation regulation. This increases complexity for operators of the industry and ultimately risks putting them at competitive disadvantage against polluting fossil-based industries, and extra-EU competitors.
VoteWatch: Thank you very much.
To read more exclusive interviews with other stakeholders and MEPs, click here.
---
For more information, training, consultancy or media relations, contact us at [email protected]