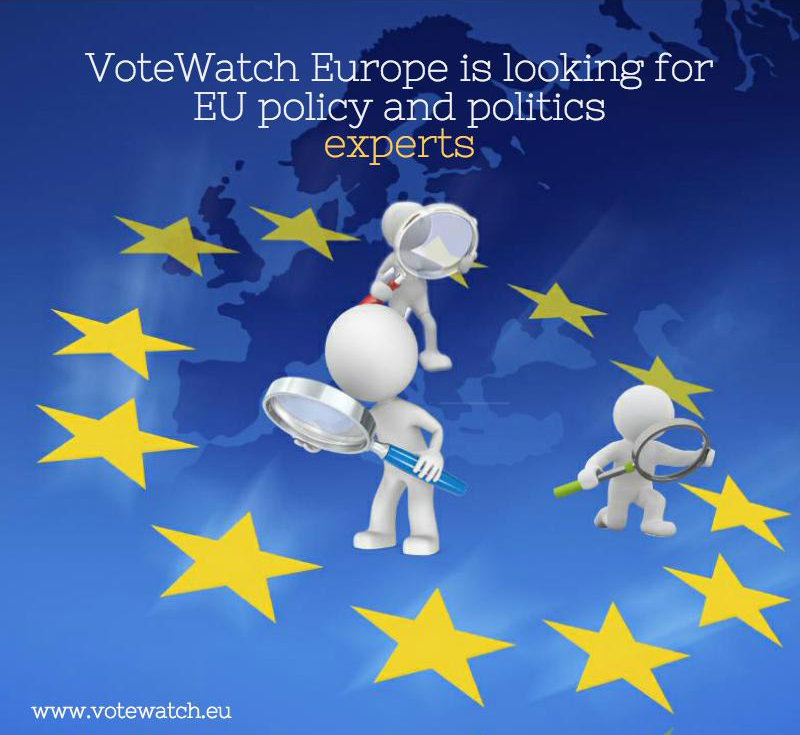 VoteWatch Europe, the Brussels-based leading organisation monitoring the votes of the EU politicians, is looking for experts with a view to expanding its research and communication capacity.
VoteWatch Europe is a Brussels-based international non-governmental, non-partisan and independent organisation set up to provide better insight into EU politics. The analyses produced by VoteWatch are used on a daily basis by the EU officials, the private stakeholders, the NGOs, the media and the academia. We are currently the platform most followed by the Members of the European Parliament, according to an independent study.
We are looking for professionals with experience in EU-related policy from all sectors, who will like an opportunity to help shape and contribute to the analysis of the voting behaviour of MEPs and critical policy developments in Brussels.
Depending on the individual profile and interests, the experts will be involved in activities such as:
– provide contributions for analysis to be published on our VoteWatch.eu website (currently used by 30.000 users on a monthly basis, mainly EU experts);
– take part in regular meetings to analyse decisions made;
– take part in seminars;
Our reports have been quoted by reputed media in more than 35 countries and have reached over 10 million people (www.votewatch.eu). As an expert, you will get privileged access to cutting-edge analysis that we develop.
The experts are based both in Brussels and internationally.
Please note that the positions of experts as such are not paid, but the experts may be involved, occasionally, in specific paid projects.
To express your interest of joining our 'pool of experts', please send your CV in an email sent at [email protected] which should have as subject 'EU expert'.