EPP, S&D, ECR, ALDE, Greens/EFA push through EU-Ukraine Association Agreement
Simultaneously with the Ukrainian Parliament, the European Parliament gave its consent by a large majority to the ratification of the EU-Ukraine Association Agreement (AA). The Agreement will deepen political and economic ties and will create a Deep and Comprehensive Free Trade Area (DCFTA) between the signatories. The treaty focuses on supporting core reforms, on economic recovery and growth, governance and sector co-operation. It is the first of a new generation of agreements with Eastern Partnership countries.
The resolution was adopted by 535 votes in favour, 127 against and 35 abstentions. The political groups at both centre-right and centre-left supported the deal. The radical left GUE/NGL group and the nationalist non-affiliated Members opposed it. The nationalist EFDD group was split, with just over half of its Members voting against, while the Italian 'five star' delegation abstained.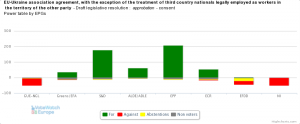 The Agreement will now be applied provisionally, but the date still needs to be confirmed by the Council. To enter into force, the deal has to be ratified by the EU member states too. Moreover, the provisional entry into effect of the trade rules (DCFTA) has been delayed until 31 December 2015.
Click here to see how each MEP voted.