At VoteWatch Europe we provide you with unique opportunities that allow you to both gain a deep understanding of the political environment in which you are operating and be able to influence it.
Using an innovative combination of big political data analysis and expert insight we have developed intelligence that is being used on a daily basis by most EU decision-makers and stakeholders. Independent studies place VoteWatch as the platform most followed by the Members of the European Parliament and our reports are being regularly quoted by reputed institutions and the international media.
VoteWatch Intelligence PRO entitles you to:
– Receive our monthly (post-EP plenary) analytical brief that looks into the latest power games, shows who are the winners and the losers of political decisions on key policy areas, as well as the coalition dynamics (how majorities are being built, who is left in minority, the weaknesses and the strengths of the political groups, etc.);
– Receive our regular influencers' mapping and predictions reports: these show the level of influence of each MEP on key areas where the EP decides (e.g. energy, environment, health, digital, trade, etc.), measure the balance of power between the proponents and the opponents of a policy change and indicate whom you should have on your side (the kingmakers) to secure a majority;
– Have access to free meetings with our experts and to our private briefings. As a pro member you will also be entitled to make suggestions on the topics of our research and request specific data on decisions made in the EP and the Council.

–
VoteWatch Communications PRO allows you to communicate your message and promote yourself to our key audience of decision-makers and influencers in the form of:
– Opinion articles and interviews that tackle the policy in the making;
– Sponsoring/powering our free newsletter and/or sections of our website;
– Sponsoring/powering opinion polls that engage our audience on the subjects that matter to you;
– Being part of a panel at public events where you will discuss with decision-makers.
For information about how to become a PRO member, please contact us at [email protected].
–
Who we are   
VoteWatch Europe is a leading independent Brussels-based European politics and policy communication platform. We are specialised in collecting, interpreting and communicating big data sets of political decisions to both expert and non-expert audiences.
Why you should work with us
– our audience is mainly made up of influencers and decision-makers of European policies (diplomats, business networks, civil servants, journalists, think tanks);
– we are, according to independent studies, the most influential platform followed by MEPs;
– we are regularly requoted by reputed media channels such as the Economist, der Spiegel, Bloomberg etc;
– our work reached an audience of over 10 million people from more than 35 countries.
Read more about our media coverage and media reports.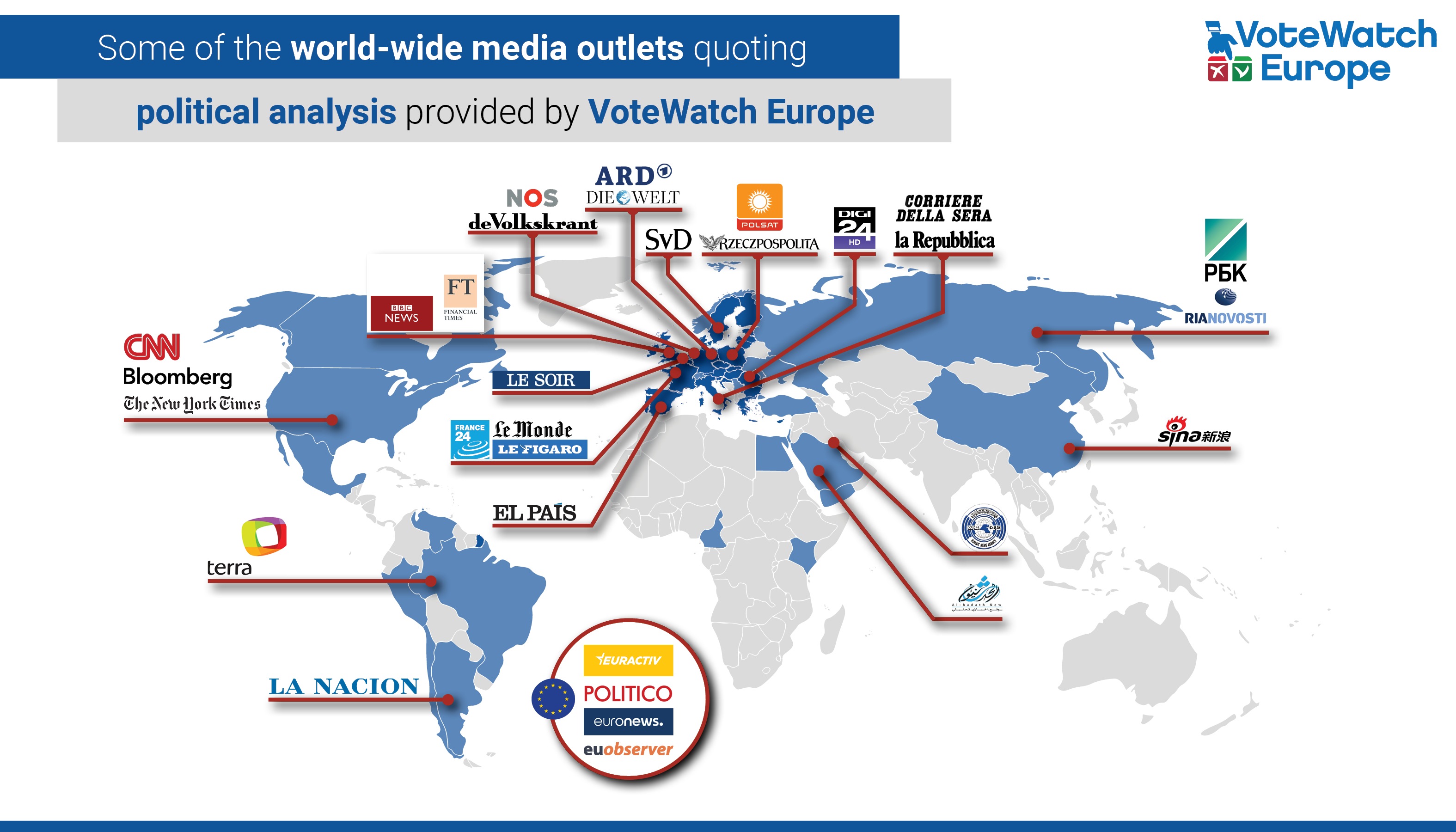 How we work
– we provide insightful analyses and predictions based on verified political data that sometimes substantiates, while on other times denies, hypotheses that are launched by various entities;
– we provide visibility to issues that affect all EU countries, companies and all societal sectors;
– we stay ahead of the innovation curve by combining scientific research with the newest technological means of data mining and communication (mobile and social media apps, infographics, website widgets);
– we design tailor-made communication campaigns for stakeholders, politicians, academia.
Read more about our activities.
For information about how to become a PRO member, please contact us at [email protected].