Pavel Svoboda, the 2nd most influential Czech MEP is member of the Christian and Democratic Union– Czechoslovak People's Party (EPP). Svoboda is the Chair of Committee on Legal Affairs. He drafted reports on several issues, such as the limitation periods for traffic accidents and a report on the verification of credentials. Read the full influence assessment and find out who shapes the power in the European Parliament.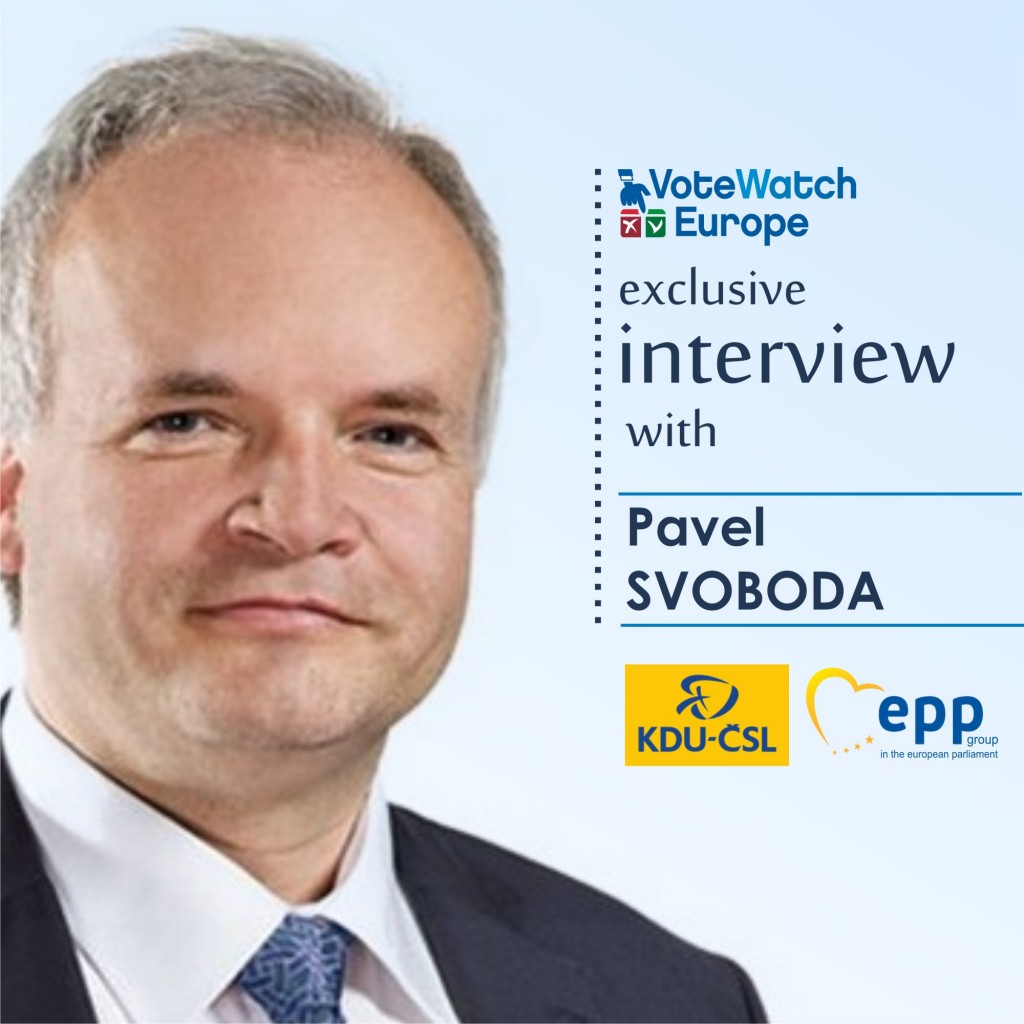 VoteWatch Europe: Mr. Svoboda, this is your first term in the EP, how would you describe the KDU-ČSL delegation's work, after more than 2 years and a half?
Svoboda: Let me first clarify that we established a Czech national delegation within the EPP Group in 2014, and that this delegation consists of two parties: KDU-ČSL and TOP 09. These two parties share a pro-European stance, which makes the cooperation possible even though KDU-ČSL is part of the current government and TOP 09 is in the opposition. This cooperation enabled us to get more influence in the EPP Group and in the Parliament at large and we tried to take advantage of it both here in Brussels as well as in Prague. We wanted to bring Czech topics to Brussels and European topics back to Prague. There is always a room for improvement, but I think we have succeeded in this initial phase of our efforts.
–
VoteWatch Europe: As Chair of the Committee on Legal Affairs, how do you perceive the increasing challenges to the rule of law across the European Union?
Svoboda: There is no doubt that the European Union is a community based on principles such as the rule of law. With our experience of living 40 years under the rule of one communist party, we know very well that the rule of law has to be treasured and defended. There are certain principles – how the judiciary is supposed to be organized in a democratic society for example – and these principles are the pillars of modern states based on the rule of law. These principles need to be respected in the course of everyday political life. We might think that if we cut the laws down, life will be easier, but I don´t think we could stand upright in the winds that might blow then.
However, should this question refer to problems that currently exist in Poland or Hungary, let me say that I see shortcomings in this respect in some of the "old" Member States as well, for instance cases of police brutality or massive abuses of public offices by politicians. Interestingly enough, these cases do not attract so much attention as those in the new Member States.
–
VoteWatch Europe: As a Czech MEP, do you see a consolidation of the Visegrad group as a way to strengthen the leverage of your country in EU politics, or would you rather see Prague as a possible mediator between Western Europe and Central and Eastern Europe?
Svoboda: Prague is not the same as the Visegrad group. Prague could play the role of an East-West mediator but before that political discussion on the future of the EU needs to be finalized in Czechia. I feel that certain aspects of this debate are still "under construction", so to say. I understand Visegrad as a useful tool of regional cooperation based on geography and some common history, but it doesn´t mean we can´t cooperate intensively also with Belgium, Sweden, Austria; just to mention some Member States which have a similar number of MEPs.
–
VoteWatch Europe: The Visegrad countries have very different positions with regard to Russia: while Poland wants the EU to keep a safe distance from our Eastern neighbour, Hungary doesn't shy away from displaying friendlier relations with Moscow. How does a former Ambassador to the Council of Europe see the future relationship scenarios between Czechia and Russia after the upcoming legislative election?
Svoboda: My position and the one of my party, KDU-ČSL has been always clear on this. We supported sanctions against Russia and we condemned strongly the annexation of Crimea and Russia´s support to separatists on the East of Ukraine. I believe this will still be the position of Czechia even after the elections. Czech Prime Minister Sobotka said recently, that Czechia needs to be part of a further integration of the EU and that we need to have the Euro as soon as possible. I agree with this.
–
VoteWatch Europe: China is increasingly interested in strengthening ties with Central and Eastern European countries, including with Czechia. Do you think that the EU should adopt a more cooperative stance towards China, given the current international developments?
Svoboda: There is no doubt that China would like to strengthen ties with Central Europe, but what result this interest would bring remains to be seen . So far the impact of Chinese investment is quite small in terms of job creation etc… when compared with the impact of European investors activities. Chinese presence in Czechia has to do with geopolitics more than with business. That is why it is important to focus on the future role of Czechia in the EU and to maintain a strong and clear position on this geopolitical issue.
–
VoteWatch Europe: In 2016, the Czech president, Milos Zeman, had called for a referendum to decide the country's EU and NATO membership. How do you forecast the future of the Czechia's membership in both these blocs, after the legislative elections?
Svoboda: President Zeman´s approach to both issues is a real populist one, which plays into the hands of politicians who would rather like to improve relations with Russia, but it is, in fact, the government which remains responsible for defining the foreign policy. I believe that at least a pragmatic approach will be applied to Czech politics after the upcoming elections and there will be no substantial change in the current foreign policy of Czechia. We more than ever need to understand that less Brussels means effectively more Moscow.
Click here to follow the activity of MEP Pavel Svoboda. 
Subscribe to VoteWatch Intelligence PRO and have exclusive access to the monthly updates on the power games in EU politics, as well as our upcoming interviews with high-rank decision-makers, opinion leaders, diplomats and stakeholders' representatives. If you are interested in learning more about the benefits of VoteWatch Intelligence PRO, send as an e-mail at [email protected]