Dita Charanzová, member of ANO 2011 (ALDE/ADLE), is the third most influential Czech MEP in the VoteWatch influence assessment. She is one of the Vice-Chairs of Committee on the Internal Market and Consumer Protection and the political coordinator of her political group in the same committee. She drafted reports on important pieces of legislation, such as the report on accessibility of the websites and mobile applications of public sector bodies, as well as the report on simplification of the transfer of motor vehicles registered in other Member States. Read more about the most influential Czech MEPs.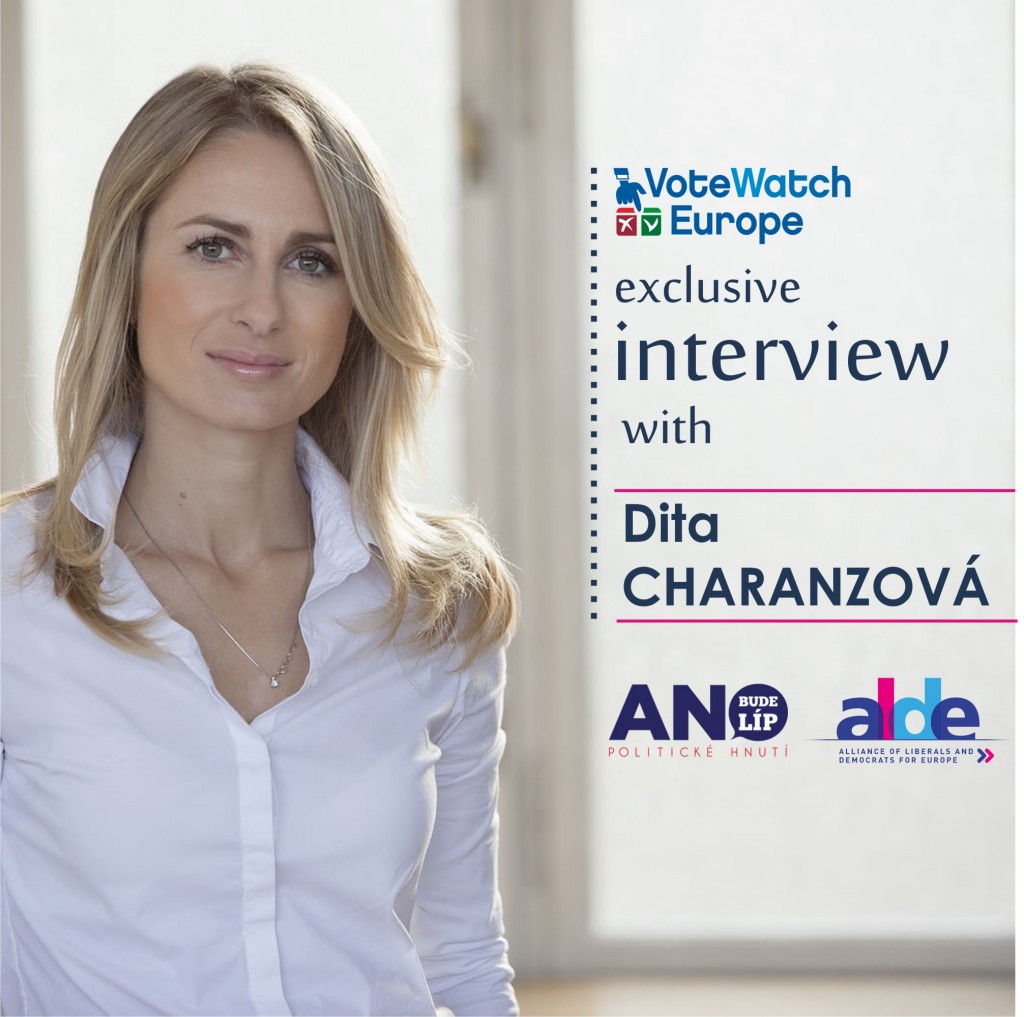 VoteWatch Europe: Ms. Charanzová, you have been representing Czechia in the European Parliament for more than 2 years and a half, how would you describe the ANO delegation's work in the current term, especially that your party is for the first time part of the composition of the EP?
Charanzová: When presenting the ANO list for the European Parliament elections in 2014, it was our ambition to propose well qualified and experienced members. In the two previous terms, the EP was more considered to be a place intended for retired politicians from the Czech Republic. We wanted to reverse this trend and I am sure now that we have already succeeded. Our Members are experts, they know very well how Brussels functions, they are visible and, I would even dare to say, influential.
–
VoteWatch Europe: ANO 2011 is currently part of the ALDE European political family. However, ALDE is a big fan of European integration, even federalism. If ANO is to become a governing party ready to implement its agenda, do you see that as a challenge to further cooperation with the other ALDE forces? Would you rather consider joining a less pro-integration political family?
Charanzová: ALDE is a pro-european group, which is also the case for ANO. If you read our programme for the elections (both for the European as well as for the national ones), it is more than obvious that ANO sees our future perspective as part of the EU. We call for a reform of the EU, so that it works more effectively, concentrates less on technical details and focuses more on issues,  that really worry our citizens. As a side note, ANO is currently already part of the Czech government, and I do not expect sharp changes in its foreign and European policy after the elections.
–
VoteWatch Europe: In 2016, the Czech president, Mr. Milos Zeman, had called for a referendum to decide the country's EU and NATO membership. How do you see the future of the Czechia's membership in both these blocs? 
Charanzová: I am strongly opposed to Mr. Zeman's view on this issue. It is fundamental for our country to remain not only part of the EU but an active Member of both the EU and NATO. That's why we wanted to get rid of the communist oppression and get back to Europe. For a better future of our children, we need to remain strongly anchored in the area of European integration and transatlantic relations.
–
VoteWatch Europe: During a recent interview for the Czech News Agency, Mr. Babis, the ANO leader, repeatedly launched attacks on the Eurozone and ruled out the possibility of Czechia adopting the Euro. On the other hand, European Commission's President, Jean-Claude Juncker, seems to have a completely different political agenda, as he recently stated that the Euro should become the currency of all EU's Member States. Can you see any middle ground, or will we see an ever growing distance between Prague and the European Commission under its current President?
Charanzová: I understand Mr. Babis's comments as a critical position on the current state of Eurozone. It is clear that Eurozone is in need of reforms in order to be stabilized and be able to deal properly with cases such as Greece's. We believe that the Czech Republic should adopt the Euro only once it is beneficial for both Czech citizens and businesses, and it should remain our own domestic political decision.
–
VoteWatch Europe: Central European countries have struggled to have their voice heard in European politics in recent years. As a former Czech diplomat, do you see a consolidation of the Visegrad group as a way to strengthen the leverage of your country in EU politics, or would you rather see Prague as a possible mediator between Western Europe and Central and Eastern Europe?
Charanzová: I believe that regional cooperation groups, such as V4 in our case, can help our voice be heard in Brussels. However, I do not think it is the only option. V4 countries have been historically an area of natural allies, but developments in some of the V4 members mean that we do not share similar views these days. I would rather advocate for building new coalitions and strengthening our relations on security and other issues with other EU Member States, such as France and Germany.
–
VoteWatch Europe: China is increasingly interested in strengthening ties with Central and Eastern European countries, including with Czechia. Do you think that the EU should adopt a more cooperative stance towards China, given the current international developments?
Charanzová: It is clear we need to find ways to cooperate with China. It is a global player and one of our key economic partners. On the other hand, it does not mean we should leave our principles and values behind. I am in favor of a strict approach when it comes to protecting EU businesses from unfair competition from China. I would also welcome progress in negotiations on investment agreement between the EU and China, which would bring more certainty for our companies investing in China.
–
VoteWatch Europe: The Visegrad countries have very different positions with regard to Russia: while Poland wants the EU to keep a safe distance from our Eastern neighbor, Hungary doesn't shy away from displaying friendlier relations with Moscow. Where would a Czechia under the leadership of ANO stand on this matter?
Charanzova: The Czech government´s position vis-à-vis Russia is clear and I do not expect any radical changes in this regard after the elections. It has to be mentioned nonetheless that Russia is currently breaking international law and that we should keep putting pressure on it.
–
Click here to follow the activity of MEP Dita Charanzová.
Subscribe to VoteWatch Intelligence PRO and have exclusive access to the monthly updates on the power games in EU politics, as well as our upcoming interviews with high-rank decision-makers, opinion leaders, diplomats and stakeholders' representatives. If you are interested in learning more about the benefits of VoteWatch Intelligence PRO, send as an e-mail at [email protected]