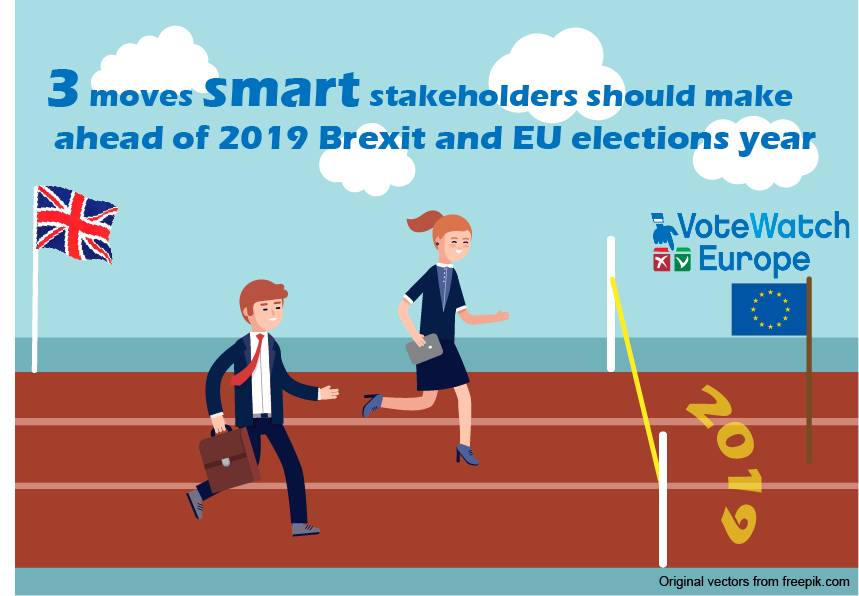 With just over a year to go, the European Union will experience in 2019 one of its biggest transformations since the 2004 enlargement, as the UK is scheduled to leave in March, while the next European elections will take place in May. These two major political events, combined with a potentially stronger populist campaign led by Eurosceptic parties and a new pro-European movement spearheaded by French President Emmanuel Macron, will surely turn European politics into a new page. In the context of this new political and legislative environment, what actions should the stakeholders who are impacted by European policies take in order to protect their interests before, during, and after these changes occur? Here are the 3 moves that stakeholders who stay ahead of the game make during these critical times.
–
1) Acquire information on the outlook of future EU political and legislative environment to optimise their resources
For some, the window of opportunity to promote their agenda closes as 2019 gets nearer, while for others it is better to wait for a more favorable political environment post-elections. But how would you know when it is the best timing for you?
How will Brexit and European election results affect the direction of policies that are in your interests (for more information check our dedicated assessment)? Which parliamentary groups and individual MEPs should you keep an eye on in order to advance your interests? These are the questions that stakeholders need to be able to answer if they want to make the best use of their limited resources. Fortunately, VoteWatch Europe is here to help! We excel in providing thorough analysis on the views of each Member of the European Parliament based on their actual voting records, beyond mere statements (take labour policy for instance).
We know who are the 'converted' and who are the undecided kingmakers, so that one can best deploy their communication efforts and coalition building strategies. In addition, VoteWatch Europe has the capacity to run simulations on the new composition of European Parliament in 2019, allowing stakeholders to have a clearer view on the new coalition dynamics in the Parliament.
–
2) Track and support their key MEP allies during European elections campaign
Besides looking at the big picture through examining the overall political and legislative environment in the European Parliament in 2019, it is equally important for stakeholders to pay attention to individual MEPs' electoral agendas and their chances of success at the upcoming elections (50% of MEPs lose their seats, on average). Yet, among the 751 MEPs (soon to become 705), how could you know which MEPs to focus your efforts on?
VoteWatch Europe has one way to provide a solid answer this question. Not only do we analyse Parliamentarians' voting preferences, but we also assess the level of influence of each MEP by taking into account variables such as their functions, winning rates and support received from their fellow politicians. By identifying in advance who your powerful (but also your other 'hidden' rising) allies in the Parliament are, one would know whom to pay attention to during the upcoming campaign.
–
3) Have their views heard in the policy debates ahead of European elections
It is great if stakeholders succeed in having their views heard once the legislative proposals have been made, but it is even better if they manage to incorporate their interests in political parties' platforms during early stages of the 2019 European elections campaign. At VoteWatch Europe, we can tell you how each political party has influenced (or tried to) European policies in the past years, so that you can hold them accountable and make sure that your views are taken into account when they are preparing their agendas for the coming years. Moreover, as VoteWatch Europe is the website most followed by MEPs, you can come and publish your opinion articles on our platform and make your voice heard by the EU policy-makers.
With Britain leaving the EU and the substantial changes in the political landscape of many EU Member States over the past 4 years, the European elections in 2019 are likely to alter the current equilibrium in the Parliament to a great extent. How stakeholder protect themselves or take advantage of this upcoming big transformation in European politics will largely depend on the decisions and actions they take in the interim, as policy formation usually takes months and years.
For any requests, feel free to contact us at [email protected].